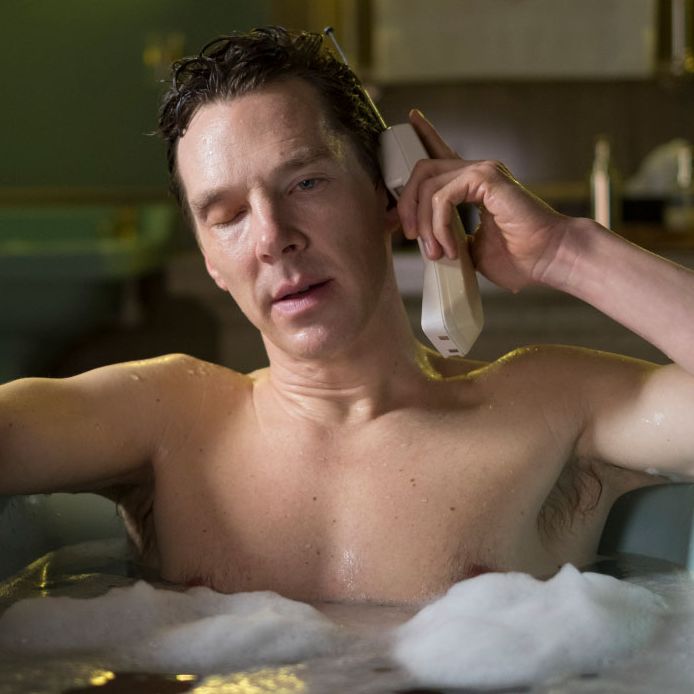 Benedict Cumberbatch, bathing in heroin and, also, bathwater in
Patrick Melrose
.
Photo: Ollie Upton/Ollie Upton/SHOWTIME
Benedict Cumberbatch does not do anything halfway in Patrick Melrose.
During the first moments of the first episode in this five-part Showtime limited series, based on the series of autobiographical novels by Edward St. Aubyn, Cumberbatch's approach to the titular role appears to be set firmly in attack mode. In the opening scene, after picking up a phone that rings a few too many times, the well-to-do Patrick learns from an old family friend that his father has just died and that he must travel from London to New York to retrieve the body. He absorbs this news as though sound has decided to travel in slow-motion, and speaks in a similarly drawn-out tone. But it's not because he's floored by grief; as the camera pans down, following Cumberbatch as he crouches to the floor, it reveals the syringe he is retrieving and the spot of blood on his sleeve that marks his most recent tapping of a vein.
The first episode, "Bad News" — which airs Saturday night and, like all the subsequent ones, is based on each of the five novels in Aubyn's Melrose-connected collection — finds Patrick in the pit of heroin addiction, but not quite at bottom yet. When Cumberbatch's Patrick isn't suffering from an impossible-to-conceal case of the shakes, he's slugging back alcohol, slurring his speech and nearly passing out in the middle of a conversation, or shouting alone in public at the voices — sometimes his own, sometimes his late father's — that rattle around in his mind. For the entirety of "Bad News," Patrick is out of his head. Both Cumberbatch's twitchy, go-for-broke performance and a lens intent on capturing him wherever he topples next make us feel like we may be out of ours, too.
It's easy to see why the actor, also an executive producer of Patrick Melrose, wanted to play this role. Episode one in particular gives him permission to toss off all sense of abandon to become a man whose wildly self-destructive behavior eventually hits nearly every color on the emotional spectrum. He's always believable, although there are certainly moments when his performance and the series feels like they're getting to be a little much. With its reliance on hallucinations and palpable depiction of the physical side effects of going through heroin withdrawal, at times Patrick Melrose plays like Lifestyles of the Rich and Emotionally Damaged: Trainspotting Edition.
Fortunately, subsequent episodes — three of the five were made available in advance — dial back on the extreme swings of the first and put what initially appears to be a portrait of an out-of-control privileged British man into broader perspective. As a series, Patrick Melrose is ultimately about childhood trauma, the challenges of achieving and maintaining sobriety, and the snobbishness that pervades the uppermost crust of British society.
The second episode consists almost entirely of a flashback to Lacoste, France, in 1967, when Patrick was a young boy being raised by a viciously abusive father (Hugo Weaving) and a mother (Jennifer Jason Leigh) whose coping strategies — lots of booze and pills — foreshadow her son's own. Cumberbatch barely appears in this hour, but what happens in it explains why Patrick felt so compelled to erase the contents of his brain in the previous episode. This chapter also earns Patrick some sympathy that carries over into episode three, the best of the initial trio, which is set in 1990 and built around a birthday party that puts a newly drug-free Patrick back in the orbit of some longtime friends and associates. (It helps that the young Patrick is played by Sebastian Maltz, an actor whose wide eyes project a sense of innocence as well as a sadness that suggests that innocence has already been robbed from him.)
Commendably, writer David Nicholls — the author and screenwriter behind the novels Starter for Ten and One Day, as well as their movie adaptations — and director Edward Berger, who's handled episodes of The Terror and Deutschland 83, have condensed entire novels into hour-long pieces of television that are simultaneously sweeping and focused. It makes one wonder why it ever seems necessary to break an adaptation of a single book into two longish feature films.
Berger uses the camera at first to rocket through life alongside the perpetually buzzing Patrick and later, via impressive long takes in that third episode, to pause on various examples of (supposedly) well-bred party guests engaging in hypocritically bad behavior. While the first two hours of Patrick Melrose certainly touch on matters of class, the third engages with it more directly, at one point juxtaposing the setup of the opulent birthday dinner, to be attended by Princess Margaret (an extra-imperious Harriet Walter), with the basic refreshments laid out at a Narcotics Anonymous meeting attended by Patrick's friend Johnny (Prasanna Puwanarajah) and, briefly, by a reluctant Patrick.
"They're the last Marxists," Johnny says later, as the two scan the crowd of chattering, formally dressed cocktail sippers at the post-dinner reception. "The last people to believe class is a total explanation."
Patrick Melrose makes the case, subtly, that class is not synonymous with one's fate or sense of morality. While it initially appears to revel in self-indulgence, the series is actually an indictment of the entitled and those whose lack of ethics are hidden beneath a façade of jewels and English propriety.
Cumberbatch's performance is a standout – I fully expect him to earn an Emmy nomination – because its arc matches the arc of the show overall. Yes, the way he flings himself into insanity in the first episode is impressive. But it's what he does in the third, when Patrick has become a more lucid man trying his damnedest to quell his id, that confirms he's not just acting, thank you! He's inhabiting a character engaged in the long, painful process of exhuming the parts of himself he's been trying since boyhood to bury.