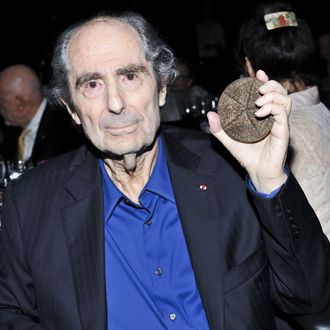 Philip Roth in 2014.
Photo: Jenny Anderson/Getty Images
Renowned American novelist Philip Roth has died of congestive heart failure at age 85. The New York Times confirmed the news, citing the author's close friend Judith Thurman.
Born in Newark, New Jersey, as the grandchild of immigrants from Eastern Europe, Roth spent his early years in the city's Weequahic neighborhood, which his later writings would return to again and again. After abortive stints in the Army and academia, Roth turned to writing in the late 1950s; his first collection of stories, Goodbye, Columbus, won the National Book Award and introduced many of his most enduring themes, including sexual anxiety, classism, and the tension between Jewish identity and assimilation.
Roth's breakthrough came with his fourth novel, 1969's Portnoy's Complaint, an explicit account of its narrator's "extreme sexual longings, often of a perverse nature." The following decades saw him introduce more semiautobiographical altar egos, particularly Nathan Zuckerman, narrator of nine of Roth's books, and David Kepesh, who on one occasion turns into a human breast. In the 1990s, Roth began the metafictional conceit of writing novels narrated by "Philip Roth," further blurring the line between his life and his work.
Long after his contemporaries in postwar literature had died or faded, Roth kept writing at a prolific pace. His novel American Pastoral won the Pulitzer Prize for Fiction in 1998, and, in 2005, he became only the third living writer to have his books added to the Library of America. He retired from writing in 2012. He was married twice — first to Margaret Martinson, who inspired the female characters in much of his work; the second time to the actress Claire Bloom, who, after their divorce, published a memoir painting Roth as a cruel and manipulative husband.