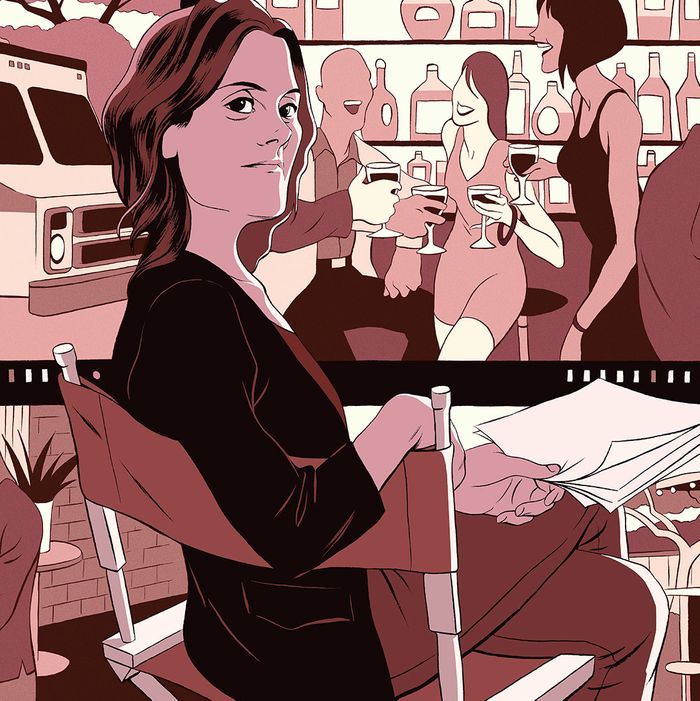 Illustration: Cun Shi/Vulture
It's May, and while spring fills the air in Hollywood, so do the anxiety levels. The fated of 75 broadcast pilots — and the dreams of thousands — hangs in the balance as the broadcast networks prepare to announce their lineups to New York advertisers next week. Since February, there's been a mad rush to cast the projects, hire directors and crews, book studio space, location scout all over the United States and Canada, and produce and edit the episodes.
In the end, maybe half of the shows will make it on the air, leaving a trail of broken hearts along the way. For Broadway star Ana Villafañe, the lead of CBS's History of Them, pilot season feels like The Hunger Games. "It's a stressful, crazy time that no one really understands," newcomer Devere Rogers, one of the leads of NBC's Friends-in-Law, agrees. Natalie Morales, a pilot season veteran and the lead of Mike Schur's NBC comedy Abby's, compares it to "going on a first date and being forced to take the wedding photos but then someone else decides if you actually got married."
To most involved, in the era of year-round Peak TV, this race to land everything from the best talent to the best stages to fill out the September–May schedule feels outdated.
"It really is madness to cram all of this in just a few weeks," said veteran sitcom director Pamela Fryman, who directed four pilots this season. Vulture trailed her during the making of three of them: History of Them, Friends-in-Law, and Abby's. (She also directed ABC's Most Likely To.) "People write good things year-round," she continued. "It puts so much pressure unnecessarily on everybody's schedules. It's kind of silly, but I don't make the rules."
But ABC's senior vice-president of network comedy Jamila Hunter does see one advantage to the race leading up to next week's Upfronts presentations. "It's an incredible competitive environment, and it's difficult because we're competing with cable networks and other places that don't have these time restraints or parameters," she said. "But on the other hand, it does give it a sense of immediacy in a way that the town recognizes. There isn't that sense that things drag out forever, especially on the deal-making side. A little bit of that is helpful, but I can't lie to you and say that it's the most optimum creative experience."
Although the intensity ratchets up at the beginning of the calendar year, networks start thinking about the following year's fall season during the previous August or September. That's when they start hearing pitches from writers and often assign outlines. At ABC, for example, first drafts of the comedy scripts were due on January 10. Hunter's team of three vice-presidents and a manager then spent five or six weeks reading 60 to 70 scripts to decide which ones they would present to ABC president Channing Dungey for consideration, while the network's drama team worked on 60 to 70 scripts of its own. "We're reading and giving notes to see if we can get them in shape for Channing to feel she is confident enough to actually invest the millions of dollars it will take to shoot the pilot," Hunter said. Comedy pilots average $2 million; drama pilots start at around $3 million but can go much higher, depending on the pedigree and concept.
By mid-February, the networks order pilots, which need to be completed and turned in by the end of April for executives to have enough time to screen them and consider how they could fit into their prime-time lineups. The episodes are turned in with story documents describing their vision for the first season of the show and its characters. "This is the time of year we're the most powerless," Hunter said, meaning that the decisions are now in the hands of the top network brass, including the advertising division.
"There's a lot of peaks and valleys to this process," said Brian Gallivan, the creator of NBC's pilot Friends-in-Law and CBS's The McCarthys, which aired for one season. "It's actually easier making a series [than a pilot] because you get into a rhythm and you're not making it from scratch. It's not the insanity that occurs when you're making a pilot at the same time that everyone else is."
Sometimes, a hot idea allows for cutting corners. After a competitive bidding process at multiple networks, History of Them landed at CBS in August with a pilot production commitment, so if the network backed out of making the pilot, it would have to pay a penalty to the producers. With the pilot order just a formality, Gloria Calderon Kellett, the co-creator of Netflix's One Day at a Time, had the benefit of writing her script while casting for the lead role last fall, way ahead of the rat race. It also meant the pilot was produced in February while most pilot showrunners were still in the throes of casting for their shows.
"We had the luxury of time," Calderon Kellett said. "It's a very strange system to all be competing at the same time. It's this madness the industry has created, and I don't know that it's always the best circumstances under which to create, but you do the best you can."
Going first also means waiting longer for CBS to make a decision. "I have so much stuff in development and we're back on One Day at a Time, so I'm grateful to have other work because I was already spinning thinking about whether they are going to pick us up or not," Calderon Kellett said. "I'll just be working full throttle until we hear."
Gallivan doesn't get too frazzled about the anticipation that comes with pilot season because he "was a middle-school teacher for five years," he said with a laugh. And his show, Friends-in-Law, is proof that anything can happen in TV. Gallivan wrote the script eight years ago and used it as a sample to land staff jobs. Although CBS bought it five years ago, it never ordered a pilot. When the rights for Friends-in-Law returned to Gallivan, he sold it to NBC, and the network ordered a pilot. The premise stayed the same, but jokes had to be updated to be current, and characters were developed based on who they cast. In the update, Gallivan decided he wanted two of the four central characters to be people of color.
The story centers on Brian (Devere Rogers) and Jake (James Davis), who have to figure out how to get along when their best friends, Margaret (Nicole Parker) and Randy (John Gemberling), decide to get married. "Brian was based on me, an older gay white man, so when we decided to go with Devere, that changed a lot because he's younger and black," Gallivan said. "It was everything, like learning that he wouldn't love Sex and the City as much as I do. I asked him what his SATC is and he said Living Single."
For Rogers, one of the actors featured in Crazy Ex-Girlfriend's "Group Hang" number, his first pilot season in Los Angeles was intense. For three weeks, he ran between auditions, chemistry screen tests, and callbacks on three shows: two ABC comedies, Most Likely To and an untitled pilot starring Kat Dennings based on the book and blog How May We Hate You; and CBS's Friends-in-Law. "It was crazy, but if they keep calling you in, it's because they like you, so what calmed me down was knowing that I just had control over what I brought in the room and no control over anything else after that," Rogers said. He wasn't the right fit for Most Likely To, but casting director Julie Ashton recommended him to Friends-in-Law, another pilot she was also casting.
Something that happens at the screen-test level took Rogers by surprise. "You sign a seven-year contract, so every time you test, you see how much money you could possibly be making," he said. "That's a very stressful, nervous thing'cause it's like oh my God, this show can save my life! And then you still have to audition."

For those who make it past the audition stage, filming sitcom pilots can be nerve-wracking, especially those who are learning for the first time to perform in front of four cameras and hold for the audience's laughs while receiving new script pages daily and line changes on the fly. "It's fun, it's rocky, and it's sort of scary because you're like, No, the cameras are over there," Fryman said about working with first-timers on History of Them and Friends-in-Law. "But that's why we rehearse so much, and when the audience is here for the taping, that's when they really rise to the challenge because the energy is remarkable. That's everyone's favorite part."
Pressures run high, but it's the reward for weeks of auditions and callbacks "when you're literally changing in the car because of L.A. traffic and the distances between auditions," said Ana Villafañe, the star of History of Them.  "A lot of times, you go from like a secretary to a teenage girl and those are different vibes; those are two different shirts – button-down versus T-shirt – and there's no time to go home and change."
This year, though, History of Them was Villafañe's first and only audition. By Thanksgiving, she already knew she had been cast — three months earlier than most actors. The show, loosely based on Calderon Kellett's marriage, is a comedy in the vein of How I Met Your Mother, but the narrator in this show tells the story of how her parents met and fell in love. Villafañe plays Luna, a talented singer who works as the social-media marketer for her parents' Cuban and Puerto Rican food truck. The cast includes Brett Dier (Jane the Virgin) as Luna's future husband, and Lisa Vidal and Felix Solis as her parents. When she cast Villafañe, Calderon Kellett rewrote Luna to be a singer around the age of the actress. Villafañe said she felt empowered knowing this. "It was one of those things where you're like, 'This is mine! No one's gonna take this away from me!" she said, laughing. "But all of this is scary. You can be voted off the island at any moment."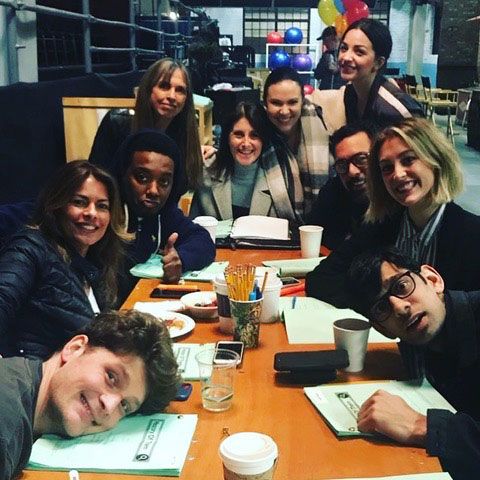 Even after they've been chosen, the feeling that they might be replaced stays with most actors. Villafañe carpooled every day to set with co-star Amit Shah, who lives in the U.K. and was staying in her same hotel. Shah, who plays her oldest friend, told her a story about another British actor who was cast in a pilot, and after two days of working, was told the studio had bought him a plane ticket back home. "Every single day that kid woke up being like, 'I'm leaving.'  He was so anxious," she said. "I was not at that level. I'm more of a 'enjoy it while you have it' type of person."
Morales, who landed a plum spot as the star of the Josh Malmuth (Superstore) show Abby's, is trying hard to manage her expectations. "There's a bunch of different outcomes, right?" she said. "I've been excited for something and then it doesn't go. I've been excited for something and been recast. Being recast hurts a little more. But in this business, an actor deals with daily rejection so you have to put your self-worth into something else. I always say I don't get excited about anything until my mom owns it on DVD. Up until then, anything can happen."

Morales is a pilot season veteran. She says she may not have reached "George Clooney level" yet, but still, she's been cast in a lot of pilots over the years. While she was offered roles on other pilots this season, she auditioned for NBC's Abby's mostly because she wanted to work with executive producer Schur again, after her experience with him on Parks and Recreation. As written, Abby was supposed to be older and not brown-skinned. "How many Latinas do you know named Abby?" Morales half-joked.
"I was trying to be really picky for the first time, which is hard because actors feel like the last time I worked is the last time I'll ever work," she added. "I did get offered other things but I didn't want to do something I've done before, which is I don't want to roll my eyes at the crazy guy and I don't necessarily want to be the best friend of somebody. I want it to be a step above or beyond what I've already done. So I was like, I want this one and was told 'No, they're not looking at you for that.' So I fought for it.'"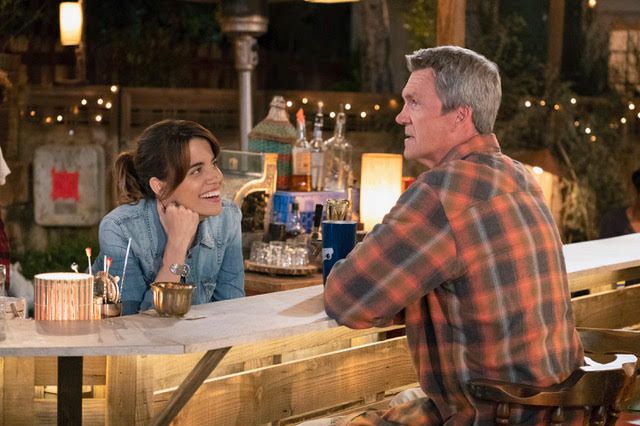 Morales hadn't performed in front of a live audience since she took theater classes early in her career. She was surprised by her own reaction when, as the star, she was the last actor introduced to the audience on tape night. "I was like, Okay, I may burst into tears," she said. "It was a crazy moment and I thought, I'm gonna soak this up because whatever happens, this is a really great first."
Once producers turn in their pilots, they don't typically communicate with the network unless there's new business to discuss. "I'm not sitting here sipping Champagne that someone sent me [to woo me]," Hunter said and laughed. "But there can be other types of conversations. It's more like advocating — like calling in to say 'Pam Fryman might want to stay for the series' which is huge because she's an amazing director."
As they finalize decisions over the next week, Hunter stresses that the process is nerve-racking on their end, too. "All the creators we work with are talented people who are working incredibly hard and have a strong vision and passion for their show," she said. "It's never easy when something doesn't go."