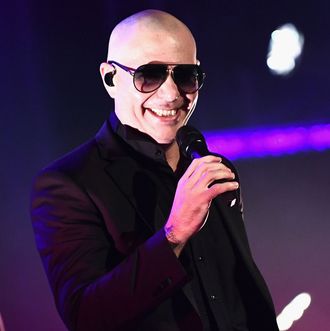 Pitbull in February 2018.
Photo: Emma McIntyre/Getty Images for WCRF
Iconic film score arriving! Pitbull will lend his musical genius to Gotti, the John Gotti biopic directed by Pussy Posse member/Entourage alum Kevin Connolly. The Hollywood Reporter reports that Pitbull (real name Armando Christian Pérez) will score the entire film, and contribute an original song. "Music has played an integral part in the success of some of my biggest films, and Armando is one of the most electric talents in the music industry today," Gotti star John Travolta said in a statement. "Everything about him — his style, creativity, and culture make his scoring of Gotti — the perfect marriage of the artist and the material." Sure! Gotti will premiere during a private screening at the Cannes Film Festival. Dale, Gotti!