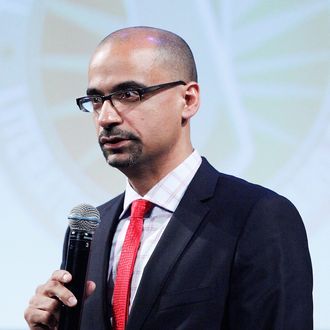 Photo: John Lamparski/Getty Images
A week after author Junot Díaz was publicly accused of sexual misconduct and verbal abuse, the Pulitzer Prize Board has issued a statement saying it will review the allegations made against the author. The statement reads as follows:
The Pulitzer Prize Board has authorized an independent review of allegations of misconduct against one of its members, Junot Díaz. Mr. Díaz said he welcomed the review and would cooperate fully with it.




Mr. Díaz was elected incoming chairman at the board's April meeting, as is customary for the senior member of the board. He has asked to relinquish this role, and the board has accepted his request. Mr. Díaz remains on the board.




Eugene Robinson, the board's immediate past chairman, has resumed the chairmanship on a short-term, interim basis.
Author Zinzi Clemmons claims that Díaz forcibly kissed her, and writer Carmen Maria Machado says he verbally abused her at a live Q&A event. Another author, Alisa Valdes, says Díaz was "misogynistic, demeaning and cruel" during a period where the two were seeing each other. Since the accusations first surfaced, Diaz has withdrawn from the Sydney Writers Festival, and MIT — where he is employed as a professor — has opened up an investigation into his alleged behavior.