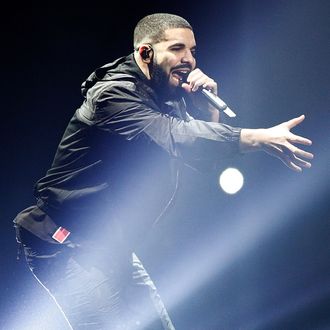 Photo: Lagerhaus/WireImage
Pusha-T released his latest album Daytona last night to mostly glowing reviews. But it looks like Drake will not be joining in the chorus of praise for the album, because he has absolutely had it. Included in Pusha-T's song "Infrared" is a reference to Drake using a ghostwriter, an accusation no rapper can abide. So Drake has gone ahead and done his part for the album's publicity, kicking off a full fledged beef by releasing "Duppy Freestyle," a diss track where he tells Pusha-T and Kanye exactly how he feels. Lyrics like "You're not even top five as far as your label talent goes," are just the tip of this big, shady iceberg. Listen to the full track below:
Update, May 25th at 9:09 PM: It looks like Pusha-T has responded to the track on Twitter, specifically referencing the lyric "Tell 'Ye we gotta invoice coming to you, Considering that we just sold another 20 for you" by inviting Drake to go ahead, writing "Send the invoice for the extra 20…"
Update, May 25th at 9:58 PM: And here's the invoice from Drake, for "Promotional assistance and career reviving", posted to Instagram. But, dude, you usually need to mail these.