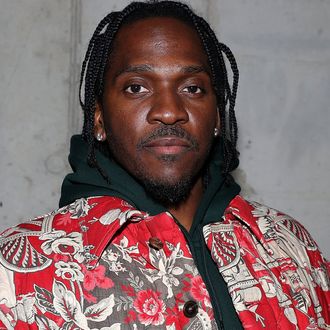 Pusha-T.
Photo: Shareif Ziyadat/Getty Images
Among the albums Kanye West has been working on (in between tweetstorms) is Pusha-T's latest work Daytona. And on Wednesday night Pusha-T previewed the album at an event, snippets of which have appeared on Twitter. Included in the clips is a snippet of West's verse from "What Would Meek Do?" which is the sixth track on the seven-song album. The verse comes complete with a psyche-out "scoop" at the beginning and plenty of responses to his critics, including "you gotta watch who you callin' crazy."
Pitchfork has also confirmed that Pusha-T has added the hyphen back to his name. This will be his first album release since 2015's King Push – Darkest Before Dawn: The Prelude. And for a while the new work was rumored to be called King Push. The rapper went into more detail about the album's name change on Twitter, "I changed the album title from King Push to Daytona because I felt it didn't represent the overall message of this body of work. Daytona represents the fact that I have the luxury of time. That luxury only comes when u have a skill set that your confident in."
Another clip from the album, which will be released in full this Friday May 25, can be heard below.