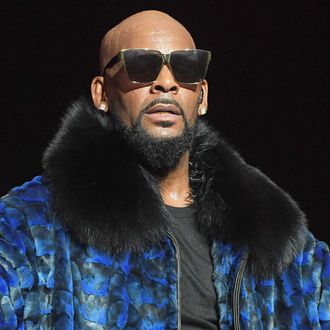 R. Kelly in 2016.
Photo: Prince Williams/WireImage
As accusations of sexual misconduct and sexual assault mount against singer R. Kelly, including new allegations made Friday in Buzzfeed News and the Washington Post, his management team continues to deny that any of them have any validity. "R. Kelly has close friendships with a number of women who are strong, independent, happy, well cared for and free to come and go as they please," his management said in response to the latest accusations, according to the New York Times. "We deny the many dark descriptions put forth by instigators and liars who have their own agenda for seeking profit and fame."
One of his latest accusers, Lizzette Martinez, told Buzzfeed News she allegedly had a four-year relationship with Kelly that began when she was 17 and became physically abusive. A second woman claims her daughter, referred to only as 'N.,' is still enmeshed in Kelly's alleged "cult" of women after a decade of dating.
Continued his management team, "All of the women targeted by the current media onslaught are legal adults of sound mind and body, with their own free will. Law enforcement officials in Atlanta and Chicago previously have made 'wellness' visits to check on the women in question and have found nothing to cause alarm."
Meanwhile, in their expose, the Washington Post spoke to six women who accuse R. Kelly of abusing them during their respective relationships with the singer. Two of the accusers, Tracy Sampson and Patrice Jones, have never spoken publicly about their allegations before. Sampson says she was a 16-year-old Epic Records intern when approached by Kelly. Jones alleges a then-married Kelly pressured her into getting an abortion. In the report, Kelly's former tour manager Demetrius Smith claims he warned Jive Records founder Clive Calder about Kelly's relationships with "girls" as early as 1994. Calder admitted to the Post he regrets not pushing for Kelly to get help. "Clearly, we missed something," he said.
In a somehow even odder turn of events, in addition to denying the latest round of allegations, Kelly's management team also disavowed a different denial issued on Friday. Reported by the Associated Press, the alleged "unauthorized" statement called Kelly a "a God-fearing man, a son, a brother, and most importantly a father." The management team told the Times on Friday, "Mr. Kelly rejects the points the statement tries to make, and we deny all association with it."
Earlier this week the Women of Color committee from Time's Up published an open letter calling on corporations to boycott Kelly over the numerous allegations that have been made against him. In response to their push to #MuteRKelly, the singer's rep wrote, "Soon it will become clear Mr. Kelly is the target of a greedy, conscious and malicious conspiracy to demean him, his family and the women with whom he spends his time."