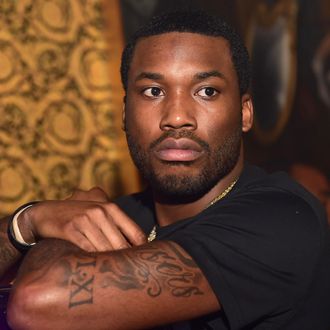 Mill.
Photo: Picasa/WireImage
Though initial reports suggested that Meek Mill would be making a stop at the White House on Friday to discuss prison reform, Mill has canceled the visit. Mill's reps have shared the following statement to Vulture:
"I was originally scheduled to be part of a panel on Prison Reform at the White House to help shed light on the issues within the system. Unfortunately, the focus turned to the President and myself which concerned me that it might take away from creating a positive result from today's discussions. As a result, I decided not to attend, so that the focus would be solely on fixing our prison system. Most importantly, I remain fully committed to improving our criminal justice system."
Though TMZ reported that the cancellation was prompted by a phone call from Jay-Z warning him that the meeting would be problematic, Mill's reps have confirmed to Vulture that Mill made the decision on his own, calling the TMZ report "false." Mill has a management deal with Jay-Z's Roc Nation, and Jay previously advocated for Mill's release from prison. However, Mill also found support from New England Patriots owner Robert Kraft, a Trump friend. Still, we patiently await the screenshot of Jay on the phone with Kanye, please.
This post has been updated throughout.