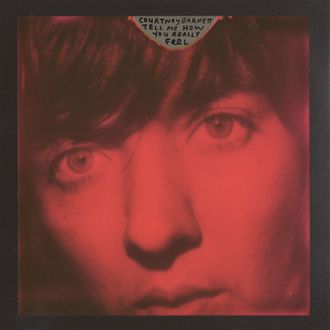 Photo: Milk!/Mom + Pop/Marathon Artists
I watch more cable news now than I have since the '90s, when my high-school poli-sci and history classes dovetailed with a juicy impeachment scandal and the rise of snappy political debate shows like Hannity and Colmes. I like to tell myself I'm documenting how ridiculous things can get in this country, that it is important for the sights and sounds of this era to wash over me, as someone who used to hold great faith in the optimistic old line about the arc of the universe always bending toward justice. When your daytime programming is a carnival of tragedy, of presidents debasing foreign-born citizens and angry young men raining calamity down on unsuspecting innocents, your counter-programming must be strong. Self-care is imperative. Tough times are like quicksand; it's hard work to keep from going under. It's more than just awful people short-circuiting lately, though. A few people I quite like have shown their absolute worst this year, and I get what's animating them — 2018 is trash! — but the worst way to process bad vibes is to stew in them without working through them.
Australian singer-songwriter Courtney Barnett's sophomore solo album Tell Me How You Really Feel deals similarly in failing friendships and cooling romances. The singer seems to have designed the new body of songs as a vital act of self-care for anyone experiencing the same tumult. The mission of the record is stated upfront in the opener "Hopefulessness": "Take your broken heart / Turn it into art." Some of the sprightly spirit of her debut Sometimes I Sit and Think, and Sometimes I Just Sit is lost, but in its place stands a wry acceptance of our chaotic new norm and a promise to charge forward until things lighten up. Grungy guitar nuggets are still Barnett's prime currency, but Tell Me's patience is shot; the alt-rock radio pep of album-one burners like "Pedestrian at Best" and "Nobody Really Cares If You Don't Go to the Party" is warped and corroded now. The difference is something like the passage in two short years between the bright melodies of Nirvana's Nevermind and the pained, guttural noisescapes of In Utero. It's hard to say how much of this shift in Barnett's method came from spending much of 2016 and 2017 palling around with Kurt Vile, who collaborated with Barnett on last year's tandem full-length Lotta Sea Lice. Vile's writing feels stoned, lackadaisical, and quiet in all of the places Barnett's might normally have chosen loudness and hard-charging speed.
The questioning head space informing Barnett's writing is more of an impetus for the moodier sound of Tell Me How You Really Feel than any vibes the artist might've picked up gigging alongside a folkier guitarist. "City Looks Pretty" seeks balance in the middle of some personal upheaval: "Friends treat you like a stranger and / Strangers treat you like their best friend," Barnett sings at the end of every verse, capping the last line off with a half-disaffected, half-bemused "Oh well!" The band's jangling krautrock riff speeds forward then in spite of Barnett's struggles, because metropolises run on gas and electricity, not the general well-being of the people who call them home. In the downcast "Need a Little Time," Barnett cuts ties with a toxic acquaintance for the betterment of both, a resolution that seems to lighten the singer's mood. Every time she hits the chorus line — "I need a little time out from me … and you" — the guitars tense up, and the vocal soars, like a rocky car ride smoothing out after dropping off a load that put a strain on the shocks.
As much as Tell Me How You Really Feel is an album about summoning the depth of perspective to see the possible good that can come from hard knocks — "Darkness depends on where you're standing," as Barnett says in "Help Your Self" — it's also a rebuke of people who can't, or won't, muster this much positivity. The three-hit combo of "Nameless, Faceless," "I'm Not Your Mother, I'm Not Your Bitch," and "Crippling Self-Doubt and a General Lack of Self-Confidence" get outside of Courtney's head to snap at aggressive, entitled people who make life hard for everyone else. "Nameless" throws an internet troll's tweet back in his face in verse two: "He said 'I could eat a bowl of alphabet soup / And spit out better words than you' / But you didn't." The chorus, aided on vocals by the Breeders' Kim Deal, reiterates the chilling words of Canadian critic and author Margaret Atwood: "Men are afraid women will laugh at them. Women are afraid men will kill them." (Barnett offers her own sharp addendum: "I hold my keys / Between my fingers.") "I'm Not Your Mother" and "Crippling Self-Doubt and a General Lack of Self-Confidence" lash out at anyone who gaslights Barnett into feeling anything less than great.
Tell Me How You Really Feel is a startling document of unusual times, days that cycle between rage and doubt, between resignation and hopefulness. These are days where you have to know who's in your corner and who can't be trusted, where the benefits of random kindness and the consequences of random cruelty seem unnaturally low. (As "Sunday Roast" says, "Some kindness goes around / Some kinda backfires.") Hidden natures are revealed in times like these. Now, perhaps more than ever, I need the people in my life to tell me how they really feel. The new Courtney Barnett album is a valuable word about seeking out harsh truths and mustering the courage and mettle to make a better life out of whatever you learn. "You got a lot on your plate," Barnett sings in "Help Yourself." "Don't let it swallow you."