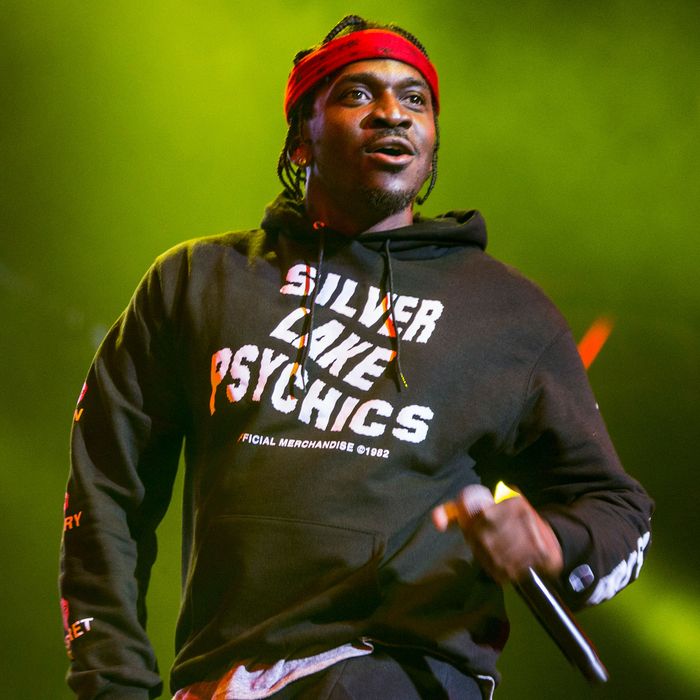 Photo: Harmony Gerber/WireImage
My favorite video of Pusha-T comes from the fall 2010 press run for Kanye West's My Beautiful Dark Twisted Fantasy, when the two stopped by Hot 97 to freestyle for Funkmaster Flex (as one does) and kicked bars that would later find homes on the Virginia rapper's Fear of God mixtape, and "Gorgeous," the Chicago rapper-producer's collaboration with Raekwon. The mood is light and jovial as Push introduces himself, but it all turns on a dime when he starts to rap. His facial expressions shift back and forth between pride and contempt with every line. The delivery is by turns excited and positively ghoulish, as any story about moving weight has to be, especially coming from a guy who used to call himself "Push a Ton." He looks like he's ready to fight the mic. Few rappers seem this physically possessed by the muse in the moment. Emotions flash across Pusha's face like memories; he still wants to sell kilos.
Pusha-T is the voice in your head when someone does you wrong and you have to remind them who you are and what you're capable of. His favored ad-lib — YEULCHHH! — is the sound of dignified horror. He might be the haughtiest rapper working, but his records since the end of the rap group the Clipse — where Push bounced rhymes off his brother, Malice — have all tried, to differing degrees, to match his sound to the climate of the times. Records like Wrath of Caine and My Name Is My Name were fascinating acts of self-discovery from a rapper who already seemed to have zeroed in on a winning formula a decade ago.
Pusha's album, Daytona, which is out today and produced entirely by Kanye West, approaches the business of a Pusha-T project the way a trafficker maps air and sea routes. Practicality is the guiding principle. The artist and the producer both know exactly what you want from them, and they cut hurriedly to the chase. Daytona is the platonic ideal of a Push record. The rhymes are elaborate enough to demand close listening. (When you realize the penultimate snap in the disrespectful Drake, Birdman, and Lil Wayne diss "Infrared" — "How could you ever right these wrongs when you don't even write your songs?" — references not one but two specific lyrics Drake has repurposed from an old Kanye song, in verses for "Legend" and "Poetic Justice," your head'll spin like Wee-Bey.) The production reels you in with bold but sparse dashes of melody while centering the marquee artist's voice.
Daytona is meat-and-potatoes boom bap, at times there's not much more there than drums and space. Opener "If You Know You Know" goes an entire 40 seconds without kicks or snares. The verses in "Come Back Baby" are delivered over nothing but skeletal synthetic drums and a low hum of bass. The beats are the kind of stuff fans of "The Truth" and "This Can't Be Life" have been clamoring for since the Clinton administration. The Kanye West you're getting here — with the exception of the scat rhymes and flubbed Trump-merch joke in "What Would Meek Do?" — is the Kanye West who used to gush over RZA and Dilla beats and speak worshipfully about A Tribe Called Quest albums. Like the best Kanye records, Daytona approaches well-known soul, funk, and gospel songs like logic puzzles: "Santaria" warps the guitar lick from "Bumpy's Lament" like putty, because producers in the past have found it too irresistible to tamper with. Like the best Pusha records (and classic Rick Rubin tracks), these new songs sound like reductions, not productions. Fans who accused the more experimental My Name Is My Name of sounding like Push making a Kanye record will be happy to hear that with Daytona, it's the other way around.
The result here is a lot of gourmet shit-talk. Pusha-T's rap career is the answer to the question of what could've happened if the old man who iced Nino Brown after his courtroom win had worse aim. Daytona is the self-satisfied smirk of someone who made it through the worst in one piece telling war stories: "Where were you when Big Meech brought the tigers in?" "If You Know You Know" asks in reference to the Atlanta Black Mafia Family's lavish love of exotic animals. "'Cause I was busy earning stripes like a tiger's skin / Bricklayers in ball shorts / Coaching from the side of the ball courts." Every verse has a quotable. Every song bounces the relief of making clean money now off of the old pride in riding dirty years ago.
Excess is every effective gangster's downfall, so Daytona doesn't allow itself any chances to flounder. It's only seven tracks long, and the lengthiest ones are essentially done by the three-minute mark. Like GOOD Music signees Valee and Desiigner's recent GOOD Job, You Found Me and L.O.D. projects, Pusha and Kanye are smart enough to know that sometimes a second or third verse is just enough time for a great song idea to fall apart. The quick pace and high replay value here ought to dissolve the lingering rap fan gripe about Pusha relying too much on coke talk. We don't ask Steph Curry to stop shooting threes, and we don't ask Denzel Washington to stop playing anti-heroes on the verge of breakdowns. Let gifted artisans lean into their strengths.
In training its focus only on Pusha-T's sharpest assets — namely, a dopeboy's sense of danger and a retiree's exquisite taste and haunted peace — Daytona marks the rapper's best work since Clipse's landmark Hell Hath No Fury. You can tell he knows it's great in the first verse of "The Games We Play," when he snarls, "To all of my young niggas, I am your Ghost and your Rae / This is my Purple Tape, save up for 'Rainy Dayz.'" The track's gutted, repurposed funk definitely invokes RZA in sound and methodology, but this album's more like Fishscale, the 2006 Ghostface Killah album that proved there's still space to sharpen your creative pursuits past your mid-30s. The refinement of Daytona and Fishscale and Jay-Z's 4:44 and the last few Rick Ross records gives the lie to the prevailing idea that the only direction for a rap career to go is up a summit and back down to the bottom. As a brash man once huffed in a freestyle, "This game, you can never win / Cause they love you, then they hate you, then they love you again."