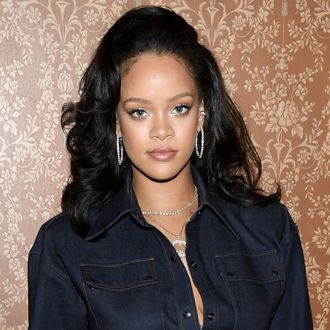 Rihanna.
Photo: Dimitrios Kambouris/Getty Images
Rih-gae: Rihanna is officially working on a reggae album. In a Vogue profile promoting Savage X Fenty and Ocean's 8, Rihanna gave details about Anti's follow-up. "With her next record — her ninth — Rihanna is moving the needle on her creative output all over again: She plans to make a reggae album," Vogue reports. "Though it's too soon to name a full list of collaborators, one early influence may be Supa Dups, the Jamaican-born record producer who has worked with such dancehall greats as Beenie Man, Sean Paul, and Elephant Man."
According to Vogue, Rihanna named Bob Marley as her favorite reggae artist. ("Buffalo Soldier" is her all-time favorite.) Recall, however, that Rih knows her stuff: When Diplo begged to play her a song during a group hang, she cut him down to size. "I played her a song. And she was like, This sounds like a reggae song at an airport," Diplo recounted last summer. "I was like, I'm gonna go kill myself." Safe to say he won't be making an appearance.