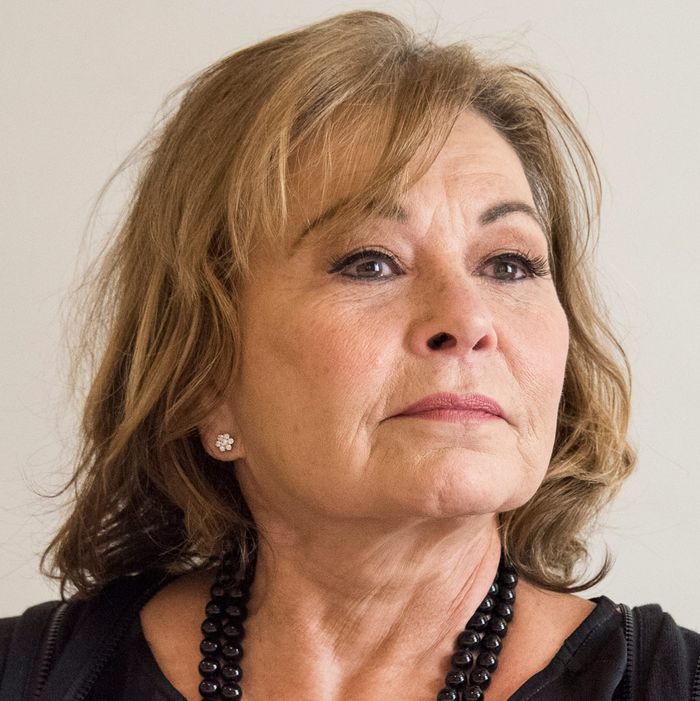 Roseanne Barr.
Photo: Vera Anderson/WireImage
When ABC executives woke up Tuesday morning after the long holiday weekend, it had been hours since comedian Roseanne Barr posted a racist slur about President Obama's senior advisor Valerie Jarrett, sparking a massive social-media outcry before claiming it was only "a joke."
By the time Barr apologized on Twitter, ABC Entertainment president Channing Dungey and her boss, Ben Sherwood, had spoken and agreed that Barr had gone too far this time. But canceling the No. 1 show on television requires many high-level conversations, including with Walt Disney CEO Bob Iger, who ultimately supported Dungey and Sherwood's decision. All of ABC's leadership was in agreement: Barr's tweet was "reprehensible," sources said.
Three hours after Barr's apology, the network issued a concise and definitive statement: "Roseanne's Twitter statement is abhorrent, repugnant, and inconsistent with our values, and we have decided to cancel her show." It was the first time ABC publicly responded to Barr's online behavior — though her tweets reportedly sparked several internal "flare-ups" before — which prompted industry observers to theorize that advertiser backlash may have pushed executives toward their decision. But ABC sources were steadfast Tuesday afternoon that there was no time for executives to hear from advertisers, and that Dungey and her bosses made the decision to cancel Roseanne because "it was the right one."
That decision leaves a huge hole in ABC's Tuesday-night lineup, a problem that executives had to address immediately since a Roseanne rerun was scheduled to air tonight. A rerun of The Middle will take its place. More problematic is the fact that ABC announced two weeks ago that Roseanne would return this fall to anchor its Tuesday night lineup. Dungey and her staff will begin thinking about the fall once they've decided what to do to fill the Tuesday night void in the coming weeks.
"I was not surprised and was very glad to hear of the cancelation, despite my sadness that so many people lost jobs today," said co-executive producer Darlene Hunt, who was not planning to return to Roseanne because she's producing a comedy for Apple. "It stinks."
Despite Barr's reputation, Hunt said that she signed up for the revival season of Roseanne because she wanted to work with co-showrunner Bruce Helford and executive producer and actor Sara Gilbert after she met them, and also because she wanted to see more blue-collar families represented on TV.
"Working on the series last season was one of my favorite jobs in Hollywood," she said. "Everyone was so mature and passionate about the storytelling, and we all drew on our real-life experiences. I'm proud of the stories we told with fictional characters. I wanted to tell the kinds of stories this show could tell. But, clearly, this is not the show to keeping telling these stories. I would not work with Roseanne in the future."
On Tuesday morning, Helford issued his own statement: "On behalf of all the writers and producers, we worked incredibly hard to create an amazing show. I was personally horrified and saddened by the comments and in no way do they reflect the values of the people who worked so hard to make this the iconic show that it is."
While Carsey-Werner Company, the studio that owns the show, has the right to shop Roseanne to other networks, some observers say it's unlikely the sitcom will land at a broadcast network. Even a cable outlet could be a stretch. "She's toxic," a senior TV executive from a rival network told Vulture. "The stuff about George Soros is one thing. She probably could've gotten away with that. But this was just racist. On one hand, I'm shocked ABC actually did this. But they also really didn't have any choice."
It's unclear what, if any, financial liability ABC will face over the cancelation. Networks usually have broad morals clauses allowing them to cancel deals due to talent behavior. The senior network exec said he would be shocked if ABC didn't include more specific language for Roseanne, given her past history. Attempts to reach executives at Carsey-Werner were unsuccessful.
Josef Adalian contributed to this developing story.