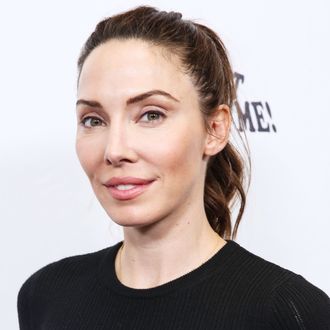 Whitney Cummings.
Photo: Robin L Marshall/Getty Images
Whitney Cummings, who helped spearhead the Roseanne revival on ABC as co-showrunner, is moving away from the series. Per The Hollywood Reporter, Cummings is leaving to work on other projects, according to Bruce Helford, who will be Roseanne's sole showrunner going forward. "I think Whitney is going to be too busy," Helford said. "Whitney is always a member of the family of the show but she's got so much going on. I don't know how she had time to work on the show in the first place. I don't think she'll be able to join us in the capacity she was joining us in this first season." In a piece for Vulture, Cummings previously wrote why she wanted to adapt the show for the Trump era, saying that she did not agree with Roseanne Barr's ideas, but "this clash of ideas and clash of personalities makes for a deeper and more realistic show that could possibly help the people who felt so ignored, dismissed, and invisible that they felt the need to 'shake things up.'"
Other members of the new Rosanne's writers room, including Wanda Sykes and Norm MacDonald, will return with the show this fall, while Helford told THR that the show is also hiring Ali Liebegott (Transparent), Jen Friedman (The Daily Show), and Ted Jessup (Family Guy). Dave Caplan (Anger Management) and Bruce Rasmussen (Claws) will be executive producers. Barr herself remains an executive producer of the show.
Update: Cummings has tweeted the following statement, citing "work commitments and my tour schedule" as her reason for leaving. She'd also like TMZ's head honcho to leave her alone.
Working on "Roseanne" was a surreal, incredible experience.




Due to work commitments and my tour schedule, I'm gonna have to watch the Conner's from the sidelines next season.




It was an honor to work with such an incredibly talented group of actors, writers, and crew.




Harvey Levin, you can stop calling my cell phone now :)