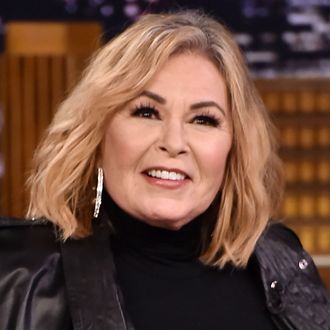 Roseanne Barr.
Photo: Theo Wargo/Getty Images for NBC
It appears Roseanne Barr may be able to stay in showbiz, well, kinda. Michael Caputo, a former Trump aide, is interested in trying to get the star on his new streaming platform Bond. "We always planned on reaching out to Roseanne eventually," Caputo told the Daily Beast. "Now it's sooner rather than later." Rosanne's inability to not tweet racist stuff sometimes doesn't deter Caputo, because he's looking to create a streaming platform where conservative voices are welcomed. He's even sought backing from wealthy conservative investors and, just to fully add to Bond's street cred with Trumpers, was questioned by the Senate Intelligence Committee for the service's ties to Russia (two of its founders were born in Russia and the service has pitched to Russian investors).
Bond's business model would be a big change for the star though. As Caputo explained to the Daily Beast, "Roseanne would join Bond, upload a proposal for new content and fans would buy shares. As her new content is uploaded, a small piece of each viewer's subscription would be paid to Roseanne. Her user-investors would profit from her success or lose their investment if she flops." So essentially, everyone could be a producer on Roseanne. Just without the hassle of getting a say in the production.