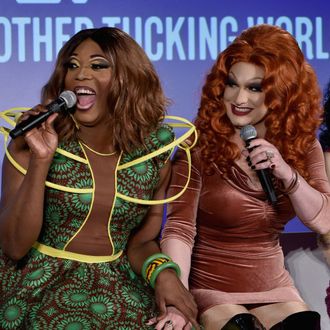 BeBe Zahara Benet and Jinkx at Vulture Festival.
Photo: Bryan Bedder/2018 Getty Images
If you've ever submitted an audition tape to RuPaul's Drag Race, rest assured: Mother Ru herself has indeed watched it. At the Drag Race Vulture Fest panel on Saturday, Bebe Zahara Benet brought up the importance of RuPaul selecting the season-one cast of the revolutionary show. Michelle Visage broke in to confirm that Ru still chooses every contestant. In fact, he watches every audition video that is submitted.
"RuPaul still looks at every single audition video," Visage explained. "He handpicks every single one of them still. Those are all his children and they're there for a reason. And that's the beauty of the show."
Moderator and RuPaul's Drag Race recapper Matt Rogers asked if there was a vetting process before the "thousands" of submission get to Ru.
It turns out, no. "He sees them all as they come through and there's levels of who makes it through to the next round, but he looks at all of them," Visage said. "He knows who's ready and who's not. He really does. He can look and say I've seen this person seven times, they are finally ready.'"
No extra pressure while you preparing your tape, but you better werk.