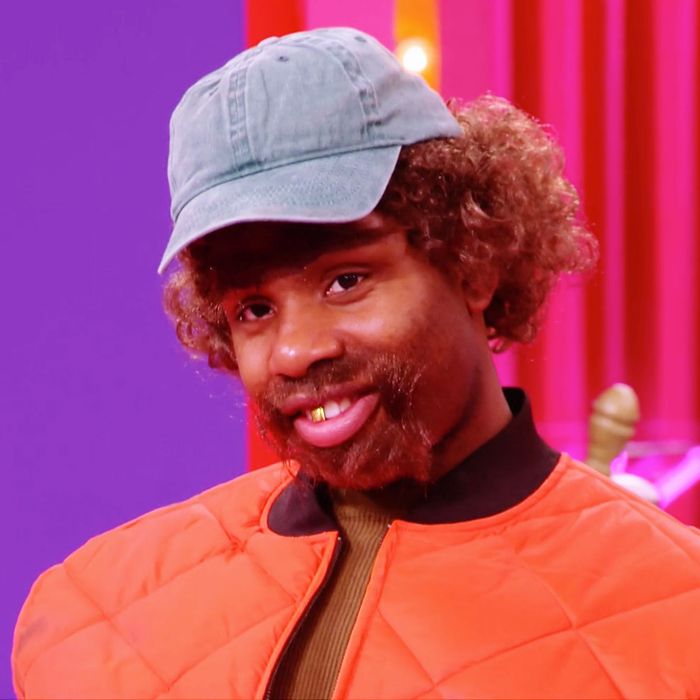 The makeover challenges are a bit of a mixed bag, and while it's by design that each season brings in a couple of well-meaning straight dudes for the occasion with no concept of Drag Race as a way to vary up the results, it only makes for debatably good TV. Season nine's queens drag-ifying the crew members was peak makeover challenge, because they had already spent hours in the trenches with the queens beforehand and possessed a working knowledge of drag. Gone were the Awkward Convo With a Straight Dude Moments, and gay bars and viewing spaces the world over were better for it. No such luck with this week's social-media doyens, who enter the werk room with varying degrees of Drag Race fandom while we're subjected to a cringeworthy conversation between Kameron and Anthony. More on that later.
In Untucked: Mirror Message Edition (read: the cold open), the queens celebrate Kameron and Eureka's miraculous double save for a tight 30 seconds until Aquaria cuts in and calls bullshit on the whole situation. It may or may not be a blatantly produced moment, since the show still seems to struggle with building compelling character narratives in a post-Vixen world. Out of the remaining girls, Aquaria has the path of least resistance to victory and has no real reason to lash out this way, but if she's taking one for the team while no one else wants in on the bequeathed villain edit, then God bless. She apologizes for her outburst the next morning as the girls silently blink at her, but we clearly have a story line crystallizing before us: Aquaria is young, dumb, and full of learnings. Showing any kind of growth goes a long way on Drag Race, and Aquaria's edit has all the proper trappings for her to viably take the crown.
RuPaul comes in and mini-challenges the queens to pose for his new truck-stop-inspired fragrance Trade, and the gals throw on some rugged, blue-collar masc-drag. We're loath to admit that everyone's performative masculinity is shockingly arousing, and something about Eureka's mulleted mechanic get us going. Masculinity is usually a canker upon queer spaces like this, but we're pretty okay with it here. Asia is hot too.
Eureka takes the win, which allows her to pair up the queens with their social-media celeb to make over and create a family resemblance. Monét gets Tyler Oakley, Cracker gets Chester See, Aquaria gets Kingsley, Kameron gets Anthony Padilla, Asia gets Raymond Braun, and Eureka meets a boisterous kindred spirit in Frankie Grande.
We've now arrived at the supposed meat of the episode, in which there's plenty of squealy bonding balanced with light heterosexual hand-wringing. While we'd much rather see the girls work at their own craft, unencumbered by some outside party, for better or worse this is what makes up the majority of the ep. Chester and Anthony are both a bit clueless when it comes to drag, but keep open minds as Cracker and Kameron nod in concern. Frankie, Tyler, and Raymond kiki and get along famously with their partners as they try on garments and practice walking in heels. Meanwhile Aquaria gets to know Kingsley and puts to bed any notion that applying makeup on a person of color would act as a handicap.
After a heeled-up Tyler Oakley practices some runway walks, Ru checks in and stages some particularly animated walk-throughs. He seems to want to talk directly to the Straight Boyfriends/Cool Allies of the world this week, and every stop feels like a miniature PSA. He exuberantly brings up Dear Evan Hansen for some reason to Miz Cracker and Chester, telling Cracker to come out of her self-evaluating shell and give it her all, which apparently involves spitting onstage like Ben Platt. Ru then admonishes Monét to step outside her pussycat-wig comfort zone after telling Tyler he was a fat ass. At Kameron and Anthony's station, he extols the liberating power of drag, twerks a bit, then teases out a pageant-sounding statement from Raymond Braun about his social-media platform, to which Asia nods approvingly.
We get some quick sound bites of Frankie Grande contending with the "pressure" to do well, followed by Kingsley's fear of looking stupid in drag. Both moments allow RuPaul to drop her sagely bits of wisdom before peeling away and — surprise! — telling the girls they have to record a lip-sync video to RuPaul's single "Charisma, Uniqueness, Nerve & Talent" to be presented on the mainstage. We understand the function of these "One More Things" as seasoning to an otherwise bland makeover challenge every season, but this ranks as one of the weaker mini-maxi-challenges. Give us the Little Women of L.A. broom dance from season eight or give us nothing! Nothing!
After the world is treated to the shocking scale of Frankie Grande's testicles, we move to the mainstage as Ru, Michelle, and Ross are joined by a joyless Miles Heizer and a divine Lizzo. Asia O'Hara and America O'Hara storm the runway together in sumptuous Patricia Field–inspired outfits, giving glamour while also doing their outré looks justice. Eureka and her daughter Eufreaka manage to perform a cute character story, and the different hair loaves do most of the work in terms of family resemblance. A regally red Aquaria brings out a princess-like Capricia Corn, whose withdrawn runway presence may or may not be a choice. Meanwhile, Miz Cracker and Miz Cookie (who is feeling her oats, gawd) bring the whole package to the stage, both in terms of aesthetic and character narrative. Not so much with Monét X Change and Short Change, who don't give us any cohesive story beyond tall wigs, glasses, and bodysuits. Finally, Kameron and Kelly strut out in some unembellished disco looks while not completely selling their family story and resemblance.
The judges' critiques go as expected: Asia, Eureka, and Cracker earn high marks, with Cracker especially receiving some well-deserved praise. Michelle clocks Aquaria for the sartorial disparity between her and Capricia Corn, and Monét takes flak for the oversimple outfits and lack of family resemblance. Kameron gets read for her bland look as well, and after deliberations we have Monét and Kameron in the bottom two after Cracker rakes in her first win.
The lip sync to Lizzo's excellent "Good As Hell" is a pretty great one, even with stunt queen Monét's poorly executed runway slide. She gets the sashay after an impressive run on the season as one of its best narrators, and despite her questionable performance record, she leaves the show with countless new fans who will throw sponge wedges at her for the rest of time.
We're now down to a remarkably great top five that, with Cracker's victory this episode, is pretty evenly matched in terms of challenge wins and good will. There are many questions taking form: With our ball challenge way behind us, what could the final challenges have in store for these queens? Who will be eliminated next week? And most importantly, how the hell is Winter Green doing?
SAID THE BITCH: A Weekly Quote Spotlight
Aquaria: "I'm comfortable putting makeup on others."
RuPaul: "You're versatile!"
Aquaria: "The only vers I am is Versace."
…Said the bitch!!! It might be old news at this point, but Aquaria is a closet comedy queen, y'all. She's got quips and clapbacks for days, as long as she's able to string together a sentence in the first place. The bitch can give you zingers the house down, boots!