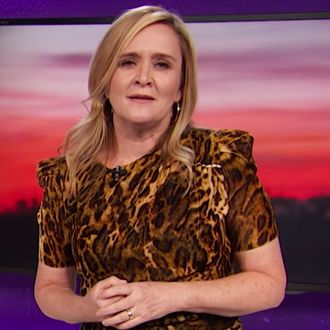 Samantha Bee has come under fire for her Full Frontal segment on the 1,500 missing migrant children from last night. The segment, in which Bee called Ivanka Trump a "feckless cunt" for refusing to act against her father's cruel immigration policies, drew intense criticism from White House press secretary Sarah Huckabee Sanders, who commented on the segment to The Wrap earlier today. "The language used by Samantha Bee last night is vile and vicious. The collective silence by the left and its media allies is appalling," Sanders said. "Her disgusting comments and show are not fit for broadcast, and executives at Time Warner and TBS must demonstrate that such explicit profanity about female members of this administration will not be condoned on its network." At least one advertiser, Autotrader, has since announced that it's ended its sponsorship of Bee's show:
Not long after Sanders's comments to The Wrap, Bee took to Twitter to publicly apologize for the segment, which has since been removed from Full Frontal's Facebook, YouTube, and Twitter pages:
Update: TBS has also released a statment following Bee's apology:
Samantha Bee has taken the right action in apologizing for the vile and inappropriate language she used about Ivanka Trump last night. Those words should not have been aired. It was our mistake too, and we regret it.