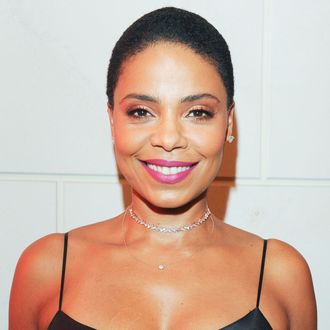 Sanaa Lathan.
Photo: Amy Graves/WireImage
Sanaa Lathan would very much like to be excluded from this narrative, one that she never asked to be a part of, since Vulture closed its investigation into who bit Beyoncé. With Bey-bite-gate (this is what we're calling Tiffany Haddish's revelation that an actress on drugs bit Beyoncé at an after-party) out of the headlines, Lathan has made her case to Health. "I think [the rumor is the] most absurd thing I've ever been involved with. Thank God I've been in this business for 20 years and have had so many rumors about me. They used to devastate me in my 20s, but in order to survive in this business, you just have to let it roll," Lathan said. "I adore Beyoncé. I would never do anything malicious like that — to her, or to anyone. It's so bizarre."
Lathan's statement to Health is Something New. Initially, she laughed off the rumors online, tweeting: "Under no circumstances did I bite Beyoncé and if I did it would've been a love bite." During an extensive investigation, Vulture found that Lathan was the most likely culprit. Sources later confirmed to TMZ that Lathan was guilty.
Bite survivor Beyoncé has yet to comment on the allegations.