For a few seconds, Shawn Mendes is off the clock. It's a sweltering afternoon in a Hollywood parking lot, and he's slouched into the backseat of a 1965 Ford convertible, in which he's just had his photo taken, with eyes closed. Today's already been a marathon: Mendes, 19, woke up at six for an early workout and took a vocal lesson at eight, then sang in an SUV with James Corden for Carpool Karaoke before teaching the late-night host to ice-skate, all in preparation for the release of his new self-titled third album, the one he hopes will transform him from teen-pop heartthrob into serious adult artist. And if it requires some minor workaholism, he's okay with that. "People would say it's wrong to look at it that way," he tells me later, but growing up in the Toronto suburb of Pickering, Ontario, "I was obsessed with being really, really good at things" — first soccer, then hockey, and at 13, playing guitar and covering Adele and Rihanna songs on YouTube. Even now, he says, "I tell my vocal coach I want to be the best male singer in the world."
His voice is a pleasantly serviceable tenor, but given all he's accomplished so far, anything's possible. By 14, Mendes had 3 million followers on YouTube and Vine. A year later, he was signed to Island Records and opening for Taylor Swift on tour, which helped push his debut album, Handwritten, to No. 1. After his second album, 2016's Illuminate, spawned two Top 10 singles, "Treat You Better" and "There's Nothing Holdin' Me Back," he was headlining arenas himself.
Back in the parking lot, his publicist yells, "We've been spotted!" Mendes opens his eyes. Sure enough, a group of girls are standing in the third-floor window of an adjacent building screaming. Given Mendes's policy of never denying a photo request — a few weeks ago, he indulged more than 600 fans outside a London hotel — and the fact that his day is scheduled practically to the minute, we'll need to make a fast escape.
Mendes is out of the convertible and running to his rented Range Rover. "I'll drive so you can relax," he tells his tour manager and peels out of the parking lot — almost into oncoming traffic. He hits the brakes, looks around to make sure everyone is okay, and laughs. "Yeah, I'm definitely going to kill us today," he says.
Mendes's longtime manager, Andrew Gertler, 29, refuses to call his client's new record make-or-break, instead describing it as "putting a stamp on who he is." But there's no getting around it: The success of Mendes's album is crucial to his still-burgeoning career.
It's certainly his most adventurous. Mendes says when recording in Malibu last year with producer Teddy Geiger, the pair were left to their own devices. The album veers from rock ("In My Blood") to jazz ("Where Were You in the Morning?") to R&B ("Nervous"). But more important, for Mendes, these are the songs on which he breaks with his PG image: "Shawn Mendes the good boy. The kid who's super-sweet. That's not a bad thing," he says, "but I also wanted people to understand that I'm human, too. I just wanted to write about things that I've gone through."
The first single, "In My Blood," features the lyrics "Laying on the bathroom floor, feeling nothing / I'm overwhelmed and insecure, give me something" — a reference to his battle with anxiety, he says, which began around his 18th birthday. "I was so worried people were going to be like, 'This kid's always sad,' " says Mendes. Instead, "People I haven't spoken to in years were texting and emailing me being like, 'Dude, this is so important that you did this.' "
On a coffee-shop patio, sipping a green tea, Mendes tells me that achieving so much at such a young age made him insecure and afraid. "I was in such a bad head space," he recalls of those early years. "It's so overwhelming to be successful. And that sounds like such a shitty thing to say. But it's like, how do you keep it going? How do you sustain success when you don't even really know why you're successful? Dude, it was the worst. I'd break down in tears once a week. I used to think everybody was out to get me."
He says his anxiety is now mostly under control, although becoming a tabloid fixture hasn't helped. He recently walked the Met Gala red carpet with model Hailey Baldwin, which was "the most overwhelmed I've ever been," he says. "The door just opened to that whole world. I'm not used to it yet." To unwind, he'll occasionally drink ("I'm legal in Canada"), but never enough to cause problems. Plus, he knows the cautionary tales of other teen stars: "There's a thing in my head: Be careful. Be careful."
Mendes finds the attention on his personal life funny. He and Baldwin aren't dating, he says: "We are just awesome friends." Attending the Met Gala with her "was about having somebody there to calm the nerves. We were there for each other."
Later, I'm witness to some of Mendes's neuroses. We're at the rooftop bar of the Mama Shelter hotel ("Wow! What a sick vibe!"), and he scans the other tables. He spots the actress Anna Kendrick and frets over whether to introduce himself, eventually deciding against it. "I'm really weird about that stuff," he says. "I have this thing where if I'm supposed to meet people, I'll just meet them."
Mendes says he's more comfortable back home in Toronto. Last year, he bought a condo there, finally moving out of his parents' house. He figures someday he'll move to London or Amsterdam. "In Europe right now, I'd be wearing a floral shirt with three necklaces. I would never wear that here for fear of judgment."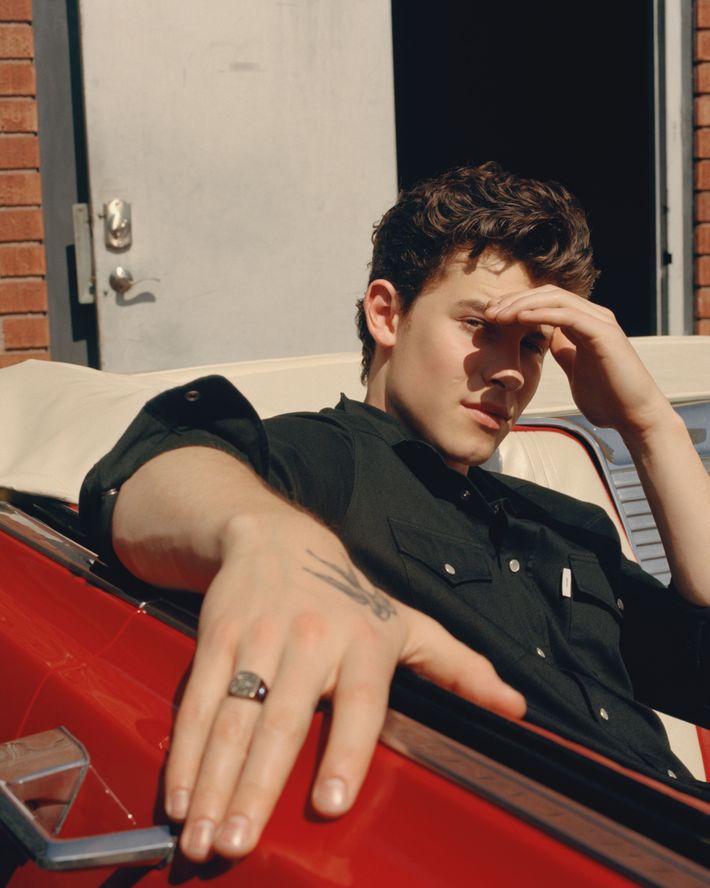 Lately, for support, Mendes has called on his many-necklaced mentor, singer-guitarist John Mayer, who wrote an essay about him for Time magazine's list of the year's 100 most influential people (Mayer described him as "like Neo in The Matrix, downloading [musical] skills in one sitting") and got him into collecting watches. Mendes proudly shows me his new Audemars Piguet ("Boom!"). Mendes has also grown close with fellow young pop star Khalid, with whom he recorded the song "Youth" for his new album. Khalid calls Mendes "a really inspiring friend and one of the most talented artists I know — it's always great to have friends to turn to who understand your life." In fact, Mendes spoke with Khalid earlier today. Khalid wants him to come perform their new song tonight at his sold-out show at the Greek Theater. But it's getting late, Mendes says, plus he has a busy few weeks coming up.
Just after 9 p.m., though, Mendes is there with Khalid in front of 6,000 people. They play a choppy-but-effective version of "Youth." Then Mendes swings his acoustic guitar over his shoulder, blows the crowd a kiss, and walks offstage.
"I've accepted that this is it," he tells me. "Just like anything you get addicted to, there are reasons you hate it and love it, so it doesn't bug me. I get to do the coolest things ever."
*This article appears in the May 28, 2018, issue of New York Magazine. Subscribe Now!