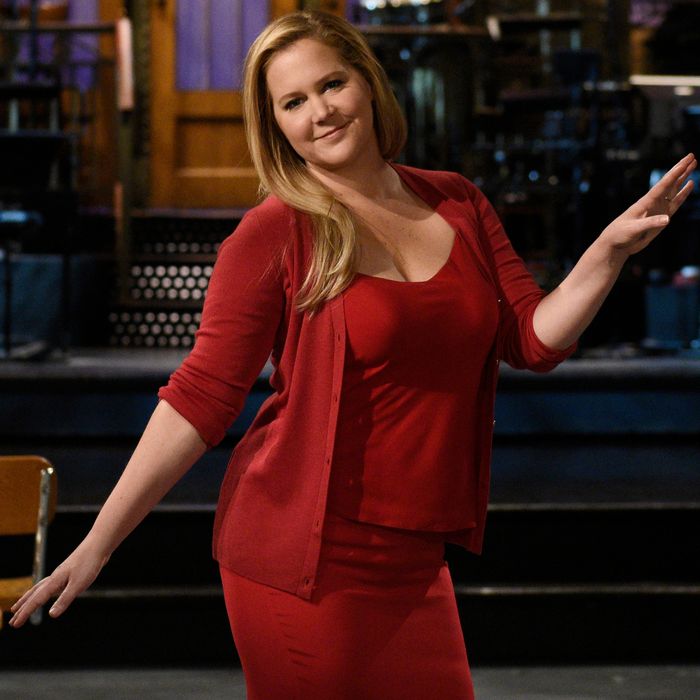 Photo: NBC/NBCU Photo Bank via Getty Images
The first time Amy Schumer hosted SNL, back in 2015, Trainwreck had just been released and her Live at the Apollo was dropping days later. Though her latest projects are a disappointing movie (I Feel Pretty) and special (The Leather Special), she's had many irons in the fire. She wrapped her series Inside Amy Schumer, wrote a book, and starred in Steve Martin's Meteor Shower on Broadway. She also got married recently, sat for a revealing Oprah interview, and generally enjoyed the benefits of celebrity — e.g., booting a young comic during his big headlining set on the Caroline's stage this week so she could work on her SNL monologue. In any case, Schumer is a smart, bold, and charismatic performer who knows sketch and does a fine job taking the reins at SNL again.
Mother's Day Cold Open
As a reprieve from political sketches, SNL cast members bring out their moms to thank them in advance of Mother's Day. It's a number of cute vignettes in which the moms deliver quick jokes about the respective talents of the kids — and more than a few complaints about the overbearing political content of the show. Cindy, Luke Null's mom, wants to know why SNL doesn't talk about "Crooked Hillary." Chris Redd's mom wonders why everyone is so focused on Trump when they ought to be thinking about Jesus. Beck Bennett's mom suggests SNL bring back "Wayne's World," and Pete Davidson's mom wants her son to back off the penis jokes. (Amy Schumer sits this one out, prepping the monologue, maybe?) It's barely a sketch, but it's cute.
Amy Schumer Monologue
During her opening, Schumer talks about a range of things, from the "worthless" proposal her now-husband gave her to the the "illusion of equality" under which women are raised in America. When one is a bridesmaid in her 20s, she giggles that Champagne flutes are a little heavy; a bridesmaid in her 30s presents her "aging cleavage" and hopes that she doesn't have "the biggest arm" in the line of bridesmaids. When Schumer talks about needing to borrow tampons, she homes in on the whispery, embarrassing aspect of it: "We were taught to be ashamed of being born human women." It's a show highlight, a good mix of physical (if not exactly bawdy) humor with a side of the feminist thought for which Schumer has come to be known.
Mother Knows Best
This game show features three mother-child teams competing for a cash prize by answering questions about one another. The contestants include two average-looking pairs and one disturbing mother ("Abissaleth") and her son Jean-Christopher, from "Fortress-of-the-Lamb, Pennsylvania, a closed community of Friends." While the normals talk about kids' bad habits such as chewing their hair, the weirdos talk about sharing the same bed and kiss on the lips for long periods of time when they win points. While the sketch hints at a creepazoid crescendo to come, something a viewer both fears and anticipates, it never quite gets there.
New Hulu Show
For this mash-up of Sex and the City and The Handmaid's Tale, four ladies in red cloaks and white hoods (Schumer, Strong, Bryant, and McKinnon) gather in a dining hall to gossip under the watchful eye of guys with weapons. All the Handmaid's horrors get translated here to blasé, offhand puns which cause the ladies to giggle like carefree girls. They cry "Under his eye!" before complaining about the bags under their own, and talk about one man who is "hung up on" a former Handmaid who hung herself. This sketch feels like a nod to the feminist bent of Schumer's Comedy Central show, but it feels more like a play on the differences between the series than any sort of biting commentary.
The Day You Were Born
When a mother (Schumer) is awakened on Mother's Day by her husband and son with breakfast in bed, she can't help but remember the birth of that son as "the best day of [her] life." While she regales him with stories about how much she smiled during the birthing process and how beautiful he looked when he emerged, there are flashbacks to terrifying scenes of screams, beeping machines, and terrifying delivery room realizations. "Don't cut my butthole in half!" the mom cries at one point. At another point, she cries wondering if she is pooping. (She is.) After she tells the kid that "every day since then has been better than the day before," the kid tells her that he had an accident in his bed and wants his mom to clean it. The message to moms: "Thanks for pretending it was easy." This is one at least the young moms will enjoy.
Gospel Brunch
On this Food Network cooking show, Tracy (Jones) and Pervis (Thompson) invite viewers to praise the Lord and pass the biscuits. Though their recipes include southern classics such as "four-cheese mac 'n' cheese with bacon and potato chips," they seem a little oblivious about why everyone they know is getting heart disease or diabetes. Healthy southern chef Kayla (Schumer) comes on to make vegetarian biscuits and gravy and a smoothie. (The former is "100 percent no meat except for a little bit of chicken and a lot of sausage," and the latter is a pecan pie in a blender.) Though the sketch makes a fine point about a seeming inability to connect ubiquitous rich, fatty cuisine to American health concerns, the religion gags only throw off the food gags, and the most fun bit might be the fact that the blender doesn't work.
Weekend Update
The Update hosts congratulate Trump on a good week, and they talk about AT&T hiring Trump's lawyer Michael Cohen and the end of the Iran nuclear deal. Michael Che says the only part of the deal Trump read, Che says, "was the signature at the bottom that said, 'Barack Obama.'" Che believes Trump is undoing so much of Obama's legacy that Obama will begin disappearing from photos like Marty McFly in Back to the Future. The crowd also really enjoys Che's offhand jab at Melania Trump: "I've been calling her sexy Michael Jackson." Heidi Gardner comes on as YouTube star and movie critic Bailey Gismert to talk about summer blockbusters. The segment is a little labored and the punch lines aren't particularly strong, but Gardner's portrayal of the twitchy, vain, thin-skinned millennial is really detailed and enjoyable.
The second half of Update is almost entirely a drop-in from Melissa McCarthy, in bowl cut and printed sweatshirt, playing Michael Che's stepmom. Can McCarthy be forgiven for dropping by just to remind people her new movie is in theaters now? The answer is, yes, of course, when the bit is fun. McCarthy grooms her boy while talking about how much funnier he is than Colin Jost and generally gumming up the works as Che tries to tell jokes. Che keeps a pretty straight face as McCarthy covers him in kisses and insists that, as a child, "he had very juicy little buns." For all her charm, timing, and commitment to character, McCarthy wins again.
Lil' Rent
Wake Up Denver beat reporter Jane (Strong) takes a behind-the-scenes tour during rehearsals of "Lil' Rent," the annual spring musical at Youth Theaterworks Playhouse. In order to make this adult musical about '80s East Village artists a little more family-friendly, director Lowell (Day) has changed all of the references about AIDS to references about diabetes. The kid playing Mark (Mooney) warns the kid playing Roger (an actual child) to take his insulin, and the white, conservative girl playing Mimi (Schumer) talks about getting diabetes from heroin needles before chanting "Lock her up." The premise here is funny — "I used the find-and-replace feature in Microsoft Word and replaced 'HIV/AIDS' with 'diabetes'" — but the premise is the sketch.
Last Call
Terrifying barfly Sheila Sovage is an old dog who doesn't need new tricks. In this round of this recurring sketch, Sovage's sexual conquest is Sue Seal (Schumer). "I thought the Kentucky Derby was last week, but it looks like there's one little nag that's still limping around the track," says Seal while sizing up Sovage. When the time comes to make out, the ladies squirt Purell into their mouths, don face masks and go to town. While trying to cope, the bartender asks Alexa for help, makes Harry Potter jokes with a wand and scarf, and then melts his face off with the Ark from Raiders of the Lost Ark. There is a great (and terrible) stool joke, but this one doesn't have the same level of smarts or gross-out verve as the others. And it doesn't help that Thompson's straight-man character, with all its visual gags, is as over-the-top as the ladies.
Graduation Commercial
This intense, monster truck rally–style ad for James Madison High School graduation is jam-packed full of the little, recognizable clichés that might surface at any suburban ceremony like it. The graduates include a speaker who doesn't know how to use the mic, a kid with a confusing political message, and a girl whose very visible pregnancy "hits the parents' section like an atomic bomb." Also, there are butchered names, dads with iPads, and group pics in which the subjects can't agree on which camera at which they should look. There are some clever observations and great moments here, as with the senior who swears to his sophomore girlfriend that he doesn't want to date college girls.
Just as the cast members' moms needed a break from a political cold open, the SNL crew seemed happy to have a nice, light show opening and later sketches just to celebrate moms. From her opening monologue to the final McKinnon makeout, Schumer more than holds her own. Though there aren't many surprises in the characters or scenarios here, the writers seem to recognize Schumer's range and keep well within it. There aren't any big, stunning sketches that will make the rounds on social media today, but the show as a whole is satisfying enough. Next week: the season finale hosted by Tina Fey.