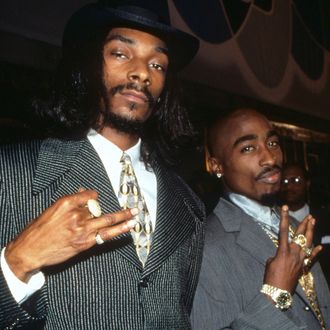 Snoop Dogg and Tupac Shakur.
Photo: Kevin.Mazur/INACTIVE/WireImage
Snoop Dogg had some famous visitors when he was the musical guest on Saturday Night Live. In an interview with Howard Stern, the rapper told the radio host that when he was performing on the late-night comedy show, Tupac Shakur dropped by to bring him weed, and he also brought along his girlfriend at the time, Madonna.
According to Rolling Stone, Snoop Dogg performed as a solo musical guest on SNL twice in the '90s, the first time being in 1994. Tupac happened to be in New York City during that episode, and as Snoop tells it, "He was like, 'What's up, where ya at?'" adding that the challenge of getting quality marijuana made his friend's visit an opportune development. "I was like, 'I'm at Saturday Night Live. I ain't got no dope.' That's when it was hard getting weed over here."
Tupac was able to help his West Coast buddy out, quickly offering to come deliver him a bag of weed — like a true and good California resident. "Guess who he pulls up with?" Snoop then asked, before singing a clue in the form of the "Like a Virgin" chorus. "[Madonna] was just riding along for the ride."