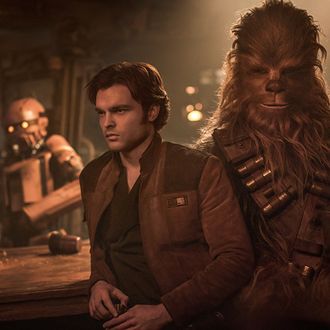 A photo of
Solo
.
Photo: Jonathan Olley/Lucasfilm
Solo's box-office tracking numbers are here, and they're only so-so. THR reports that the Han Solo origin story is expected to gross around $130 to $150 million in toto domestically over Memorial Day weekend, which would be the lowest opening of all Star Wars films preceded by the Disney logo. (Though Rogue One opened at $155 million, so Solo over-performing and beating it would not be totally loco.*) Whether you chalk this up to bad buzz left over from the Lord and Miller imbroglio, or exhausted Star Wars fans who say the new movies have lost their mojo, it's clear that no matter the box office, Disney's flood of new Star Wars films show no sign of going the way of the dodo. Still, you've got to bet this news is not exactly a cup of hot cocoa for Kathleen Kennedy, Lucasfilm's majordomo.
*This post originally misstated the opening-weekend box office of Star Wars: The Last Jedi.