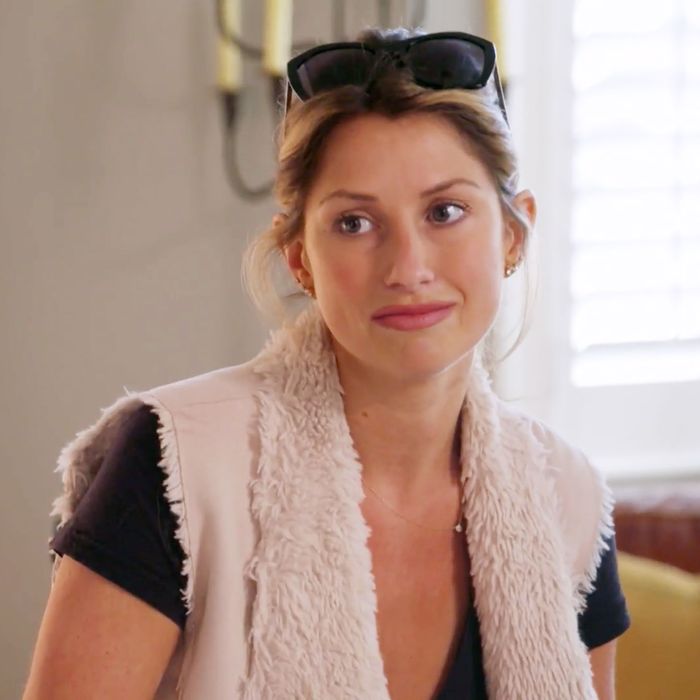 The thing that I find so comforting about Southern Charm is that everyone is always so obviously themselves. Take something simple, like Whitney playing golf dressed like he's about to have a Tinder date at a third-tier coffee shop in Los Angeles. Or what about Cameran, who is so pregnant she can't leave the house so she's sitting at her kitchen island talking to Shep on the phone and alternatively eating from a Costco-sized tub of cheese balls, a giant resealable bag of Goldfish crackers, and a jar of pickles the size of the fetus that she is carrying in her fertile womb? It's so obvious and so on-brand that watching it is like curling up in a cashmere throw on a rainy day to see The Devil Wears Prada for the 10,000th time on cable.
Or, for instance, whether Kathryn's iPhone screen is absolutely demolished from being dropped or repeatedly thrown against the wall (we will never be sure), one thing that is certain it is that her phone screen will always be busted. The same goes for Craig, whose phone screen is as demolished as the wall in his living room.
There is nothing more Craig than when Naomie pops by for an ambush visit and he has to excuse the state of his and Sean's house, which looks like something that was abandoned in the zombie apocalypse and has been taken over by a large family of raccoons. Craig quickly picks up all of his wilted boxer shorts hanging out on the floor, polishes the railing that is made up of two navy blue oars, and then plops some sad brie on a sad plate and surrounds it with sad crackers that taste of dust and regret.
When Naomie gets there, he says, "Let me show you around. This is the living room," and he points to a sofa covered in drywall fragments with a giant hole above it. There are also random other holes all around it too, supposedly from a demolition party. That's where the tour ends. That's how all of Craig's tours end — in a dissatisfied sigh.
We find out when the whole crew goes to Hilton Head that Craig tore the tendon of his pinky trying to shove a butter knife into that wall at that party. Naomie was on crutches at Craig's house because she did something stupid while drunk at Chelsea's house. Shep broke his nose for what he estimates to be the eighth or tenth time when he walked into a glass door at a bar (and still managed to take a girl home in the process). What is wrong with these people? Their bodies are as battered as their iPhones.
However, no one is more maliciously themselves than Ashley, a Molotov cocktail of want. The first time we see her is when she's back at Gwynn's, the department store that is so ubiquitous this season it's like Southern Charm's Skinny Girl. She's wearing a skin-tight black dress with ruffles around the end of the shortened sleeves and black glasses. Thomas says she looks like Melania Trump and he is absolutely correct. They she says, "My hero." Yes, of course Melania is her hero. She wants to attach herself to an idiotic, narcissistic, reality-television star with political designs and take it all the way to the top.
Then, she literally begs Thomas to take her ring shopping and spend a lot of money on her. She does this, like she does so many other things, so outrageously that if you question her she would say, "Oh, I was just joking," but she is not joking at all. She wants him to marry her and she will do anything to make it happen.
But Ashley's worst behavior is both leading up to and during the Hilton Head trip. When she and Thomas are about to leave the house, she starts talking about how Kathryn isn't going to invite her to the birthday party that Thomas and Kathryn are throwing for their son Saint. She knows she's not invited, but she feels slighted that Kathryn doesn't want her there because, in her mind, she's already Thomas's fiancée and those kids' step-monster-to-be.
Thomas agrees with Kathryn that it's not really Ashley's place to be there, but he refuses to stand up to her and say that she should just sit this one out. He even likens Ashley to a dog with a shoe it won't let go of because she won't drop this issue of the birthday party. Thomas could end this all by simply saying to her, "Kathryn and I need to raise these kids and we haven't been dating this long, so how about I send you to the spa that day and I'll tell you all about it when I get back? It would mean a lot to me and really help my relationship with Kathryn." But no. He refuses to stand up to her, so instead she just gets it in her head that he wants her to fight with Kathryn about this.
When Ashley arrives to the house where they're all staying in Hilton Head, she does absolutely nothing to make these people like her. As the girlfriend of an established member of the group, you think she would be deferential in her dealings with everyone else. Instead, she clomps around whining that people are leaving her out and that she has nothing to wear to go horseback riding. Then she grills Thomas on what she should wear like he's actually going to help her. (The only thing Thomas will ever help a woman do is get pregnant. Other than that, she's on her own.) What makes it even worse is that the women hear their whole fight.
Then, while horseback riding, she holds all the experienced riders back because she can't figure out how to ride a horse and is too chickenshit to try something new. I shouldn't be too mean to her because I've never ridden a horse either and would probably be just as afraid. However, in this particular situation, I would have brought a book and waited patiently for the other women to get back from a rousing ride on the beach while I kept out of everyone's way.
Ashley saves the worst for dinner, though, when she starts by offering insincere condolences to Kathryn because her grandmother died. Then she tries some insincere questions about her son and how he has a birthday coming up, hoping to cajole Kathryn into inviting her to the party. Kathryn, who has learned from years of rehab, therapy, and self-reflection, is not taking this particular bait. Thomas tries to step in with something fun and frivolous to derail the conversation and she shouts at him, "This is unbelievable. I'm trying to have a conversation!" Now Ashley is not only pissing off everyone at the party, but the man who brought her to that party as well. If she can't stand him, then why the hell is she there in the first place?
Finally, after Kathryn won't invite her, she asks point blank, "Am I invited or not?" Kathryn, making a very sound and wise point, retorts, "You're asking to be invited to something and you're talking to me like this?" As Kathryn points out, if Ashley knows she's not invited, why is she even bringing it up like this in the first place? Ashley needs to take up Settlers of Catan because she needs to learn a little bit of strategy to get through life. For instance, wouldn't it have been smarter for Ashley to ingratiate herself to Kathryn in a way that she would then extend an invitation on her own? No, Ashley goes straight for steamrolling her way into this particular 2-year-old boy's birthday party.
Then she says to Kathryn, "I see those kids more than you do anyway," the trump card she's been hiding in the back pocket of her non-horse-riding jeans the whole time. She does this in a group full of Kathryn's friends who, naturally, tell her to slow her roll. I have never seen anyone be more unsympathetic to a group of people in my life and I have spent the last decade watching Bethenny Frankel in the wild. Kathryn, of course, gets upset at her at this point because a sleeping giant can only slumber for so long in the face of a pest like Ashley. The most obvious thing of all is something that Ashley doesn't even see coming, that she is no match for Kathryn and she will be summarily destroyed.