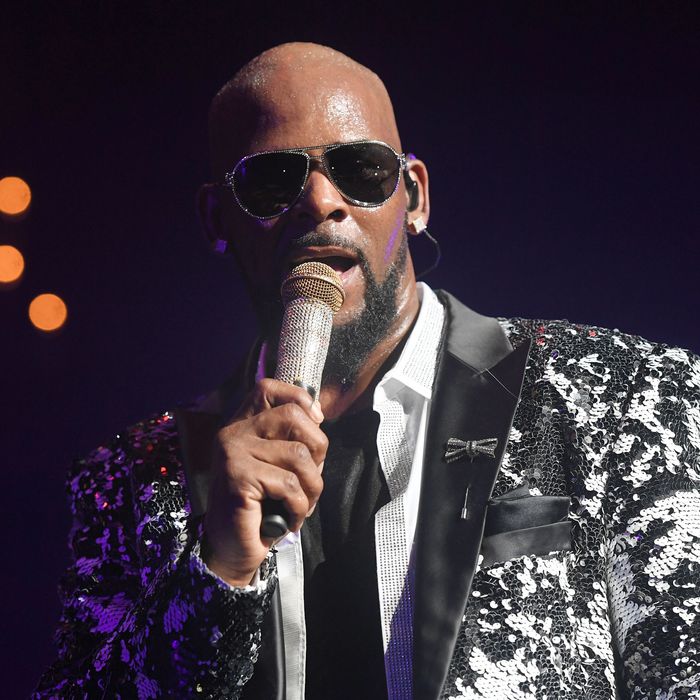 R. Kelly.
Photo: Prince Williams/WireImage
Last week, in accordance with its new Hate Content and Hateful Conduct policy, Spotify announced that it had removed the music of R. Kelly and XXXTentacion from its curated and algorithmically generated playlists. This decision arrives on a tidal wave of institutional repercussions for men who have been accused of sexual abuse and assault, a new phenomenon in American culture and one that has affected music to a far lesser degree than film. Earlier this month, the Academy of Motion Picture Arts and Sciences expelled Bill Cosby and Roman Polanski, now both convicted rapists, from its membership. Harvey Weinstein was fired from his production company late last year after a bevy of sexual-abuse allegations came to light. Now, it seems a similar discerning eye has been trained on major players within the music industry, largely due to pressure from grassroots movements like the #MuteRKelly campaign, which was founded last year by black women activists. If R. Kelly's stardom had previously insulated him from facing consequences for his alleged actions — he has been accused of sexually assaulting minors, as well as holding women in a "cult-like" environment for decades and by dozens of women — the momentum of the #MeToo movement, alongside other calls for justice for sexual-assault survivors, seems to have caught up with him.
In the few years since the press and the public began taking accusations of sexual abuse by celebrities seriously, the music industry has categorically resisted institutional change. R. Kelly is still signed to RCA; XXXTentacion's debut studio album was released on Empire Distribution while the rapper was facing charges of aggravated battery of a pregnant woman; Dr. Luke continues to produce for artists like Iggy Azalea despite being accused of abuse and assault by his former collaborator Kesha. The reasons for the music industry's immunity to a Weinstein-like reckoning remain elusive. Those vulnerable to misogynist violence have not historically been considered worth protecting, especially not at the expense of so-called male genius — and in music, unlike movies, the genius of a given work feels especially concentrated on the individual. Though most albums require intensive collaboration from the recording process up through the distribution point, artists act as the voices and faces of their products. When listeners forge an emotional connection to a song, they also attach to the musician behind it: a distant but powerful intimacy that may cause fans to overlook or deny accusations of reprehensible behavior.
Pop music's unique relationship with sexuality also looms large over the question of abuse in the industry. As an archetype, the male pop star is by nature irresistible, and the mythology of the groupie — the young girl who desires sex with the pop star at any cost — tends to infect any discussion of sexual assault at the hands of a famous musician. Weinstein may have been famous, but he was never a sex symbol, and many of his accusers are beloved actresses with whom the public, the press, and the industry found easy sympathy. With the exception of Kesha, the music industry has seen few famous accusers. Those alleging that they have been abused by R. Kelly and XXXTentacion are civilians. They are invisible, and so their suffering is easy to ignore.
In blacklisting two alleged abusers from its playlists, Spotify has reduced the likelihood that its customers will stumble upon one of their songs. The streaming service has not removed either artist's music from its database —users can still seek out "Ignition (Remix)" or "Sad!" if they are so inclined — but it no longer appears to endorse the work of either musician. Why these two artists were singled out for removal when plenty of other contemporary musicians face similar accusations remains obscure. Spotify's hateful conduct policy reads, "When an artist or creator does something that is especially harmful or hateful (for example, violence against children and sexual violence), it may affect the ways we work with or support that artist or creator." Many artists who have been accused of such crimes still populate Spotify's editorial playlists. The "Mood Booster" and "All the Feels" playlists feature Miguel, who was recently accused of groping a fan. "Have a Great Day!" boasts songs by Michael Jackson, David Bowie, Elvis Presley, and Elton John. "Songs to Sing in the Shower" includes a track by the Backstreet Boys, as well as Becky G's "Shower," which Dr. Luke co-wrote and produced.
What is the moral imperative to avoid promoting the work of alleged abusers? It appears to be two-pronged. The implicit endorsement of an abuser's work may broadcast the message that abusing vulnerable people is socially acceptable as long as you can write hit songs — that the quality of the work takes precedence over the safety of those subject to misogynist violence. Removing an abuser's work sends a contrary message. It implies that no song is good enough to discount the suffering of victims. More concretely, supporting the music of an accused abuser financially empowers them. In great enough numbers, even Spotify's paltry per-stream payouts can add up to hush money or lawyer's fees. Depriving abusers of money starves them of power, and so boycotting R. Kelly's music is more than a gesture. It has tangible ramifications in the pursuit of justice for his alleged victims, and in the prevention of further abuse.
Because almost no record labels have withdrawn support for artists accused of sexual abuse (the few exceptions can be found among independent labels), the impetus to deny these artists power more often falls to listeners. While many fans are now willing to remove even a beloved artist from their listening rotation once the artist has been accused of sexual misconduct, many others prefer to "separate the art from the artist," or to look to the legal system for instruction as to how they should behave. If the artist has not been legally convicted of rape — and few have — then the listener may feel no ethical obligation to stop consuming their music. The law, and not the word of the alleged victim, constructs reality in the minds of these fans — a common phenomenon in a culture conditioned to value authority.
Among listeners who do take victims' words into account, the power of an individual boycott may feel minuscule. The advent of streaming has overhauled the way fans buy music. Instead of purchasing physical albums or digital downloads, many listeners now pay a flat monthly fee for access to Spotify or Apple Music's libraries. New stars like XXXTentacion find their base not through record stores or radio play, but through SoundCloud and YouTube. While it's easy to avoid streaming music made by alleged abusers, starving these artists of pennies rarely feels like a political act. A sense of helplessness pervades these discussions, which reveal the double bind of digital communication tools: The internet has no doubt propelled these conversations to national consciousness while simultaneously sapping the individual's buying power. We know more now, and can do less.
A 2015 BuzzFeed profile of Modest Mouse front man Isaac Brock, who in 1999 was accused of date rape, relays a curious anecdote. In 2000, "when Modest Mouse pulled up to the venue they were playing in Boise, Idaho, there were protesters holding anti-rape signs picketing out front." There is little to be found online about these protests. Presumably, they were not spontaneous, but the work of organizers who took to the streets in defiance of an accused rapist getting paid to play a concert in their city. These activists did not stymie the rise of Modest Mouse's career. In 2004, the band had a hit with "Float On," and the accusations levied against Brock have largely faded in the years since. (The Stranger, the Seattle alt-weekly that broke the news of the allegations, has removed all reporting of the incident from its web archives.) But they exemplify a form of collective action whose spirit endures in #MuteRKelly, a movement that likely influenced Spotify's decision to remove the singer from its playlists, and has recently caused several of his concerts to be canceled. Contrary to the stereotype of "hashtag activism," these movements have effected measurable institutional change in the treatment of alleged abusers.
Spotify's new policy is heartening, but it obscures a deeper problem in contemporary media consumption. Streaming services, like the rest of the internet, relentlessly individuate. They pose music listening not as a communal activity but as a personal habit that can be algorithmically accommodated based on user input. Spotify builds individuation into the very language of its service. Its algorithmically generated Discover Weekly playlist is full of "new discoveries and deep cuts chosen just for you." Its Daily Mixes invite the user to "play the music you love, without the effort." By reifying the notion that music listening should be both highly individual and also effortless, Spotify depletes the user's agency, asking listeners to exchange the social aspects of music for convenience.
The ease and individuality promised by Spotify distorts music's function as a form of communication. No music is ever made just for you. A song is, at its core, a link between artist and listener, and a fan base is by nature a community of people. That fans of a given artist have a social responsibility toward each other is a point often eschewed in favor of promoting individual boycotts and championing ethical media consumption. And yet loving music is not the same as loving a particular brand of soda water. What sticks out in my mind as I think back over the musicians accused of assault in the past year is how many of their alleged victims were fans of their music. Fans collectively gave these artists power, and they used that power, allegedly, to abuse individual fans.
It is easy to feel helpless in the wake of rape accusations against celebrities. It is easy, also, to delete the music of an accused rapist from an iTunes library and consider the work done. What is harder is to take responsibility for the power with which a fan base endows an artist — financial power from streams and concert tickets, but also social power from admiration and word-of-mouth promotion. When new allegations come to light (and they will, abundantly), I hope listeners who loved the accused's music recognize their part in the power dynamics at play, and their subsequent responsibility. I hope those who love music will not rely on corporations like Spotify alone to make decisions about artists whose abuse has been enabled by their fame. Despite what Spotify's branding may suggest, fans are a collective force. Individually, there is little we can affect. Together, we have something like power.