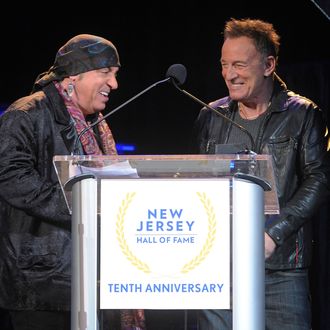 Steven Van Zandt and Bruce Springsteen at the 2018 New Jersey Hall Of Fame induction on May 6, 2018.
Photo: Bobby Bank/Getty Images
It was a memorable day in New Jersey on Sunday, as Steven Van Zandt was finally inducted into the state's Hall of Fame for his work as a solo artist and activist. (Obviously, he and the E Street Band are already in — they were separately inducted a decade prior.) And who best to surprise him with the introduction honors better than his best pal, his collaborator, his brother-in-arms, his everything, Mr. Jon Bon Jovi. We kid. We know our basic New Jersey facts! It was the Boss himself, Bruce Springsteen. "Rock and roll chose him early," Springsteen remarked in his short speech, per Variety. "One look at Steve, and I knew that we both drunk the same Kool-Aid. This all culminated in a brotherhood in the E Street Band. Steve served as playing, singing, producing as my irreplaceable lieutenant and our lifetime friendship." Springstein added, about the musician's signature groovy aesthetic: "He is the sole creator of the male babushka — a man who, not unlike Hugh Hefner, had managed to spend his whole life in his pajamas." Awww.