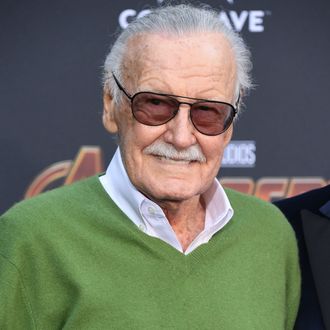 Stan Lee in April 2018.
Photo: Jon Kopaloff/FilmMagic
Stan Lee's ongoing legal battles have become supersized. According to The Hollywood Reporter, the comic book creator is suing the company he co-founded for $1 billion. Lee alleges in the lawsuit filed on Tuesday that POW! Entertainment and two of its officers, CEO Shane Duffy and co-founder Gill Champion, conspired to steal his identity and likeness.
Lee claims that Duffy and Champion failed to disclose the full terms of the company's sale to Hong Kong-based Camsing International in 2017. The suit alleges that Lee was led to believe the deal included a licensing agreement that was non-exclusive, however the contract he signed gave POW! "the exclusive right to use Lee's name, identity, image and likeness on a worldwide basis in perpetuity."
Due to Lee's advanced macular degeneration he has lost most of his vision and cannot read. The suit states that Lee cannot recall anyone reading to him the terms of the agreement and that he did not knowingly sign the document.
The suit also cites the death of Lee's wife of 70 years, Joan Lee, who died in July of 2017. The suit argues that after her death, "Lee at age 94 became the target of various unscrupulous businessmen, sycophants and opportunists who saw a chance to take advantage of Lee's despondent state of mind, kind heart and devotion to his craft." As such it refers to Champion and Duffy as "opportunists" who took advantage of his mental state.
In addition to this lawsuit, Lee is suing his ex-business manager Jerardo Olivarez for financial abuse and fraud. Lee claims that Olivarez used his influence to convince him to sign over powers of attorney.