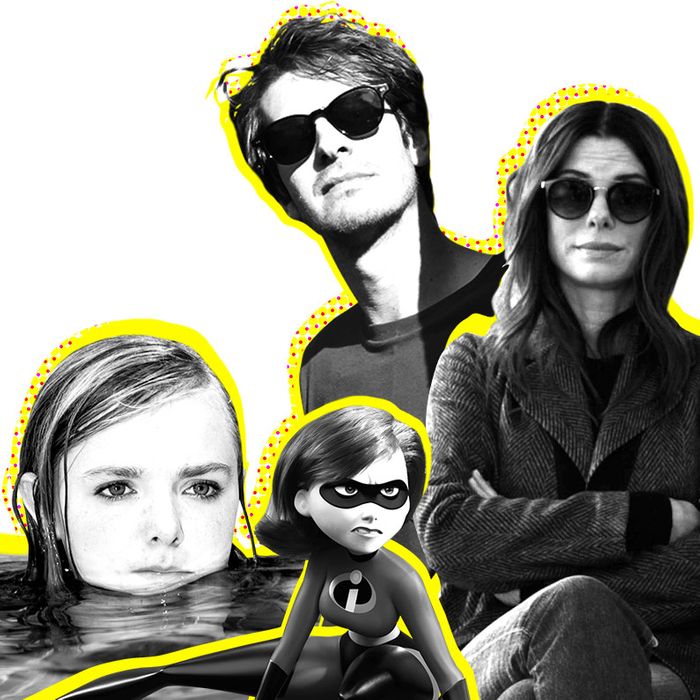 Photo-Illustration: Maya Robinson/Vulture
Summertime and the living is — well, not easy, but at least movie theaters are air-conditioned. From intergalactic bad boys to Silver Lake–set neo-noirs, Vulture has the rundown on all the season's most-anticipated blockbusters and indies: Sundance's horror breakout Hereditary kicks off a summer full of of heists (Ocean's 8), middle-school ennui (Eighth Grade), and a Spike Lee-Jordan Peele collab (BlacKkKlansman). King of summer Timothée Chalamet returns with another summertime-set coming-of-age movie, Han Solo and the Millennium Falcon are back with Solo: A Star Wars Story, and finally, we're getting an Incredibles sequel. Here's what should be on your radar:
Hereditary (June 8)
This year's big horror hit out of Sundance is earning rave reviews for star Toni Collette, and a chorus of "That movie messed me up bad!" from people who've seen it traveling through the festival scene. The first feature from writer-director Ari Aster begins with a family mourning the loss of a grandmother. Or in the case of Collette (playing Annie Graham), her mother, with whom she had a, well, very complex relationship. But after Grandma Graham's death, the family plunges into madness as secrets from the past start to surface and threaten to rip them apart. Also, people start hallucinating and someone is fully lit on fire in the trailer. So, get ready for that.
Ocean's 8 (June 8)
Bullock. Blanchett. Hathaway. Kaling. Paulson. Bonham Carter. Awkwafina. And Rihanna. Extremely Emma Watson in The Bling Ring voice: They wanna rob. The Oceans movies mix glamour with misbehavior, and in the Gary Ross–directed spinoff, the women are crashing the Met Gala to snatch some jewels. Imagine being disrespectful enough to make us wait for these blessings: Cate Blanchett's choppy bangs, hacker genius Rihanna, the cameos! Plus, you know, come on — you've seen the coats.
Incredibles 2 (June 15)
The last time we saw the Incredibles, Sex and the City was ending. Entourage was beginning. Gwyneth Paltrow gave birth to Apple. Jack Jack couldn't even put sentences together! (They grow up so fast!) This long-overdue sequel adds Bob Odenkirk, Catherine Keener, Sophia Bush, and Isabella Rossellini to the Incredibles' stacked roster. The best thing about the Incredibles — aside from "Honey! Where's my supersuit" — was how deftly it weaved the superhuman stunts of any action film with observations on the mundanity of family life and living in the suburbs. Now, there's a wrinkle in that narrative: Newly popular, the supers are coming out of a life in the shadows, and Elastigirl stars in a campaign for superheros to not have normal identities.
Under the Silver Lake (June 22)
For his first follow-up to It Follows, writer and director David Robert Mitchell is going neo-noir. Andrew Garfield is Sam, a man with not much going on, until he meets the beguiling Sarah when she's swimming in his apartment building's pool one night. Shortly after their meet-cute, however, Sarah vanishes, and in trying to solve her disappearance, Sam gets wrapped up in a criminal mystery that puts him in the path of "dog killers, aspiring actors, glitter-pop groups, nightlife personalities, It girls, memorabilia hoarders, masked seductresses," to name only a few. Sounds like just another night on the town in Los Angeles!
Sorry to Bother You (July 6)
Vulture's Emily Yoshida dubbed Sorry to Bother You, the feature film debut of musician and writer-director Boots Riley, "the punk film 2018 deserves." There's also a scene that includes "screaming, chimeric horse-men with gigantic swinging cocks." But what is it actually about? Lakeith Stanfield plays Cassius Green, a man living in his uncle's garage who suddenly becomes a star employee at his telemarketing job once he discovers his "white voice" (dubbed in by David Cross), and becomes a sales machine. But, surprise! It turns out the company he works for is "an indentured-slave-labor manufacturing firm disguised as a 'disruptive' lifestyle colony" run by Armie Hammer's "coke-hoovering CEO." There's so much more going on in this movie (including Tessa Thompson and Steven Yeun), and it all has to be seen to be believed.
Eighth Grade (July 13)
Was there any experience quite as traumatic as being unpopular between the ages of 11 and 13? Bo Burnham's directorial breakout follows Kayla (Elsie Fisher) as she navigates her reputation as the class's quietest student — and how badly she wants to feel normal and blend in with the cliques of her middle school suburb. Burnham's movie earned high marks from critics when it debuted at Sundance for the empathy and honesty it brings to one young girls experience with bullying, first crushes, and after-school hangs. Go ahead and send your parents an alert: You'll be calling them after this one, too.
Hot Summer Nights (in theaters July 27, on DirecTV June 28)
Will Timothée Chalamet ever have a normal, quiet summer of summer reading and enduring awkward small talk with friends of his parents at Fourth of July barbecues? Hot Summer Nights continues the actor's string of sweaty coming-of-age stories: Daniel is wasting away spending the summer in Cape Cod until a business opportunity to sell weed presents itself. Daniel falls in love, gets in over his head, and also parties a lot. Elijah Bynum directs the 1991-set story, from his own script (which made the 2013 Black List).
Mission Impossible — Fallout (July 27)
In MI:6, Tom Cruise is joined by MI newcomers Cavill, Angela Bassett, and Wes Bentley. Perhaps the franchise's sixth (!!!) installment will be Tom Cruise's comeback movie. Or maybe it will go down as source of the ultimate Hollywood studio flex: Paramount wouldn't let Henry Cavill shave his MI:6 mustache for the Justice League reshoots, which left some of his Superman scenes, uh, troubled.
BlacKkKlansman (August 10)
BlacKkKlansman is the next film from Spike Lee, and it tells the story of Ron Stallworth (played by John David Washington), an African-American member of the Colorado Springs Police Department who infiltrated the KKK in the 1970s, and so effectively tricked the racist crusaders that he ascended the organization's ranks and was eventually asked to head up a chapter of the group. This happened in a period when the Colorado Springs members were working to consolidate power in that community. Adam Driver plays Stallworth's partner, Flip, who essentially served as the face of Stallworth when he had to meet in person with the KKK, since Stallworth only communicated with other Klansman over the phone. It's being presided over by Jordan Peele's banner MonkeyPaw and Jason Blum, who both serve as producers.
Crazy Rich Asians (August 17)
The cast of Crazy Rich Asians is crazy talented (and also crazy attractive), and the movie's debut trailer is crazy good, so naturally, we are crazy excited for this adaptation of Kevin Kwan's novel of the same name. Directed by Jon M. Chu, it stars Constance Wu as Rachel Chu, a woman who falls for the dashing Nick Young (played by newcomer Henry Golding), a man she has no idea is the favorite son of an obscenely rich family in Singapore, where he is also one of the country's most coveted bachelors. Even more daunting than entering a world of extravagant privilege, though, will be trying to win over his mother, Eleanor, regally embodied here by Michelle Yeoh.
June 1
Action Point
Adrift
All Summers End
A Kid Like Jake
American Animals
Best Friends Volume 2
Rodin
Upgrade
November 13 (Netflix)
June 8
211
Alex Strangelove (Netflix)
The Quest of Alain Ducasse
Oceans 8
En El Septimo Dia
Hereditary
Hotel Artemis
Heart Beats Loud
Won't You Be My Neighbor
Nancy
Zoo
June 13
Half The Picture
June 15
Westwood
Gotti
Tag
Eating Animals
The Year of Spectacular Men
Superfly
Loving Pablo
Set It Up (Netflix)
The Incredibles 2
June 22
Under the Silver Lake
The Catcher Was a Spy
The King
Boundaries
Damsel
Jurassic World: Fallen Kingdom
June 28
Hot Summer Nights [DirecTV release; in theaters July 27]
June 29
Custody
Hover
Sicario 2: Soldado
Uncle Drew
Three Identical Strangers
The Hustle
Leave No Trace
Woman Walks Ahead
July 4
The First Purge
July 6
Sorry To Bother You
The Legacy of a Whitetail Deer Hunter (Netflix)
Under The Tree
Whitney
Ant-Man and the Wasp
July 13
Eighth Grade
Don't Worry, He Won't Get Far On Foot
Hotel Transylvania 3
Skyscraper
Puzzle
McQueen
July 20
Mama Mia: Here We Go Again!
Generation Wealth
The Equalizer 2
Blindspotting
Occupation
July 27
Teen Titans Go! to the Movies
Scotty and The Secret History of Hollywood
Mission Impossible: Fallout
August 1
Nico, 1988
August 3
Disney's Christopher Robin
The Darkest Minds
The Spy Who Dumped Me
Searching
Summer of '84
The Wife
Mile 22
August 10
The Miseducation of Cameron Post
A.X.L.
Big Kill
Dog Days
BlacKkKlansman
A Prayer Before Dawn
The Meg
Madeline's Madeline
Skate Kitchen
August 17
Memoir of War
Three Seconds
Juliet, Naked
Alpha
Down a Dark Hall
Crazy Rich Asians
The Happytime Murders
Captive State
Puppet Master: The Littlest Reich
August 24
Slenderman
The Bookshop
Replicas
Papillon
August 31
Reprisal
Boarding School
Kin
The Little Stranger