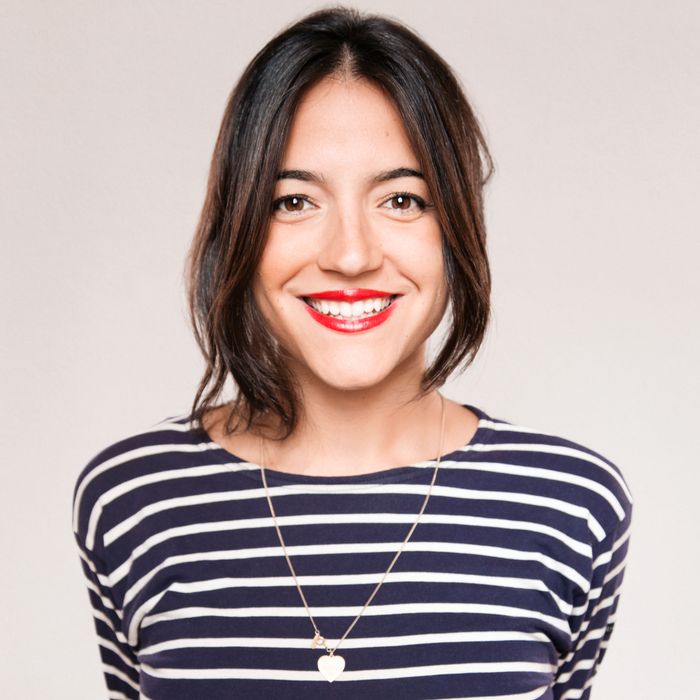 Alyssa Limperis is a comedian, actress, and writer in New York City. You can find her work on YouTube, Instagram, and buying her fourth coffee of the day at noon.
This week, Limperis talked with me about her funniest tweets and her YouTube sketches, some of which she makes with her mom, Linda!
I really try hard to treat each day like it is a gift and to seize it, but sometimes the "climb every mountain" is more of a "watch every Netflix show."
Are your tweets mostly autobiographical or imagined scenarios? 
Oh, they are very autobiographical. Some might say "too autobiographical" or "TMI." All of my comedy generally comes from feeling an overwhelming amount of emotions and needing a way to work them out. Making jokes and comedy out of any sort of discomfort is so empowering and satisfying and freeing.
WHY IS IT SO HARD TO PACK?! I am leaving for two weeks tomorrow morning and it is currently 11:52 p.m. and I haven't packed yet. Why am I like this and why is does this tweet age so goddamn well?
Is your voice on Twitter similar to your voice in real life? 
Yes, it's very similar except I have never once said anything out loud in under 280 characters.
I was at the airport and reminded of how once you get through the security, it truly feels like the wild west. Flying can be so stressful, but there is something kind of childlike about how suddenly in an airport, rules don't apply. I've never had a balanced meal and sleep on a flying day. I eat 70 pounds of sugar, only hydrate with beer, and sleep in increments of 30 minutes while watching a bad movie in between. It's all awful and magical.
Your videos blew up online recently. Congrats! What has that been like? What's been your favorite response?
Thanks! It's been really sweet to see how many people see their mom in my mom and it's a nice reminder that we are all so much more similar than we think. No matter the background or accent, so many people said how it was just like hearing their mom. Also, my mom was with me when the "Mom When I Visit Home" one blew up, and when I told her so many people liked it and said how loving my mom must be she burst into tears at the restaurant over guacamole (actually my signature first-date move). My favorite responses were people who said their moms had passed and that seeing this character brought back memories of them. That made me really happy and choked up. Followed closely guy the man who said "wierd titties" — his spelling, not mine.
This is part of a series where I impersonate my mom in different places. I love making these videos so much, especially because my incredible mom films them! We are really close and making these videos brings us both a lot of joy. After my dad died, we spent a lot of time together. She even lived with me for a bit in NYC, and it was so funny watching her interact with the city so I decided to imitate her being here. Then we just kept going and making more. The best part of releasing these has been seeing how similar all of our moms are and that they love us and a clean house equally.
Does your mom ever pitch jokes or premises for the videos?
I write, edit, and create the premises for them, but having her as my director, I couldn't ask for a better one. She knows the subject quite well so will sometimes be like, "No…she wouldn't say that," or "Say this," or "Seriously though Alyssa, you gotta turn the lights off."
Business Casual is a web series I make with Gwynn Ballard. This episode is my favorite because it is so insane. We both play incompetent sponge reviewers and we out-dumb each other every line. I love playing and writing with Gwynn because we have the exact comedic sensibility but different energies, so we have a lot of fun playing off each other.
What are some upcoming projects or videos that you're excited to work on?
I'm always working on new mom videos, so there will be another one soon. My friend Shannon Odell and I are performing in a play we wrote called Wake Up! With Tina and Gina every month at UCB starting June 14 at 9:30 p.m. The show is wild and loose and our cast is phenomenal. A sketch team I'm on called All Female Reboot has our next show on June 27 at 8 p.m. at Littlefield. You can also see me monthly on the UCB Maude team, The Gift, and hear me and May Wilkerson's weekly UCB podcast Crazy in Bed.
Karen Chee is a Brooklyn-based comedian who writes for The New Yorker, McSweeney's, and Shondaland, among other cool websites.