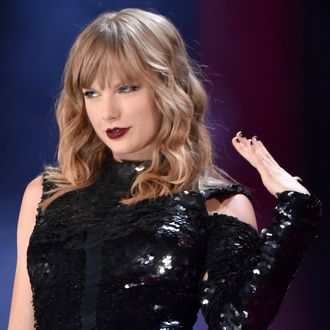 Taylor Swift.
Photo: Kevin Mazur/Getty Images for TAS
If you were expecting an olive branch between Taylor Swift and Kim Kardashian West, don't. Hours after revealing an apparent reconciliation with Katy Perry, Swift opened her Reputation Tour by talking about her ongoing feud with Kardashian West for the first time. You'll recall that Kim exposed Swift's dishonesty about the extent of what she know about Kanye West's "Famous," posting the audio of their phone conversation to Snapchat and at once tarnishing Taylor's reputation but also birthing her next phase. The stage in Swift's latest concert tour, which made its debut in Glendale, Arizona, on Tuesday night, features the same snake motif used against her that she flipped to promote her album. Taylor finally explained why in an extended speech about bullying:
"A couple of years ago, someone called me a snake on social media and it caught on. And then a lot of people called me a lot of names on social media. And I went through some really low times for a while because of it. I went through some times when I didn't know if I was gonna get to do this anymore. And I guess the snakes, I wanted to send a message to you guys that if someone uses name calling to bully you on social media and even if a lot of people jump on board with it, that doesn't have to defeat you. It can strengthen you instead.




And I think something that came out of it that was good was is that I learned a really important lesson that I've been telling you from the stage for ten years but I haven't been able to learn myself, which has to do with how much you value your reputation. And I think the lesson is that you shouldn't care so much if you feel misunderstood by a lot of people who don't know you, as long as you feel understood by the people who do know you, the people who show up for you, and the people who see you as a human being. So thank you, thank you, thank you for taking the time to get to know me, for sticking up for me, for seeing me as human being."
Taylor opened her show with a video stitching together clips from her media crucifixion, later commenting on her decision to step away from the spotlight to focus on her personal growth.
She also shaded the music industry for attempting to limit her to country music and not having her fans' best interest in mind.
Tiffany Haddish, who hosted SNL when Taylor was the musical guest, made a surprise cameo, reciting the infamous "the old Taylor can't come to the phone" line in a clip filmed for the tour.
Elsewhere in the show, Taylor performed "Shake It Off" with her tour openers Camila Cabello and Charli XCX (who debuted a new song during her set).
And yes, her man Joe Alwyn was on hand to be publicly embarrassed during "Gorgeous," as per the terms of his boyfriend contract.
Taylor closed her show with one last message for her haters: