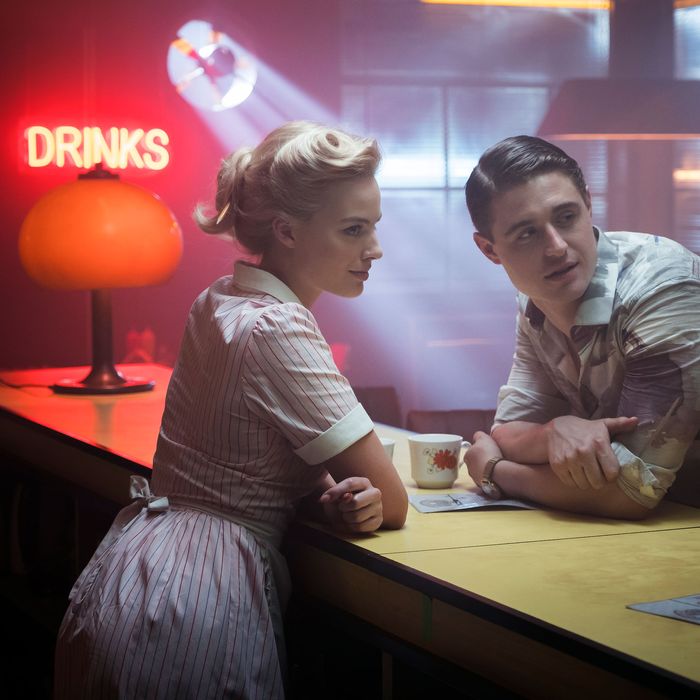 The Margot Robbie vehicle Terminal is a genre unto itself: Crayola noir. Each new scene brings more neon reds and greens and blues and yellows, their reflections shimmering on the meticulously watered-down streets, while Robbie strikes femme fatale poses in a variety of costumes (wholesome pony-tailed diner waitress, Louise Brooks's Lulu, Faye Dunaway's Bonnie Parker, Lewis Carroll's Red Queen), all striking and all secondhand. The tyro director, Vaughn Stein, wrote the twitty, epigrammatic banter himself, and he's fond of tilting the camera to reinforce his arch dialogue, as if arch x arch = Oscar Wilde instead of overkill. The movie isn't stylish, it's style-clotted.
What's Terminal about? It's about 90 minutes. That's a cheap shot, but since the film doesn't establish a baseline of reality, it's hard to pick out a premise. It's a series of playlets stitched together with the seams hanging out. Now Robbie in her blue-black Louise Brooks wig is talking to an unseen figure in a confession booth, apparently trying to get herself hired as a hit person. Now she's sassily leaning on the counter of an all-night terminal diner slinging insults at a hairy Cockney hit man (Dexter Fletcher) — he calls her bah-uhl blonde, i.e., bottle blonde — while flirting with his partner, Max Irons, whom she calls "Handsome." Now she's in waitress mode sitting opposite a bearded, hacking Simon Pegg as a terminally ill professor (the movie's title is a double entendre at least), discussing death, the nature of freedom, and the notion of the "pathetic fallacy." Sometimes Mike Myers with latex on his face appears, pushing a broom, as a nattering station attendant. The obvious question is whether it's Myers under the makeup, meaning we're supposed to admire the actor for doing a goofy cameo, or it's Myers's character, meaning Myers is playing a guy playing a guy. Either way, it's embarrassing. You don't know where to look.
Robbie co-produced the film. She obviously thought it would give her great clothes to wear and a chance to show off her versatility. Maybe she thought her killer revenger would be empowering, though she comes off as alternately robotic and demented. It should be said that Pegg has a few human moments as the dying professor — though his scenes do go on — and there's a final twist that accounts for the movie's jumpy syntax. But if you somehow wind up watching Terminal — in the theater or on a small screen — and wonder after ten minutes if the whole thing is going to be like that, the answer is (spoiler alert), yes, damn it.