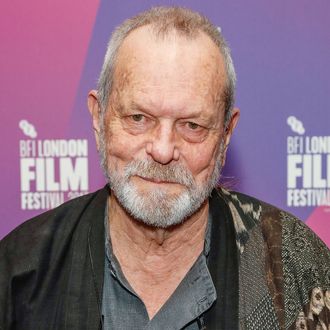 Terry Gilliam.
Photo: David M. Benett/Dave Benett/WireImage
Just when you thought the timeline of Terry Gilliam's decades-old project The Man Who Killed Don Quixote couldn't get any more dramatic, the director suffered a stroke recently while waiting to see if his film would finally, at long last, reach audiences as a selection at the Cannes Film Festival. IndieWire reports that Gilliam was hospitalized after a "kind of stroke," according to a source in Cannes, but that he was now home resting. Gilliam himself tweeted assurances this afternoon that he is on the road to recovery. And, surely helping him along was the news that Don Quixote has been legally cleared to serve as the French festival's closing-night film.
The health issue prevented Gilliam from appearing in court earlier this week to fight for the release of his movie. A man named Paulo Branco, who had previously been a producer on the project, was seeking an injunction to stop Quixote from being released in French theaters or from playing in Cannes. Branco was claiming that he still held the rights to the film, and he had previously pursued unsuccessful action to have filming of the movie shut down. Apparently no one told Branco that not even the universe could kill Don Quixote, since the film has weathered natural disasters, lawsuits, multiple deaths, lack of funds, insurance problems, and other issues during its 20-year lifespan. Now it will finally be released to the world, and nothing so pedestrian as a medical emergency will stop Gilliam from walking down the Palais for a premiere. Thierry Frémaux, let this guy take a selfie on the red carpet.