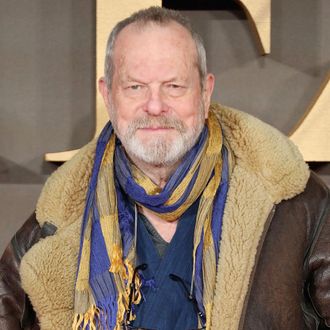 Terry Gilliam.
Photo: Tim P. Whitby/Getty Images
Terry Gilliam's near-Sisyphean task of completing The Man Who Killed Don Quixote is about to get its second nonfiction chronicle. Variety reports that the team behind 2002's Lost in La Mancha is now prepping He Dreamed of Giants, their follow-up documentary about the farcical burden of Gilliam's pursuit to complete Don Quixote, a movie he started production on in 1997 that will at last see the light of day on the closing night of the Cannes Film Festival, May 19. The filmmakers say Giants will definitely address the many problems the film faced — cast members dying, money repeatedly running out, legal battles — but that their focus will be on the "internal struggle in an artist's mind" and Gilliam's state of mind as he inched closer to completion.
Gilliam recently suffered a minor stroke while waiting to hear if his film would legally be allowed to play at Cannes, since a former producer was seeking an injunction to keep it from playing in theaters. The court ruled in Gilliam's favor, allowing Quixote to screen as the Festival's closing night film, but the same day that verdict came in, the Wrap reported that Amazon Studios backed out of their U.S. distribution deal for the film. Obviously.