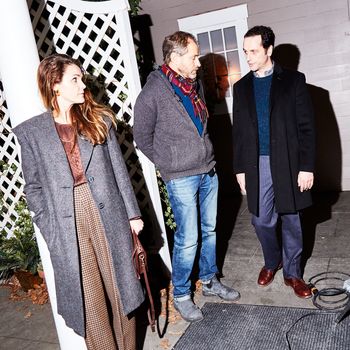 L-R: Keri Russell, director Stefan Schwartz, and Matthew Rhys while filming "Harvest."
When Stan Beeman finally sneaks into the Jennings house to snoop around, it is dark and dead quiet on the Brooklyn set of The Americans.
Noah Emmerich, as Stan, slips through a French door and walks slowly across the familiar hardwood floors of the Jennings household. He enters the kitchen, where he sneaks a peek at the family's mail. He goes up the stairs — there really is a whole upstairs with full bedrooms on this meticulously constructed set — then comes back down again.
Without the context of the rest of the seventh episode of the sixth and final season — the one titled "Harvest" that aired Wednesday night on FX — it's natural to assume that Stan is finally putting the pieces together and realizing that Elizabeth and Philip Jennings are more than just the ludicrously busy travel agents who live across the street. But that's not exactly clear; the dim lighting makes it challenging to fully interpret the expression on Emmerich's face as it appears on the monitors set up adjacent to the fake Falls Church, Virginia, home. Even the writing of the scene doesn't tip its hand. When Stan rests his eyes on a picture of the Jennings family and flashes back to the words uttered by a dying William Crandall — "living the American dream … never suspect them" — the script describes the FBI agent's behavior with a simple, neutral: "Stan stares at the Jennings' family photo."
Still: There's something eerie and momentous about watching Stan Beeman prowling through these rooms, his suspicions about his neighbors raised to a level that they have not reached since he first met them, more than six years earlier. It feels ominous. It feels like the beginning of the end.
Spending the day on The Americans set back in mid-January and watching the cast and crew film "Harvest" was like looking at a puzzle that wasn't fully put together. Eight scenes were shot that day — three in the Chicago hotel room where Elizabeth and Philip reconnect before executing the failed mission to protect the fellow spy known as Harvest, and a handful in the Jennings home, including the moments that follow Stan as he searches for confirmation of his hunch that Philip and Elizabeth could be Russian spies.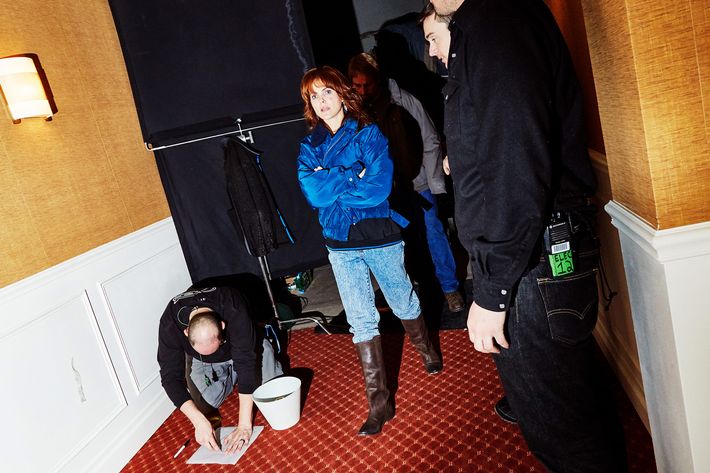 It's an important episode, one that sets up the dominoes that may (or may not) fall in the last three episodes of the series. Which is why it's remarkable that it was written by Sarah Nolen, a 28-year-old Penn State grad who earned her first-ever TV writing credit by scripting "Harvest."
After spending more than three years working as an assistant to the heads of an L.A. tech company, Nolen leveraged some connections and landed her dream job: working for The Americans in season four as the assistant to Joel Fields, one of the two showrunners. In the final season, she joined the writing staff. "From the minute she arrived, she's made great, terrific creative contributions," Fields told me. "We read some scripts of hers and some scene work of hers that's been really strong."
After the team broke season six, determining the overall narrative arc and creating an outline of what would happen in each episode, Fields told her, according to Nolen: "If there's an outline that you feel particularly pulled to or interested in, let me know. But just so you know, I have one that I think you would really excel at."
To Nolen's delight and surprise, that turned out to be "Harvest," an episode that gave her the opportunity to write the weighty conversations between Elizabeth and Philip, Stan's momentous visit to the Jenningses' house, a complicated action sequence, and also the episode's "talker" — the setpiece in the parking garage, where Philip uses an ax to chop off the head and hands of deceased fellow-spy Marilyn to ensure her identity can't be traced.
When I chatted with Nolen in the writers' office during my visit, the parking-garage scene had not yet been shot and the details of it were unknown to me. Nolen discussed it in general terms, without my understanding of exactly what would happen.
"We write some pretty dark, dark things on the show, but on the world of our show it's — like, for example, the tooth-pulling scene. We refer to that as actually a very intimate scene. Practically a sex scene," Nolen said, referring to the moment in season three when Philip has to yank a damaged tooth from his wife's head. "It's something that's very gruesome and so hard to watch, but to us, I'm not even seeing him using pliers on her. I'm seeing intimacy. So I said this to [the director] Stefan [Schwartz] about [the head-chopping] scene in my episode, and he was like, 'I wouldn't want to date you' — I was like, 'It's so romantic!' And he's like, 'What?!'"
"This scene in particular," she added, "I viewed as really difficult and selfless and romantic and, also, tactical. But there's a lot of emotion to it."
As this episode was being shot, there was also a lot of emotion coursing through some of the people who work on The Americans. Production was still very much under way, but already sets had been struck. The furniture in the Jenningses' master bedroom had been removed. Members of the staff were getting ready for the last-ever concept meeting, where the overall tone and execution of an episode is discussed. Fields and fellow showrunner/series creator Joe Weisberg could sense how close they were getting to leaving a job they still loved.
"You take any group of people here, and when they work together, good ideas come out," Weisberg told me. He was sitting in a different room in the writers' office in Brooklyn, which, at the time, was still very much intact, complete with its Ronald Reagan standee and its bookshelves stacked with Americans-relevant texts: The Book of EST, TV Guide encyclopedias from the 1980s, Secrets of Computer Espionage.
"It's what you want in a collaborative environment," Weisberg continued. "It's highly, highly functional. It feels good every day. It feels good from a work point of view, but it also feels personally good. I feel happy. I feel supported. I love the people I'm around."
"Wow," he said, pausing for a moment, starting to sense what it's like when you arrive at the beginning of the end. "I'm going to miss the hell out of it."