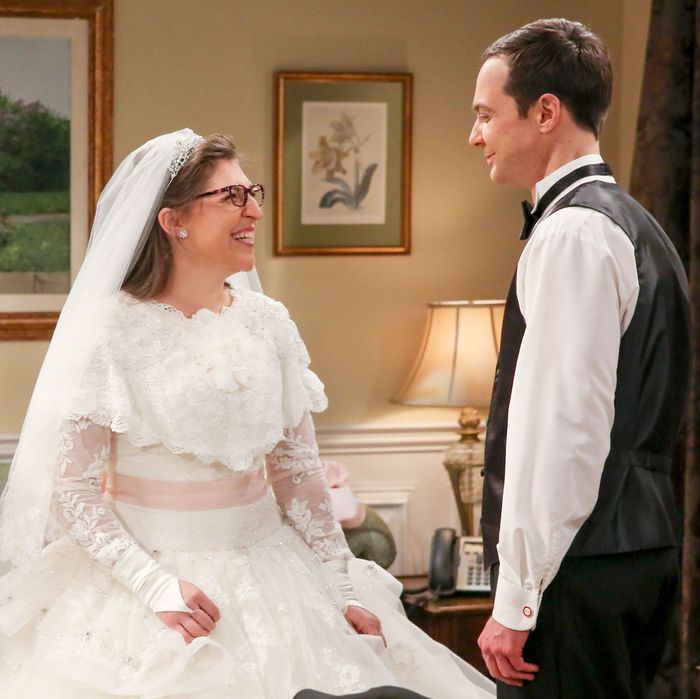 Photo: Michael Yarish/CBS
There are guest stars aplenty — Mark Hamill alone nearly steals the show — but the real payoff for viewers who've waited for years to see the marriage of Sheldon Lee Cooper to Amy Farrah Fowler comes, as it should, with the vows.
Neither the bride nor the groom is the most expressive, socially dynamic of people. But since meeting at the end of season three and beginning a relationship that slowly evolved into one of the most awkwardly sweet coupledoms in network prime time, Sheldon and Amy individually, and together as Shamy, have emerged to become their best selves.
The vows reflect that, as the two share with those gathered at the Athenaeum at Caltech what they mean to each other.
Amy to Sheldon: "From the first moment in that coffee shop, I knew there was something special between us, even though I did work on a study that disproved love at first sight. Clearly, it was wrong because I felt something that day, and those feelings have only gotten stronger with time. I can't imagine loving you more than I do right now. But I felt that way yesterday, and the day before yesterday, and the day before that. Sheldon, I don't know what the future holds, but I know that I've never been happier than I am at this moment, marrying you."
Even Mark Hamill has to take a small break here, as he is genuinely touched by the expression of love by the bride, whom he doesn't know. Hamill is replacing Wil Wheaton as the officiant of the Shamy nuptials, a payback to Howard, who found his missing dog, Bark Hamill (as named by the Star Wars legend's fans online, obviously).
And back to the ceremony …
Sheldon to Amy: "Amy … I usually know exactly what to say. But in this moment, I have no words. I guess … I'm overwhelmed by you. In a good way. Not in the elevator-in-the-haunted-mansion way. Even if I can't tell you now how I feel, I will spend my life showing you how much I love you."
Hamill and the rest of those in attendance — including Sheldon's mother, brother, and sister; Amy's mom (Kathy Bates) and dad (Teller); Stuart and his comic-book-shop employee, Denise; and the sidelined Wheaton — get all choked up again, and Shamy is now officially wedded. The vows portion of the celebration had been delayed for nearly an hour, as a comment Amy made earlier about the asymmetry of Sheldon's bow tie led him to a major breakthrough in his string-theory work. Together, using lipstick on Amy's dressing-room mirror, the two work out the idea of "super asymmetry." Both can be stingy with praise for their fellow scientists' work, especially Sheldon. But when he stumbles upon this new and exciting direction for his research, it's because of Amy. She's the one he goes to for collaboration, and it's a uniquely Shamy way of sealing their bond.
Not that there aren't some disappointments on the wedding day. Most glaring: MIA Meemaw. Sheldon's grandmother, portrayed by Oscar nominee June Squibb in season nine, is perhaps Sheldon's favorite relative, one he's been particularly close to since he was a child. On the spinoff series Young Sheldon, Annie Potts plays Meemaw as Sheldon's feisty, supportive protector, reinforcing how important she has been in his life. So, why no Meemaw at her Moonpie's wedding? Showrunner Steve Holland told TVLine that the writers had decided that 90-something Meemaw was too old to travel, and that a voice-mail Potts recorded as Meemaw was cut because of time limits in the very tightly packed season-ender. The other buzzkill of the wedding episode is that it ends before the reception begins, meaning long patient fans are denied knowing such details as which science-fiction icon would inform the shape of the Shamy wedding cake. (Sheldon had mentioned in the prior episode his desire for a Millennium Falcon confection.)
I appreciate how much heart and humor filled the installment, but given how important Meemaw is to Sheldon, and how long viewers have waited to see this major milestone in the lives of the characters, maybe a double episode was in order to fit everything in?
The whole celebration, or at least, the part we get to see, wraps up with Sheldon and Amy walking back down the aisle, as they're serenaded with "At Last."
Well, "At Wast," to be more accurate. Remember how Sheldon and Leonard secured the Athenaeum at Caltech for the wedding venue by agreeing that their frenemy Barry Kripke could provide the musical entertainment on the big day?
Kripke cashed in on that promise.
THEOR-EMS
• Sheldon: "If you'd have told me as a child that an actor from Star Trek would be officiating my wedding, I would have said, 'Ohhh, William Shatner?' And if you'd have said, 'No, Wil Wheaton,' I'd have said, 'Well, did you even try William Shatner?' And if you'd said, 'Yes, but he cost too much money,' I'd have said, 'Oh, well, Wil Wheaton's good, too.'"
• Sheldon to Amy: "There is nothing in the world that would stop me from marrying you tomorrow. Even me from the future coming back to prevent the wedding and subsequent birth of a child who will destroy humanity."
Amy: "Because if you came back from the future, that would mean you already went through with the wedding because you believe time travel is on a closed loop."
Sheldon: "I love you so damn much."
• Hamill is one of TBBT's best guest stars ever, eliciting a squeal from Howard when he arrives at the Wolowitz house to pick up Bark, an equally nonsensical utterance from Sheldon when he realizes that Hamill is going to perform the wedding ceremony, and providing some humility for the version of Wil Wheaton who sometimes torments Sheldon just for the fun of it. When Wheaton realizes he's being replaced as the officiant, he confronts Hamill, who asks who he is. Ouch.
• Also, Hamill has to entertain the guests while Shamy is busy inventing super asymmetry, which leads to a 45-minute Star Wars Q&A session. That's a real boon for Stuart, who proves he knows even more obscure Star Wars trivia than the man who plays Luke Skywalker, something that impresses Denise very much. Stuart for the win, for once!
• Hamill: "By the power invested in me by EvenYouCanPerformWeddings.com, I now pronounce you husband and wife."
• Fans' runner-up choice of name for Mark Hamill's dog: Honey-Baked Hamill.