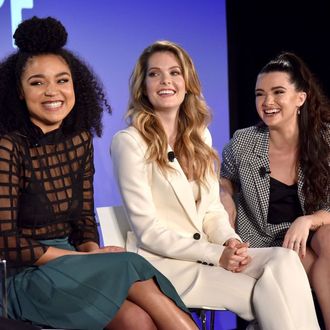 Aisha Dee, Meghann Fahy and Katie Stevens.
Photo: Bryan Bedder/2018 Getty Images
What if Kat had not gone with Adena to Iran? What if Jane didn't leave her job at Scarlet? Or how about if Sutton and Alex continued a different office dalliance? The stars of The Bold Type shared some of the different endings that were shot leading up to the first season finale at Vulture Festival, and let's just say we're so glad these didn't pan out. So are Katie Stevens (Jane), Aisha Dee (Kat), and Meghann Fahy (Sutton), who will be back on Freeform in June for the show's second season.
But why were there alternate endings in the first place? The finale, it turns out, was shot before they heard that the show was picked up for another two seasons. Stevens' character, for instance, had an alternate ending that saw her staying at Scarlet magazine rather than following her professional dreams at Incite. "I'm just really happy it ended up the way it did!" she says. Dee, a bit unsure of how much she could divulge, said there might have been an ending in which Kat and Adena's romance did indeed end at the airport when the Muslim ban forced her to return to the Middle East. As for Sutton … let's just say she might have chosen a different guy's office to hook up in.
They were tightlipped about what happens next season, only teasing a road trip, the arrival of a "hot Australian doctor" in Katie's life, and a body-positivity episode that hits home. For the episode, says Dee, they chose to feature things about which they personally feel insecure about.