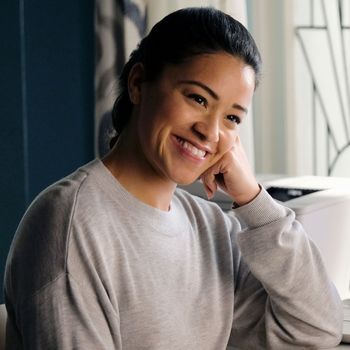 Jane the Virgin
.
Photo: Tyler Golden/The CW
The next TV season is the last you'll see with Jane Villanueva and Rebecca Bunch. The CW announced its schedule for the 2018-2019 season today, and in doing so, confirmed speculation that both Jane the Virgin and Crazy Ex-Girlfriend will come to an end next year. Crazy Ex-Girlfriend, envisioned by its creators as a four-season show, will start airing that fourth season this fall. Jane the Virgin, which Gina Rodriguez had implied would end after its next season, will start airing its truncated fifth season in midseason, returning along with iZombie, which will also be ending, and The 100.
The network's fall schedule also includes three new series pickups. The reboot of Charmed will air on Sunday nights, a new night for original programming for the network, after Supergirl. All American, about a football player from Compton who gets recruited into a Beverly Hills team, will air after the all-American shenanigans of Riverdale on Wednesdays. Legacies, a show about the next generation of sexy supernatural beings in the world of The Vampire Diaries, will air after the seemingly deathless Supernatural on Thursdays. The CW's other new series, including In the Dark, about a blind woman solving crimes, and Roswell, New Mexico, a Roswell reboot, will arrive midseason.
See the CW's full fall schedule below, with new additions in bold.
SUNDAY
8:00-9:00 p.m. – Supergirl
9:00-10:00 p.m. – Charmed 
MONDAY
8:00-9:00 p.m. – DC'S Legends of Tomorrow
9:00-10:00 p.m. – Arrow
TUESDAY
8:00-9:00 p.m. – The Flash
9:00-10:00 p.m. – Black Lightening
WEDNESDAY
8:00-9:00 p.m. – Riverdale
9:00-10:00 p.m. – All American
THURSDAY
8:00-9:00 p.m. – Supernatural
9:00-10:00 p.m. – Legacies
FRIDAY
8:00-9:00 p.m. – Dynasty
9:00-10:00 p.m. – Crazy Ex-Girlfriend