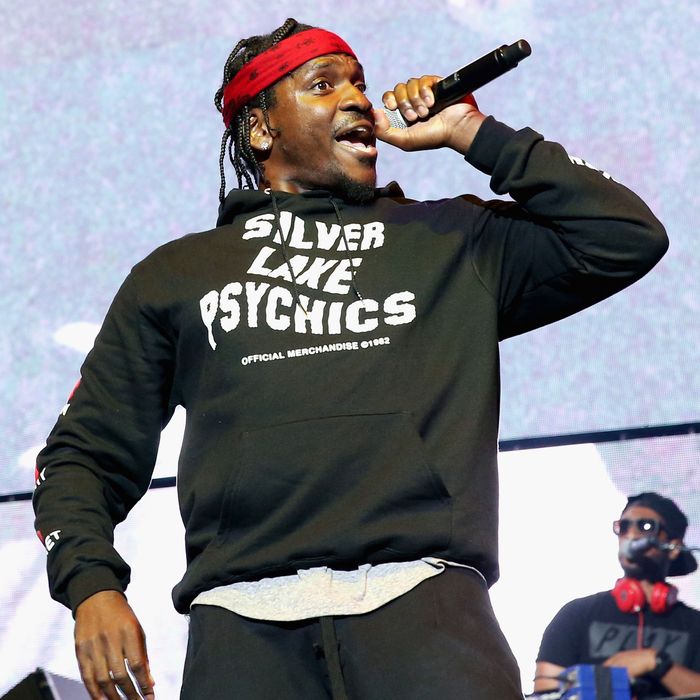 Pusha-T on June 22, 2017, in Los Angeles, California.
Photo: Bennett Raglin/Getty Images for BET
A lot can change in a small stretch. I woke up this morning laughing about something I wrote only a year and a half ago. The time was late October of 2016, the last month of what I half-jokingly, half-despairingly refer to with friends as "simpler times." The occasion was the release of Drake's loosie diss track "Two Birds, One Stone." The song was rude; Drake went at Kid Cudi, clowning the Cleveland rapper's lengthy history of drug and mental-health struggles, and sent a verse at Pusha-T questioning his history in the streets. As a fan of all three artists, I thought it was a bad idea. Cudi was in rehab at the time, working through issues with depression and self-harm. Pusha is not someone you test lightly. It felt like Drake was talking beyond his station. Don't speak on the streets if you never worked the streets. I worried about Drake exhibiting "late-second-act Tony Montana behavior." Histrionics!
I laughed rereading myself because I'm so fried by the daily absurdity of 2018 that I couldn't possibly muster the energy to write a "Hey, boys, stop fighting!" post now, but also because for all the handwringing, I think I was on to something. Not knowing his limits is what took Tony Montana down. This week is not going well for Drake. Last Friday, he responded to a handful of lines about his use of ghostwriters in Pusha's "Infrared" with "Duppy Freestyle," where he questioned Push again, this time with snappy lines about the G.O.O.D. Music president's family and fiancée. ("I told you if you keep playing with my name I'ma let it ring on you, like Virginia Williams.") Reckless energy only begets more reckless energy.
Last night, Push sent Funkmaster Flex "The Story of Adidon," a rhyme over Jay-Z's "The Story of OJ" where he delivers a handful of the wildest insult lines of all time, attacking Drake's authenticity, his talent, his blackness as a mixed-race Canadian, his mother and father's romantic histories, his friend and producer Noah "40" Shebib's multiple sclerosis, and his nagging rumor about a secret love child. The art for "Adidon" is a (real!) photo of Drake in blackface taken by the photographer David Leyes, who insists the shoot was the artist's idea, not his. Now, the reception of Drake's forthcoming Scorpion album will be tarnished by reignited paternity questions and criticism of his careless use of blackface. Pusha-T suggested today that "Adidon" will be the name of a secret Drake-Adidas collaboration, but as Hypebeast's Ben Roazen points out, when you search "Adidon" on Google now, you get Drake in blackface.
I wish the guy who made "Know Yourself" had the awareness to see this coming. I'm drained by Drake's idea that pressing street rappers is a shortcut to increasing his own credibility. This isn't Highlander. I know that a dash of poise could've prevented most of this. I don't like the use of fiancées and mothers as collateral damage in rap beef. I'm not crazy about the idea of challenging mixed-race people's blackness in the country that invented the "paper bag test." I feel for 40 today on World MS Day. I am here for the bars and the mess and the electricity in the air around what's looking like a legendary diss war. In 2016, I wondered if Drake was taking things further than he ought to have, and I was told that rap beef is no-holds-barred business. In 2018? Shit, go for it.