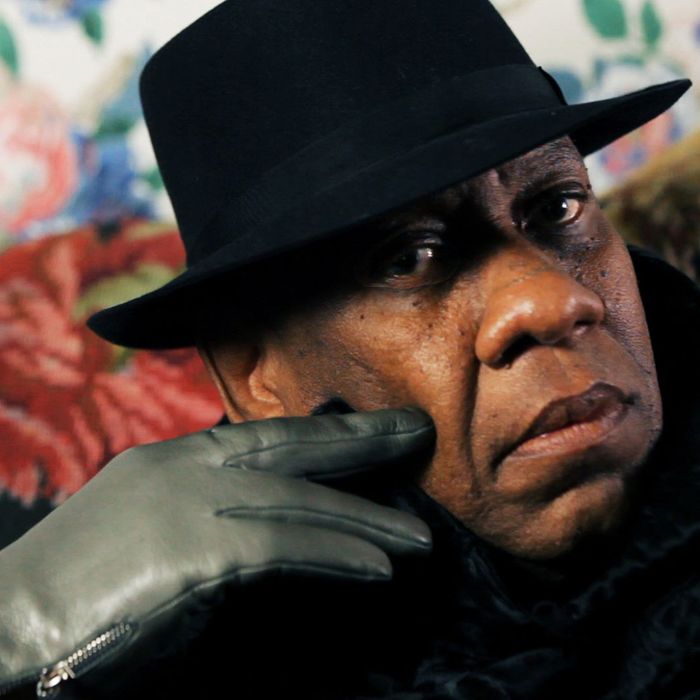 The Gospel According to André is a coy documentary about a man who, on the surface, one would assume is anything but. Director Kate Novack paints an interesting portrait of the former Vogue editor-at-large Talley, but by its end it doesn't feel as if it's really gone anywhere with the globe-trotting fashion expert and raconteur. Talley is as good a documentary star as you could hope for, an endless reserve of observations and memories and fierce opinions. But in Gospel, the things that make Talley such an iconoclast and so unforgettable even to those who've scarcely picked up a fashion magazine in their lives — his stature, his mannerisms, his flamboyance, his race — feel, for the most part, uninvestigated.
Aided by some great archival footage of the subject throughout his career, and his own self-narrated fashion-scene videos, the documentary has much more verve in its narration of its past than its meandering through the present. Novack presents Talley as a man who defined luxury and style for himself, but who also relentlessly studied fashion and art, reading collections like a book. Narrating runway shows in those inimitable dahling proclamations, Talley brings abundant personality to his work, and the imagination to envision fashion as a pinnacle of human dignity and expression.
The documentary rightly gets much of its mileage from Talley's humble origins: He grew up in Durham, North Carolina, in a tiny house with his grandmother, a housekeeper at Duke. The ever-present dimension of Talley as a poor black southern boy is the thread even as he leaves his hometown to go to college at Brown, and then try his luck in New York City with the Andy Warhol set. (His luck was good, it turns out.) As he tells it, he never sees his origins as a hindrance, rather as a unique asset. When Yves Saint Laurent premiered his Porgy and Bess–inspired 1978 collection, Talley was there, and uniquely positioned to appreciate this fantasia of the American South via Broadway and Paris couture.
But that collection alone is a great example of some of the cultural entanglements Talley faced in his role. Though he caroused with the best of them at Studio 54, Fran Lebowitz claims that when it came to sex, he was "like a nun." The designer Norma Kamali points to his conservative southern background as a factor, others cite his career ambition, which was so all-consuming there was no time left for love affairs. The word "gay" is never uttered until very late in the film, strange for one that documents such a libertine era. It's hard to watch Gospel and not feel as though there's a lot that's not being talked about.
This underplays how politically conscious Talley has been at his various positions, and into the present. Throughout Novack's visits he is obsessively tracking the presidential election, even getting an absentee North Carolina ballot so that he can vote as a resident of his home state. You can see the dread and dismay on his face on November 9, but Novack never talks to him about it; the next time we see him is in Washington, D.C., live-blogging the inauguration with Maureen Dowd and praising Melania Trump's style and grace. He sighs that he's going to get torn to shreds for saying anything positive about the new First Lady. But why did he say it? Why does he suppose people will be mad? How does he feel about being a style reporter in these times? The film shies away from this and countless other relevant-feeling questions.
It's not until late in the movie that Talley discusses the latent and not-so-latent racism he faced throughout his career — being mocked as "Queen Kong" by an employee of Saint Laurent's, and the assumption that as a black man he must be sleeping his way through Paris in order to have the access he had. It's here, while in the Condé Nast archives looking at his work during his stint as creative director at Vogue — during which he worked hard to include more models of color in the magazine's pages — that Talley addresses head-on the dynamics that up until now have only been alluded to. They are not bombshell revelations — one would assume that a man of his background would have his share of tensions in 1970s Paris — but Novack saves them for this one emotional scene, instead of weaving them into the narrative of the film.
Almost instinctively, as the tears well up in his eyes, Talley reaches for another issue, this one the March 2013 issue, graced by Michelle Obama in hot-pink Jason Wu, grabbing it like a lifeline. "Do you know how much I wish my grandmother had been alive to see this?" he asks. There's been so much change in fashion and the world in general that Talley has witnessed firsthand, and in fleeting moments like these The Gospel According to André manages to capture how personal that is for him. It feels like the self-admittedly emotionally bottled Talley is ready to talk about all of it. It's too bad his biographer is less so.