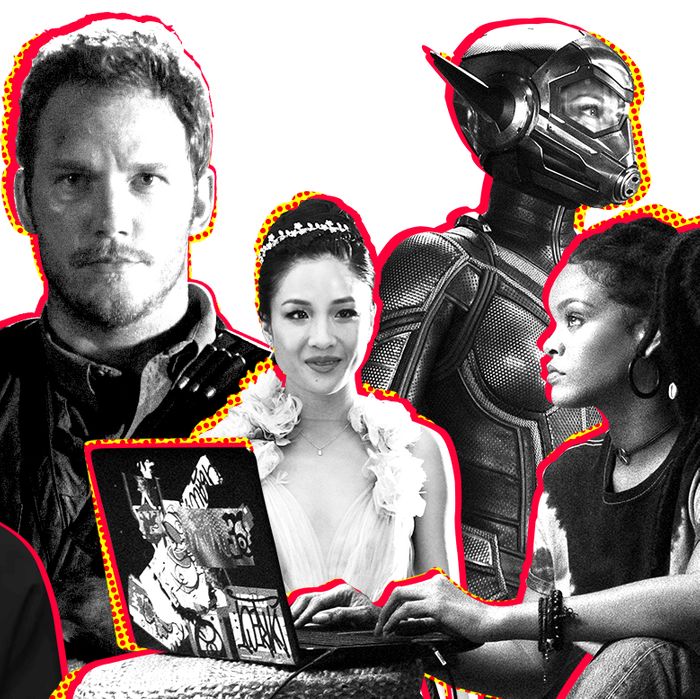 Photo: Maya Robinson/Vulture
Onscreen chemistry is crucial if you want your movie or TV show to succeed. The greatest fictional love stories and buddy comedies and best friendships of our time thrive because of that inimitable connection between scene partners. This summer's approaching film slate already has its standout offerings, but what are the details you'll be talking about after you leave the theater? We have some guesses, and therefore, present you now with the most anticipated screen pairings of blockbuster season. And we're not limiting this preview simply to actors: We're spotlighting the interplay between wardrobe and star (and biceps), the perfect harmony of man and mustache, and the emotional impact of Michelle Yeoh minimizing your humanity with nary more than a glance. From costumes to wigs to, yes, conventional co-star complements, here are the most exciting screen team-ups of the summer season.
Nicole Kidman and Her Punk Wig, How to Talk to Girls at Parties (May 25)
How to Talk to Girls at Parties is writer-director John Cameron Mitchell's adaptation of the Neil Gaiman short story of the same name, and it's about punk teens in 1977 London who meet a collective of visiting aliens. There's life and love and coming-of-age feelings. But most importantly, there's Nicole Kidman as a kind of alt-scene godmother figure named Boadicea, presiding over the punk youth and screaming calls of revolution while wearing a white and black wig that looks like it was snatched straight from the head of C.C. DeVille in 1986. This is why she's a generational talent, folks.
Toni Collette and Repressed Malignant Domestic Rage, Hereditary (June 8)
The upcoming horror movie Hereditary is designed to deliver terror on an existential level, a kind of dread and discomfort that hits the soul, and the hellfire-powered engine at the movie's core is Toni Collette. You've seen her as an emotionally terrorized wife and mother before, in Sixth Sense, The United States of Tara, The Hours, and more, but her uncanny ability to communicate simmering anger is set to a full boil in this horror film about grief, anxiety, family secrets, and meticulously painted miniatures. Collette might be ascending to her final form.
Rihanna and Elite Hacking Skills, Ocean's 8 (June 8)
There's a still from Ocean's 8 that features Rihanna sitting on a park bench with long dreadlocks, wearing a Baja hoodie and communications headset while a laptop rests on her legs. Cate Blanchett (in a leopard print coat!) sits next to her, staring at the screen, which surely contains vital information mined by expert hacker Nine Ball (that's Rih), who is the tech mind of Debbie Ocean's con artist all-star team. Having Rihanna attend the Met Gala and possess the skills to probably infiltrate NORAD in the same movie is nothing short of narrative brilliance.
Chris Pratt and a Dinosaur Buddy Cop, Jurassic World: Fallen Kingdom (June 22)
When Universal execs were poring over the first draft of Fallen Kingdom's script, do you think they had to say "Make it more of a buddy cop action adventure with Chris Pratt and a dinosaur," or was that partnership already in place from the jump? In any event, that's what we're about to get as Pratt's Owen Grady teams up with his trained velociraptor, Blue, to take down gene-altering baddies bent on turning dinosaurs into weapons. Truly a Riggs and Murtaugh for 2018.
Evangeline Lilly and Michelle Pfeiffer, Ant-Man and the Wasp (July 6)
Ant-Man ended with Hope Pym (Evangeline Lilly) seeing her Wasp suit and saying to her dad, the inventor Hank Pym (Michael Douglas), "It's about damn time." Now Ant-Man and the Wasp is coming — and not only do we get super-suited Hope, we get the return of her mother, Janet Van Dyne, who has been lost for decades in the Microverse and will rejoin her family in the form of Michelle Pfeiffer. Michelle. Pfeiffer. Hold all our calls on July 6. We'll be busy watching the return of the Queen to superhero status, fighting side by side with Evangeline and her appropriately super biceps.
Lakeith Stanfield's Body and David Cross's Voice, Sorry to Bother You (July 6)
There's a lot to look forward to in Sorry to Bother You. Armie Hammer inhaling coke like it's oxygen. Tessa Thompson with dusty pink hair and earrings that say "MURDER MURDER MURDER." But the real treat is going to be Lakeith Stanfield hitting his stride as a telemarketer by finding his White Voice, which is provided by David Cross. So: Lakeith face, David Cross voice. What a time!
The Rock and a Prosthetic Leg, Skyscraper (July 13)
You know that the Rock is starring in the upcoming movie Skyscraper, and that he will have to save his family from bad guys who have them in a gigantic burning building, but did you know his character is also a war veteran with an amputated leg? Yes, all the ass-kicking and high-flying Rock will do in Skyscraper is the work of a man making the best of the hand he was dealt, because the Rock knows it's not about surviving after a life-changing injury. It's about thriving. And he better detach it and beat someone severely with that leg, or what are we even doing here?
Henry Cavill and His Paramount-Mandated Mustache, Mission: Impossible — Fallout (July 27)
We owe Henry Cavill's monumentally bad CGI face in Justice League to the Mission Impossible mustache, which, the actor says, would have been a logistical nightmare to shave off, given his high volume of stunt work for the spy thriller. It's possible that this mustache cost Warner Bros. millions in digital retouching for an end-product that wasn't even remotely good! There's been so much Hollywood drama around this mustache — and so much space given to it on Cavill's Instagram — that it's earned a place on a "stars to watch this summer" list.
Trevante Rhodes and Any Sleeveless Tactical Apparel, The Predator (August 3)
The Yautja come back to earth and try to kill us all in The Predator, and that is admittedly bad. But is it all worth it if every time we see Trevante Rhodes onscreen he's wearing sleeveless tactical gear? Any answer other than "Yes!" is wrong. From now on when the National Anthem plays, put your hand over your heart and look at a photo of the American flag tattooed on Trevante's shoulder in this movie, because that is the new Old Glory.
Jason Statham and a Megalodon, The Meg (August 10)
He's been crunk. He's been expendable. He's been a transporter. He's been a mechanic, a killer elite, and a wild card, but now, Jason Statham will take on his biggest role yet: Nemesis of the Megalodon! That's right. It's Jason Statham versus the biggest shark planet Earth has ever known. The only question is: Does the 75-foot ocean killer have its last will and testament signed? Because the Stath is going to send that fish to deep blue hell.
Michelle Yeoh and Constance Wu, Crazy Rich Asians (August 17)
You know that part in the Crazy Rich Asians trailer where Rachel Chu (Constance Wu) approaches Eleanor Young (Michelle Yeoh), the icy gorgeous mother of Rachel's boyfriend, whom she really, really wants to impress? Rachel greets Eleanor with a smile, and the Young family matriarch gives her the quickest dressing down with her eyes before just turning and walking away. And we ask: Have you ever felt faster devotion to a person in your whole life than you did to Michelle Yeoh in that moment? No, you haven't. We are living for this drama.