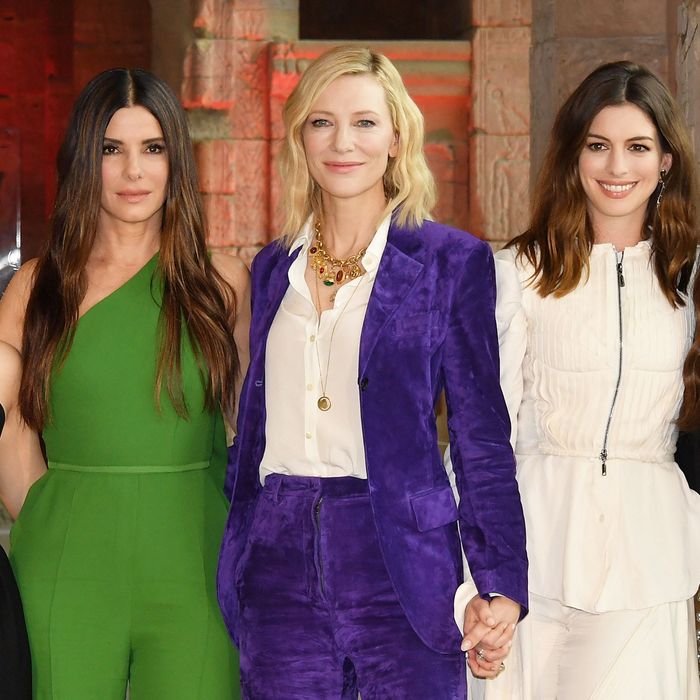 Photo: Mike Coppola/Getty Images
Midway through Ocean's 8, there's a scene where Sandra Bullock's exquisitely coated Debbie Ocean faces a mirror and reminds herself why she's decided to rob the Met Gala: not for man, not for herself, she says, but for the 8-year-old girl out there who could be inspired to lead a life of crime. At an extravagant press conference for Ocean's 8 held next to the Temple of Dendur at the Metropolitan Museum of Art today, one reporter asked the cast if they really were trying inspire 8-year-old girls with their work. What effect would these "strong female roles" have? "Encouraging children to crime," Cate Blanchett deadpanned.
Mindy Kaling then took the conversation in another direction, pointing out that the film provides positive representation of another, noncriminal sort in the fact that the characters are "orchestrating a crime, rather than fighting over a man." Sandra Bullock pointed out that there is a man the characters in Ocean's 8 fixate on, but more because he's a target, not a love interest. The film aces the Bechdel test and probably earns a heap of extra credit on the assignment. "Our conversations are not about that man, and I think that's very exciting," Kaling said.
Really, being a criminal is just another form of self-actualization. "To an 8-year-old girl, maybe we're not trying to say, 'Go have a life of crime,'" Anne Hathaway added, "But we're saying, 'Go do what you want, there's space for you.'" She commended it for having a "everybody in" message, and for showcasing a variety of perspectives. "One thing we're also saying in that 8-year-old girl moment is — and there's nothing wrong with it — but you don't have to grow up to be a princess," director Gary Ross said. Or really, if you do become a princess, become one whose skills would be useful in a heist.