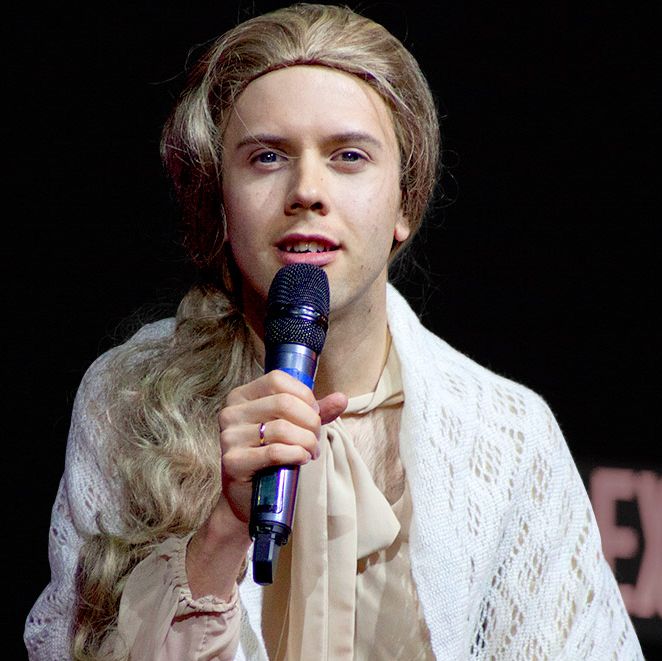 Cole Escola.
Photo: Getty Images
"Is it Nicole Kidman?" my friend leans over and whispers to me.
I shrug; I have no clue. We're nearing midnight on a Friday at Caveat, a downtown "new speakeasy" space on the Lower East Side. Hosts Matt Rogers and Dave Mizzoni are just getting warmed up during their monthly comedy show, Gayme Show, where two straight male contestants compete in a gay decathlon. The first game is "Celebrity Essences," where you're supposed to figure out which celebrity a seemingly harebrained assortment of objects and ideas refer to. Wearing wireless "Britney Spears microphones," Rogers and Mizzoni read out the clues as they appear on a PowerPoint: there's a hot tub, a DJ at a bar mitzvah, an Equinox sauna, women ages 35 to 55, and a $288 receipt for an Uber you don't remember taking. The contestants — Patrick Noth and Sebastian Conelli — are stumped, and so are their accompanying queer advisers Sydnee Washington and Brandon Scott Jones. "Avicii?" guess Noth and Washington. "Bryan Singer?" guesses the other team. Wrong! You're both wrong! We're all wrong! It's Andy Cohen.
There are more challenges over the next hour: The heterosexuals walk and command the room to Demi Lovato's "Cool for the Summer"; they deliver a monologue in a character appropriate for the wig they're assigned; and in the final showdown, they lip-sync for their lives to Ariana Grande's "No Tears Left to Cry." D'Arcy Carden, a longtime UCB alum who now plays Janet on The Good Place, and comic Joel Kim Booster are there, too, making some extremely accurate guesses. They instantly clock that the clues "chewing tobacco" and "a Restoration Hardware table" refer to Frances McDormand.
There's something delightfully maddening and subversive about a game that demands you readjust your brainwaves to a distinctly queer way of thinking. But more significantly, Gayme Show is just one example of a larger seismic shift that has occurred in the past few years: Instead of gay people trying to fit into traditionally heterosexual and male comedy spaces, they're creating a gay paradigm.
"We're still used to [comedy] being a space where we're going to be attacked and feel weird. If you showed up to a random showcase, you could assume that you would be told how disgusting faggots were on a regular basis," says Guy Branum, the host of a similarly meta game show on truTV, Talk Show the Game Show that also started onstage. "And one of the really interesting things is that the change in the tenor of stand-up in major American cities is so much the reflection of there being actual gay people getting up." Stand-up comedy has regularly trafficked in homophobic jokes for cheap laughs — and as of late, transphobic ones — making comedy shows a hostile environment for queer people. The lack of queer comedians became a self-perpetuating cycle: Queer audiences avoided comedy clubs, making queer comics loathe to come out of the closet, let alone do queer-specific content.
Indeed, many of the most successful queer mainstream stand-up comics from the '90s, like Ellen DeGeneres, Wanda Sykes, Paula Poundstone, and Ant, were either not publicly out at the time, or if they were, would softly avoid the topic of sex. (An important historical exception to this is Scott Thompson's withering Buddy Cole character from The Kids in the Hall.) In her 2003 HBO special Here and Now, DeGeneres has a joke about having to make an "obligatory gay reference" before running through a mostly impersonal set about cordless phones, talking in movie theaters, and the awkwardness of elevators. Meanwhile, Ant would "present" as gay to an audience he (correctly) presumed to be straight, which meant his comedy hinged on explaining how certain sports (like boxing) were gay or how he came to be gay himself (women are annoying). If we're to think of comedy as a culture, then traditional club comedy required gay people to assimilate to a heterosexist sensibility in order to succeed.
The second comedy boom that began with the likes of Janeane Garofalo and Marc Maron in the mid-'90s, and exploded in 2009, didn't simply expand comedy outside clubs and into "alternative" spaces — cafés, black box theaters, cabaret, sex-toy shops, and so on. It also allowed for more flexibility in tone, content, and style. This created an opening for the rise of gay and lesbian comedians and performers like Branum, Tig Notaro, Billy Eichner, Cameron Esposito, and Rhea Butcher to fill lineups, but also expand what was possible (think Billy on the Street).
The fruit has ripened: Queer comedy has moved out of its early gestational period and is no longer just about representation — just the fact that there are queer comics onstage. What distinguishes it today is a queer sensibility. It's queer comedy: stranger and more off-kilter than ever before, with a distinctly camp flavor. Some of the most exciting and innovative comedy today — full stop — is coming from queer people like John Early, Julio Torres, Patti Harrison, Bowen Yang, Matt Rogers, Erin Markey, Emma Willmann, Cole Escola, Jaboukie Young-White, Matteo Lane, and Ian Harvie, as well as the aforementioned Booster and Washington. (And so many more!) An early John Early joke serves as an apt analogy for the trajectory of queer comedy: "I wasted so much time in high school trying to like Radiohead when I could have been learning how to use my butt for sex. And now here I am and I'm in my sexual prime, and I have no taste in music and I've shit on half of Brooklyn."
By and large, the epicenter is in New York (with frequent migrations to Los Angeles), where there's an array of queer comedy on display, some of whom may or may not be explicitly branded as such. Bowen Yang and Matt Rogers host a live show called I Don't Think So Honey, where 50 comics, writers, and generally funny people deliver one-minute rants about something that pisses them off in pop culture; Justin Sayre, the host of the long-running The Meeting of the International Order of Sodomites (which ran for seven years before they retired it last year), has returned to Joe's Pub with a series of shows called The gAyBCs: A Brief History of Gay Culture and is working on a Gothic soap called Ravenswood Manor; Erin Markey has a genre-mixing musical called Singlet; Becca Blackwell has their one-person show, They, Themselves, and Schmerm; Peter Smith is staging a lip-sync performance of a BBC interview with Princess Diana at Ars Nova; Sydnee Washington has her MTV Diaries meets 20/20 one-woman show Death of a Bottle Girl; and that's just in the coming month.
Part of this has to do with the fact that queer comedy isn't just influenced by stand-up, but also drag, cabaret, burlesque, experimental theater, viral videos, and variety shows. It's not always even strictly "comedy," but an amalgam of performance art, skit, musical, and storytelling. It's highly referential, revels in filth, skips between the high, middle, and lowbrow, and recuperates castoff genres like soap operas and the local news. (Aaron Jackson and Josh Sharp, of Comedy Central's The Opposition With Jordan Klepper, did a musical at UCB called Fucking Identical Twins which is as disgusting as the title suggests.) There's a DIY, one-night-only vibe that comes from friends making art together for their own pleasure that feels a lot like the New Queer Cinema movement of the late '80s and early '90s.
It represents an evolution of camp, which began as a kind of secret language among gay men and has become a dominant lingua franca. I mean camp in the sense that there is a queer way of identifying with something rather than something aesthetically "campy" — camp as a way to inscribe yourself into popular culture and make it joyfully yours. The late queer theorist José Esteban Muñoz called this act "disidentification," which is "to read oneself and one's own life narrative in a moment, object, or subject that is not culturally coded to 'connect'" with the dominant social frame. (This is why so many figures from the canon of camp are often powerful, aging women whose lives teeter on the brink of tragedy.) Modern camp has been amped-up and reshaped by the internet: Take, for instance, Bowen Yang doing a drop-dead perfect lip sync of Tyra Banks's infamous "We were all rooting for you!" rant from cycle four of America's Next Top Model, a millennial touchstone for the self-actualizing mythos of reality television. It's queer canon.
The new queens of camp are at the forefront of creating a new, more elastic framework for comedy. They're a generation of comics and performers who grew up in a post–Judith Butler world and fully understand that gender is performance, so we may as well play. It's different from simply doing a character, or the long history of cishet men playing women in comedy, because the joke isn't that "there's a man in a dress" — it's that gender (or race) itself is a social construct. The performance is deconstructive, with the comedy noodling into the different parts of identity. Take Cole Escola's razor-sharp characters that often send up various tropes, like a commercial for Happy Orange Juice aimed at perfect moms that turns macabre; Erin Markey drawing out the stalker-satanic overtones of Taylor Swift; there's Bob the Drag Queen's lip sync to "I'm a Slave 4 U" which doubles as a meta-commentary on black performance and drag itself; Patti Harrison's talent for reveling in the dumb, disgusting, and dark as she does with the viral-video parody, "Stupid Naive slut tries to do the splits Epic Fail !!!!"; John Early's shot-by-shot remake of the Showgirls rehearsal scene (also with Escola and longtime collaborator Kate Berlant); and we would be remiss if we didn't mention Branden Miller's Joanne the Scammer and her messy Caucasian life. If you start looking, the imprint is unmistakable: It's bountiful, dizzying, bone-rattling stuff.
Even if it's not always explicitly queer, you can see shades of this style among the weird women of comedy — Kate Berlant, Catherine Cohen, Mitra Jouhari, Jo Firestone, and others — who have been pushing the boundaries of propriety and reality for years now. (Harrison, Cohen, and Jouhari host a regular comedy show called It's a Guy Thing; Jouhari, Alyssa Stonoha, and Sandy Honig are the Three Busy Debras, which Adult Swim gave a pilot order earlier this month.) In the aggregate, we're seeing a cracking open of style, and more notably, a defiance of social mores and gender roles; there's an embrace of disgust that's more in line with classic John Waters and Amy Sedaris's Strangers With Candy than with respectability politics. And with such a range of queer comedians working today, it's also allowed queer comics who do more classic stand-up (like Cameron Esposito, Matteo Lane, et al.) to be more authentically "themselves" now than any other point.
The lingering question is whether the queer sensibility flourishing at comedy shows will make the transition to film and television, where many comedians have had varying degrees of success. It's happened in snatches: Early did his master class of tics and moods on Netflix's The Characters; Escola was free to unleash an inner queer brat as Matthew on Difficult People; Torres is responsible for the "Wells for Boys" sketch on SNL; and Jackson and Sharp continue their irreverent, barbed, and zany partnership on The Opposition With Jordan Klepper. However, based on my conversations with a number of queer comedians, TV might still be too traditional and risk-averse an industry: They'll have meetings with network executives and development types who claim to love them, but ultimately "pass" because they're "too niche." Or, as John Early once tweeted: "'too niche' 'too rarefied' honey just call me a faggot!"
"There's a difference between representation and perspective," Cole Escola said to me over iced teas recently. "People don't want a show from a queer person or a person of color unless the show is about them being a person of color or about them being queer explicitly for a straight audience through a straight lens, where they're straightsplaining what it's like for a gay person." The fact is that networks and advertisers are still more interested in Will & Grace and Queer Eye reboots than aggressively strange and original queer comedy. For now, Escola says he's content doing the work he finds interesting (he writes for Sedaris's truTV show, At Home With Amy Sedaris, which certainly has a queer sensibility, and is working on a "horror soap comedy" called Pee Pee Manor) rather than trying to pitch a mainstream network show.
But "every once in a while," he says, "I get this idea in my head like, 'Okay, what if I were to just for money's sake, try to make a show that checked off all the boxes that a network person might want.' Just to see if I could do it." He gets a gleam in his eye and adds conspiratorially: "That's the craziest impulse I've ever had: 'I wonder if I could please Daddy.'" At the very least, it would be a great sketch.