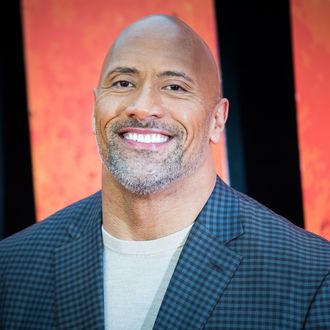 The Rock.
Photo: Samir Hussein/Samir Hussein/WireImage
Tired: posting a regular thirst trap on Instagram, as the Good Pope Rihanna decrees. Wired: Adding "social-media fee" to your multimillion-dollar movie salary. For his next project Red Notice, Variety reports that Dwayne "the Rock" Johnson will be paid around $22 million. A million of that money is just to ensure the Rock promotes his own movie on his own Instagram. Per Variety: "Want access to Johnson's 104 million Instagram followers? It's going to cost you. The Rampage star is asking for a $1 million social-media fee as part of his package for the upcoming Red Notice; that includes promoting the film on the likes of Twitter and Facebook." A respectable hustle!
For a cool mil, you can have your studio's movie promoted on The Rock's feeds, perhaps popping up between a tweet (correctly) chastising DJ Khaled for not performing oral sex and an Instagram where Johnson refers to Billions star Paul Giamatti as his "good bud." Speaking of Billions — can we get a Billions-Ballers crossover?