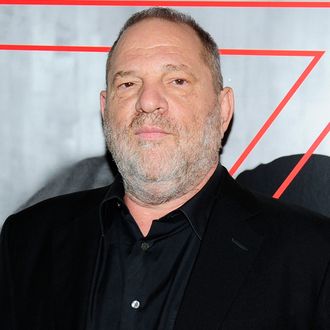 Harvey Weinstein in New York City, September 2017.
Photo: Paul Bruinooge/Getty Image
On Tuesday, the Weinstein Company announced that Lantern Capital Partners was the winning bidder in its bankruptcy sale, reports the New York Times. Lantern, a Dallas private equity firm, reportedly offered the troubled production company $310 million and the assumption of $115 in debt. However, the bid is not a done deal — creditors could challenge the agreement and a bankruptcy judge still must sign off on it.
TWC struggled to stay afloat financially after dozens of women came forward to accuse its former chief executive, Harvey Weinstein, of rape and sexual harassment last October. The company filed for bankruptcy in March.
The only other notable bidder was Broadway producer Howard Kagan, who offered a $315 million proposal. Kagan's deal would have also included at least $25 million for Weinstein's alleged victims. TWC said the proposal came in after the deadline.