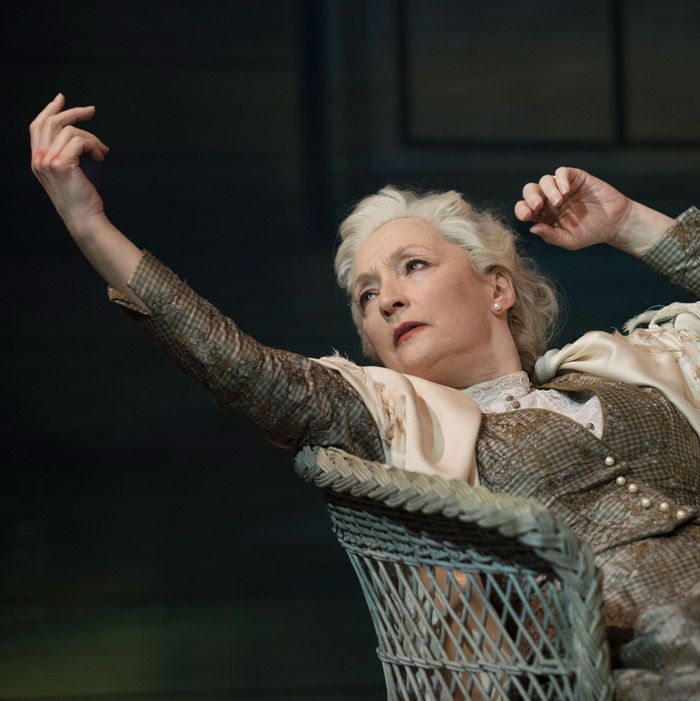 Lesley Manville in
Long Day's Journey Into Night,
at BAM.
Photo: Hugo Glendinning
Lest anyone get the idea that I'm summarily anti–Eugene O'Neill, let the record show that quite a few years ago, with the help of suspenders and hair gel and a whiskey bottle full of iced tea, I treated my 11th-grade English class to the entirety of James Tyrone Jr.'s climactic scene from the end of Long Day's Journey Into Night. It was a unit on "Great American Plays" and the alcoholic, acerbic, self-loathing, Swinburne-quoting Jamie was my current literary obsession — one that would be cemented later that summer when, on a glamorous-feeling trip to New York, I'd have my 17-year-old mind blown by Philip Seymour Hoffman's performance in the role on Broadway.
I figure I'm allowed a certain amount of O'Neillian backstory to make my point, which is that in the 15 years since I stumbled and raged and warned my brother against me in Ms. Skalet's classroom, I've come to a much more divided view of the Great American Playwright. In certain ways, his lumbering, lamenting works seem suited to teenage obsession — at 17, I was much more attracted by excess, sentiment, and performative suffering (and, frankly, by the male ego). But as much as I'm now tempted to uphold Mary McCarthy's takedown of O'Neill — in which she compares him to a "tone-deaf musician" whose "logical, graceless works can find no reason for stopping" — I can't help retaining imprints of the times I've experienced the hulking tragic power that's lying in wait in his plays, like an injured beast that needs to be released by director and actors so that it can stagger about in the open and slowly, magnificently die.
No such release is currently happening at BAM, where the Bristol Old Vic's production of Long Day's Journey — under the largely stuffy direction of Sir Richard Eyre and featuring underwhelming starring performances by Jeremy Irons and Lesley Manville — is hitting the snooze button. Peter Marks recently ruminated on the phenomenon of audience members' sleeping through performances, and during Eyre's production, despite the fact that staying awake for theater is literally my job, I very nearly became one of them. The show is startlingly lifeless, the majority of its potential tragic power sacrificed to mannered, unvaried performances that seldom make the dive into anything resembling emotional truth.
The posthumously Pulitzer'ed play that's commonly considered O'Neill's masterpiece is his most autobiographical. He gave the manuscript to his his third wife, Carlotta Monterey, in 1941, along with strict orders not to have it published until 25 years after his death. O'Neill called the piece a "play of old sorrow, written in tears and blood," and never intended it to be staged. But less than three years after he died in 1953, Carlotta published the play with Yale University Press (Random House refused to go against O'Neill's wishes) and by 1957 its Broadway premiere was racking up Tonys. Its characters, the Tyrones, are barely veiled analogues for O'Neill's own troubled family. There's the patriarch, James Tyrone Sr., an aging, penny-pinching former matinee idol, bombastic and sensitive and bitter about the commercial turn his acting career took (O'Neill's own father — also James, also dogged by resentment over selling out —played the lead in a successful stage version of The Count of Monte Christo over 6,000 times). There's James Jr., or Jamie, the older brother, a half-sardonic, half-sentimental alcoholic wastrel who prides himself on his lack of bullshit but, a few whiskeys in, takes fat prostitutes upstairs out of a pathetic romantic pity (the role Philip Seymour Hoffman etched into my head). There's the younger brother Edmund, the O'Neill figure, a still-finding-himself tubercular young poet. And there's Mary, the play's real emotional center, the woman the three men tiptoe around, the matriarch who mourns her lost beauty and her lost faith and her lost baby, the morphine addict whose harrowing relapse supplies a structure for Long Day's Journey's verbose descent. Even in the most gripping productions, the weighty title feels self-consciously apt: "No, seriously guys, buckle in," it seems to say. But here in Eyre's draggy, monotone revival, the tortured journey feels even longer than usual.
It's not because the actors talk slowly. Rather, being British, they tend to drive through O'Neill's prolixity at a fair clip. But, being British, the men of the cast — especially Irons as James Tyrone Sr. and Rory Keenan's Jamie — seem committed to playing a kind of broad, stilted "American-ness," which makes them sound like a combination of 1940s radio announcers and used-car salesmen. In Irons's case, a gruff, growling approximation of vintage American masculinity has even usurped diction: It's genuinely difficult to understand him for large portions of the play.
This surfacey approach effectively masks whatever emotional work the actors might feel like they're doing, and it flattens the highs and lows of O'Neill's excess verbiage. Keenan is the biggest culprit here. If Mary Tyrone is Long Day's Journey's broken heart, Jamie, who transcends his mordant flippancy late in the evening — or, rather, plummets headlong through it into something deeper — is its nauseated gut. The play's delicate, delusional finale belongs to Mary, but the tormented climax is Jamie's extended drunken warning to his brother: "You'd better be on your guard," he admits, at once at his sloppiest and his sharpest. "Because I'll do my damnedest to make you fail. Can't help it. I hate myself. Got to take revenge. On everyone else. Especially you."
Even O'Neill's sentences, which elsewhere in Long Day's Journey and in his other plays are nearly paragraphs, sound different here. They're two or three words long — nasty, brutish, and short. Jamie's as much an addict as his mother is and, like Mary — who dreams of one day taking an overdose "without meaning it" and quietly ending it all —he's doing his best to poison himself by increments. His wasted aria to Edmund has the potential to shock the system: The sarcastic jester's surface opens up to reveal a yawning black maw of guilt, shame, and terror at his own unstoppable viciousness. But Keenan accesses none of this devastating firepower. He continues to depend on affect, bouncing and skating across the top of the scene and sometimes —incongruously, since his performance is so artificial — forcing out tears between bursts of accent-y dialogue that sound less tragic than like something out of a very unfunny draft of Guys and Dolls.
All the same, he's got charisma and physical grace, and perhaps there is a real Jamie in there somewhere. But Eyre's not pulling it out of him. He's also not doing much hard directorial pushing with either of his big stars. Irons seems essentially left to his own devices, and every so often he finds an effective comic moment or, more frequently, a swell of power in one of the play's silences — as in the sudden hardening of James Sr.'s face when he realizes that Mary is using again, or the way he stares at her across the room, exhaustion in his shoulders, wounded blankness in his eyes. But then O'Neill's repetitive stretches of text have their way with Irons as with everyone else, and his long scene of card-playing and confession with Matthew Beard's Edmund — which should be an emotional laying of cards on the table for both men (thanks for the symbol, Eugene) — is one of the sleepiest in the play. Beard, as the would-be poet, is less car salesman-y than his father and brother, but he still doesn't manage to rouse this scene into life with Edmund's climactic speech about being "always … a stranger," "a little in love with death," on the desperate hunt for flashes of "ecstatic freedom … beyond men's lousy, pitiful, greedy fears and hopes and dreams!" Which is a pity, since it's O'Neill's mission statement.
What can be said for Eyre's conception of the play is that he undoubtedly sees it as Mary's. He recognizes that the journey of the title is most rightfully hers, and that the story's men are her raging, grieving, impotent witnesses. I wish I could say that, as Mary, the usually fantastic Lesley Manville transcends the production she finds herself in. She's an extraordinary actor, but here, even as the acknowledged center of the play, she too falls victim to the show's stagnant sameiness. Her Mary is a high-voiced, birdlike creature — it's easy to see the pretty, naïve girl that she used to be — and from the very beginning she's already in a fluttery state of almost-panic. She's so tightly wound that she doesn't have much of a transformation to make. O'Neill himself seems to sense this difficulty: He gets rid of Mary for a huge chunk of the second act, both to build tension and probably because he can tell that her arc only has one stage left, that of utter oblivion. But he also underlines Mary's "extreme nervousness" in the play's first stage direction, which doesn't exactly help an actor out. For all her commitment to Mary's excessive nervous energy, Manville struggles to make an actual long journey. Like all Eyre's actors, she frequently feels like she's treading water, managing to find solid, truthful ground only once in a while. Her sudden first act cry of "Oh, I'm so sick and tired of pretending this is a home!" freezes the men around her and made me, perhaps for the only time in the production, draw my breath in excitement. It's also one of the only places she drops out of her girlish soprano and down into her chest voice. Here, the punch lands. Alas, it's one moment in three and a half hours.
For much of that time, I found myself staring at Rob Howell's exquisite tilted prism of a set. This time, the Tyrones don't inhabit a naturalistic Connecticut summer cottage so much as an angular frosted glass box, its architectural lines leading to an upstage vanishing point where everything bleeds into rich, dark color. The stairs that Mary uses to retreat to the spare room are in this upstage corner, and they're a murky blue-green, an unreal oceanlike hue that fades into a regular wood floor by the time you reach the forestage. Outside the set's glass walls, New England feels like the Arctic, with Peter Mumford's saturated jewel-toned lights creating a constant aurora borealis effect. It's all breathtakingly pretty — and hugely distracting. Rather than a space in which an emotionally dropped-in story can play out, the set feels like an excited intellectual exercise: "Ah, yes, Mary should be able to see her reflection in the walls, because everyone is always watching her, even herself! And the stairs should be the color of fog and ocean, because in that direction lies oblivion!" It's a model box that was so gorgeous that they built it full size, and now it feels like the setting for a Tim Walker Vogue photo shoot rather than a place where people can act. Not to mention the grating dissonance every time Mary complains that her husband, in his stinginess, built her a vulgar, uncomfortable home "where everything was done in the cheapest way." Lady, you want to say to this Mary, you're living in a work of art. Which — like the production's persistent artifice as a whole — is its own kind of trouble.
Long Day's Journey Into Night is at the Brooklyn Academy of Music through May 27.