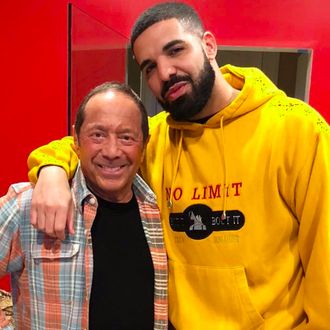 Anka/Drake.
Photo: @paulankaofficial
In news you would have known if you follow Paul Anka on Instagram (if you don't, this is on you), it turns out the "Put Your Head on My Shoulder" singer has a collaboration with fellow Canadian performer Drake set to drop next month. "I'm working with a brilliant young artist who is as hot as you can get right now, a fellow young Canadian and his name is Drake," Anka reportedly said while accepting a Lifetime Achievement Award at Thursday night's Canadian Music and Broadcast Industry Awards. "We recorded something that will be released, out in June. That's all I can tell you."
June is, of course, the month Drake plans to drop his upcoming album Scorpion, and the "Diana" singer actually posted a photo of the pair working together way back in February. Between Drake's recent output and the fact Paul Anka wrote, among other songs, the English lyrics for Frank Sinatra's "My Way," this song is probably going to be a true Canadian banger.