The comedy podcast universe is ever expanding, not unlike the universe universe. We're here to make it a bit smaller, a bit more manageable. There are a lot of great shows and each has a lot of great episodes, so we want to highlight the exceptional, the noteworthy. Each week our crack team of podcast enthusiasts and specialists and especially enthusiastic people will pick their favorites. We hope to have your ears permanently plugged with the best in aural comedy.
Also, be sure to check out this week's episode of Vulture's Good One with guest John Mulaney.
Queery - Alia Shawkat
Kathryn: Alia Shawkat (of Arrested Development, Search Party, and the film Duck Butter, which she co-wrote) visits Cameron Esposito's Queery this week and opens up about her work, personal life, style, and creative perspective. For an actor who pops up in so many of your favorite shows and movies, she's not a frequent podcast guest, which is even more of a mystery given how easy this conversation feels. Whether she's talking about handling male egos during simulated sex scenes or the arc of her personal relationship with her own freckles, her stories are engaging. The host and guest have particular fun collaboratively defining categories of style beyond masculine and feminine, and they decide their own signature looks are "dandy" and "fashion clown," respectively.
Listen: Spotify | Apple | Website
Doodie Calls — Paul Soter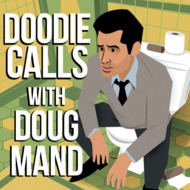 Pablo: A little-known fact about Super Troopers is that the stoner cult classic was almost produced by George Clooney. Not distinguished Oscar-winning tequila tycoon Clooney, but the nipple-suit-wearing, pig-owning, newly minted movie star Clooney. And while he was trying to get the film financed, he let the guys of Broken Lizard crash at his mansion whenever he was out of town. Nice guy! But as the troupe's Paul Soter tells it, he came close to blowing their big break when he accidentally pissed in Clooney's pants. While Doodie Calls focuses on the embarrassing shit stories of comedians, and Soter does have one about breaking Danny Ocean's toilet, it's his No. 1 story that's the centerpiece of this episode. I won't spoil the retelling, but I will leave you with a great visual: The hallway walls leading to George Clooney's bedroom were covered with framed copies of his TV Guides.
Listen: Spotify | Apple | Website
Inside of You with Michael Rosenbaum — Kristen Bell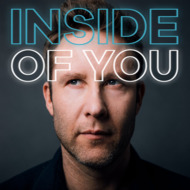 Elizabeth: The latest episode of Inside of You with Michael Rosenbaum begins by looking at what might have been. You see, if things had gone a little differently, Rosenbaum could have been interviewing his wife Kristen Bell (or at least ex-girlfriend Kristen Bell), instead of his friend Kristen Bell. The two former CW stars talk about their flirtations years ago and how he inadvertently got her together with her husband, Dax Shepard. (There was a brief four-day breakup when he had another shot, but, alas, it was not to be.) Once they've gone over this missed connection, Bell gets very real about her husband's wild past and addiction and her own struggles with anxiety and depression, which prompts Rosenbaum to get real about his own issues. But it's not all deep. There's plenty of talk of hockey crushes, musical theater, and Catan. Bell also describes "the commune," a former home she owned where she housed her friends for free, and plays a round of "Fuck, Marry, Kill" with the men of Veronica Mars.
Listen: Spotify | Apple | Website
Spontaneanation — Bubba Gump Shrimp Co. in Times Square New York City (w/Nicole Byer)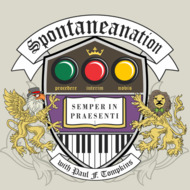 Tom: If there's one thing we know about perennial podcaster Paul F. Tompkins, it's that he's a bit of a giggler. On this week's Spontaneanation, guest Nicole Byer nearly knocks PFT out with her verbal laughing gas machine. Throughout the interview, Tompkins and Byer talk about who they would kill during the Purge, Nicole's favorite Star Wars characters ("Bun Lady" and "Blurry Man"), and each other's irrational fears — Byer admits she's afraid she may "Lenny" her dog one day. As we transition into the narrative improv portion of the episode (live scored by Eban Schletter on piano), Byer suggests the perfect setting for any good improv scene: Bubba Gump Shrimp Co. in Times Square, New York City!  Improvisers and A.P. Bio castmates Mary Sohn, Jean Villepique, and Lyric Lewis help fill out the improvised set, which culminates at Line Cook Appreciation Night in the Forrest Gump–themed eatery. This episode brings together two gems from the podcasting world and should not be missed.
Listen: Spotify | Apple | Website
Public Domain Theater — "Love Story" by Irving E. Cox Jr. (w/Nick Wiger)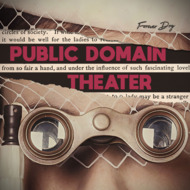 Mark: Remember those painfully heavy, decades-old high school literature textbooks? Full of outdated short stories, so kindly annotated with doodles of penises? Public Domain Theater has quickly become the best way to revisit those textbooks, without the back pain. Doughboys' Nick Wiger joins hosts Lindsay Katai and Kelly Nugent (Teen Creeps) this week to dust off 1956's "Love Story" by Irving E. Cox Jr. As the trio quickly finds out, "Love Story" belongs nowhere near a textbook. This red-pill-popper's fantasy follows George, a man with "a magnificent build and the reputation for being a good boy," through a dystopian future where — surprise — women have overtaken society and enslaved men. In between audible eye rolls, Wiger, Kelly, and Katai tear apart the story in a way that Cox Jr.'s editors should have back in 1956. How awful lingo like "mommy's oilstick" and "the morals squad" ever got published is the true twist ending. Previous all-star guests like Rhea Butcher and Mary Holland, paired with a variety of stories, have made catching up on all 16 episodes feel like recess. Public Domain Theater has settled in nicely as a less erotic My Dad Wrote a Porno or a more erotic LeVar Burton Reads, depending on what kind of mood you're in.
Listen: Spotify | Apple | Website
Armchair Expert — Marc Maron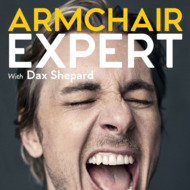 Marc: Dax Shepard runs a pretty funny and freewheeling interview with his various show-business guests — most of whom tend to be friends or at least acquaintances of his. The first chunk of his show with guest Marc Maron is the two of them recounting how the interview almost didn't even happen because of a series of text-related misunderstandings. Much of the talk gets into Maron's career — the slow times and the good times — and how he handled himself during the various incarnations of the way he presented himself — in stand-up, on radio, in his podcast and, most recently, his TV appearances. The once-curmudgeonly host cops to having had a certain surliness that may have held him back in some situations, but he also acknowledges that he's been "working on myself," and his good fortune with his own TV show Maron and his subsequent starring role on GLOW have helped to make it feel like the struggles have all been ultimately worthwhile. A fun part of Shepard's show is the few "Fact Check" minutes at the end, where Shepard sits with his producer Monica, who takes him to task and exposes the incorrect or faulty things he said during the interview.
Listen: Spotify | Apple | Website
Late Night Whenever With Michelle Buteau — Thanks, Waxing Lady! (w/Chris Distefano & Vinny Guadagnino)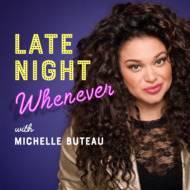 Anna: Michelle Buteau is blowing late night out of the water. Late Night Whenever is a talk show for your ears, uncensored and full of Ikea pillows. Michelle's sidekick Rob Lewis — a.k.a. her "black Dr. Phil" — lends his calming and often philosophical responses to comical effect. This week, Michelle expresses gratitude for a her ultra-dedicated bikini waxer before introducing her first guest, Guy Code's Chris Distefano. This proud Bushwick native (whose dad was part of the Mafia?) jokes with modern-day Brooklynites in the audience, claiming his new one-hour Comedy Central special is all about them. What's best is his unconventional path to comedy: physical therapy. And who better to join Chris on the guest couch than Vinny of Jersey Shore? The two offer a lively discussion of both the misconceptions and truthful stereotypes of Italian people, which bleeds into a charming game segment where audience members ask for help "for a friend." One question about partying presents the prime opportunity for Vinny to plug the upcoming Jersey Shore: Family Vacation. As always, Michelle celebrates what she's learned, namely how much Italian men love their mothers, over Rob's tender piano. If you haven't listened to this refreshingly structured, honestly hosted podcast, treat yourself to past episodes with Tessa Thompson, Ann Dowd, and Phoebe Robinson.
Listen: Spotify | Apple | Website
Other Podcasts We're Listening To:
WTF with Marc Maron — Neal Brennan
Listen: Spotify | Apple | Website
Comedy Bang Bang — Johnny Pacquiao w/John Mulaney, Seth Morris, and Betsy Sodaro
Listen: Spotify | Apple | Website
Raised by TV — Wrestling w/Dan Black and Matt McCarthy
Listen: Spotify | Apple | Website
Off Book: The Improvised Musical Podcast — Live Episode w/Nicole Byer & John Gemberling
Listen: Spotify | Apple | Website
Las Culturistas — Summer of Kunt w/Sudi Green
Listen: Spotify | Apple | Website
This Sounds Serious — All About Chuck
Listen: Stitcher | Apple | Website
I Was There Too — Yeardley Smith
Listen: Stitcher | Apple | Website
This week's reviewers: Pablo Goldstein, Kathryn Doyle, Marc Hershon, Elizabeth Stamp, Mark Kramer, Tom Rainey, and Anna Marr.