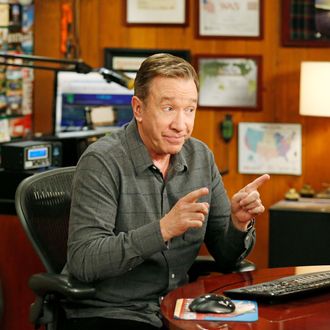 Tim Allen on
Last Man Standing
.
Photo: Craig Sjodin/ABC via Getty Images
Tim Allen might soon achieve Tim Allen's dream of being back on TV again. The conservative actor's show Last Man Standing, which was cancelled by ABC in 2017, might live again on Fox, which is in early discussions to bring back the show, according to Variety.
Perhaps due in part to the outsized success of the Roseanne revival, the interest in Last Man Standing comes amid a trend of speculation about which television shows might be revived in the Trump era, especially as networks say they want more programming that focuses on the white working class. (Allen's sitcom isn't really representative of that outlook, at least according to Vulture's Kathryn VanArendonk, who wrote a whole essay on that very question.) There had previously been discussions of reviving Last Man Standing at CMT, though those fell through. Allen, for his part, seems excited about the possibility of his show returning, so much so that he tweeted about it.