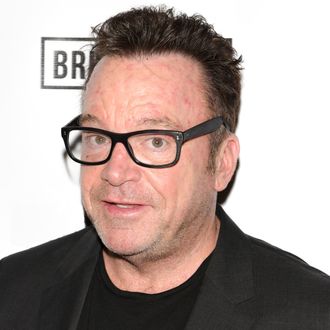 Tom Arnold.
Photo: Michael Bezjian/Getty Images for Imagine LA
The Roseanne revival was canceled on Tuesday after its star, Roseanne Barr, tweeted a racist message about former Obama adviser Valerie Jarrett, one of many hateful things the comedian has posted online. According to Tom Arnold, Barr's ex-husband and a former writer on the original run of Roseanne, she knew what she was doing, and the network knew what it was risking in hiring her. "It had to happen," Arnold told The Hollywood Reporter about the show's cancellation. "And I am going to tell you the truth, she wanted it to happen, if you saw how her tweets escalated this weekend. If it hadn't happened yesterday, this season would have been so awful for everyone every day because she would have felt like she was [being] taken advantage [of], just like when I left the show."
Arnold also claimed that during the production of the revival, he suggested that someone needed to be there to keep Barr away from her phone, but that he was told Barr refused to give it up. "ABC lost maybe $1 billion from this; this show was grinding out money hand over fist and they lost it all because somebody didn't say, 'Get that phone out of her hand,'" Arnold said. "She's not going to go on TV and say these things. But you put that phone in her hand and she is a loose cannon." Maybe in the future nobody involved in TV should have a phone.