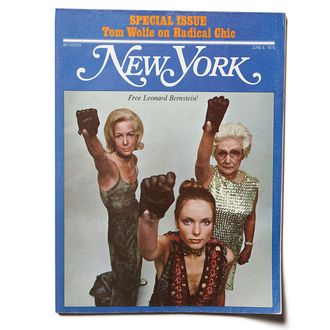 "Mmmmmmmmmmmmmmmm. These are nice," begins an early scene in Tom Wolfe's "Radical Chic: That Party at Lenny's," published in New York Magazine's issue of June 8, 1970. He was talking about the Roquefort hors d'oeuvre rolled in nuts, which were indeed nice, but what was going on that night was flat-out spectacular. Wolfe had crashed a fund-raiser at Leonard and Felicia Bernstein's apartment, and there he found the cream of New York's cultural elite making small talk with, and donating to, the Black Panthers. Within days, the party became notorious; weeks later, after many, many drafts, Wolfe published his 25,000-word, high-proof social comedy about the collision of cultures. The party chatter, which Wolfe took down in shorthand rather than with a tape recorder, constitutes a large portion of the story.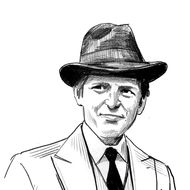 Which hit like an earthquake the week it was published. Wolfe and his editors were praised, denounced, and most of all, talked-about. Wolfe, already a star, was henceforth perhaps the most in-demand journalist alive; New York, a shoestring operation barely two years into its existence, was off and running. And the story of the story (much of it appearing in these documents from the Tom Wolfe Papers on deposit at the New York Public Library) is almost as epic as "Radical Chic" itself.
Crashing the Party
Tom Wolfe, in a 2006 Q&A: "I started out at the New York Herald Tribune, which was fighting for its existence and was willing to take a lot of chances. I had come from the Washington Post, where stories were assigned by the inch. So the first night … I went over to the city desk, and said, 'How long do you want this to be?' And the editor said, 'What do you mean, how long? Until it gets boring!' "
Wolfe, in New York in 2008: "One day I was hanging around a hallway at Harper's … I wandered next door into the office of David Halberstam, who wasn't there. Nosily I noticed a rather fancy card on his desktop … It was an invitation from Leonard Bernstein and his wife, Felicia, for a reception at their apartment at 895 Park Avenue, corner of Park and 79th Street, in support of the Black Panthers. Now, there was a match made on Donkey Island for you … You were supposed to RSVP to a certain telephone number. So I called it, using David Halberstam's telephone, and said, 'This is Tom Wolfe, and I accept' …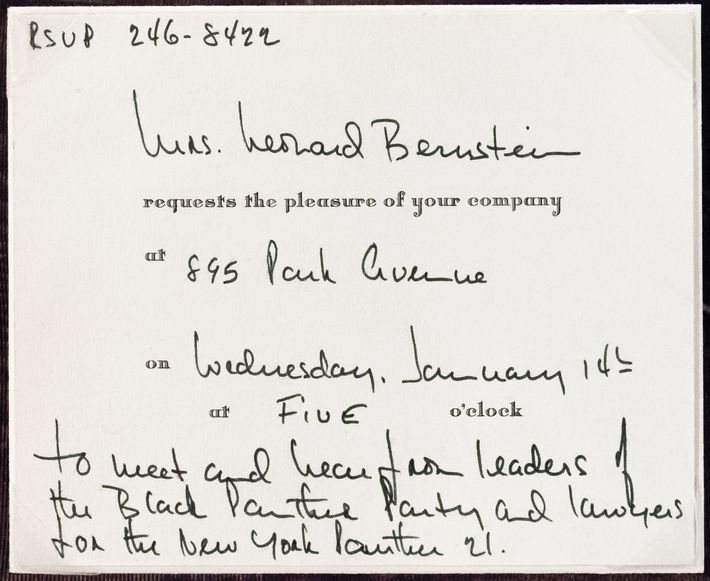 "At a desk outside the [Bernsteins'] door … I said, 'Tom Wolfe,' and sure enough, there he was, Tom Wolfe, listed on a yellow legal pad … Like any boy who has been instructed at cotillion to pay his respects to the host and hostess first … I sought out Leonard and Felicia Bernstein and introduced myself.
"The evening's cast of characters … [included] three fiercely-turned-out Black Panther dudes and 'the Panther women,' as they were referred to, a couple of organizers in gray suits who had Engineers on the Freight Train of History written all over them, the two dozen or so celebrities (e.g., Barbara Walters, Otto Preminger), socialites (e.g., Jean vanden Heuvel, Cynthia Phipps), and 'intellectuals' (e.g., Robert Silvers, Harold Taylor) … pure gold for any writer."
The Next Few Days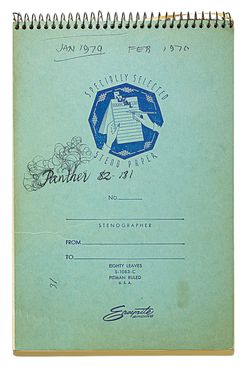 Wolfe, 2006: "I think they assumed that if I was there, it was for the cause. And they were very proud of what they were doing. If they had remained proud, despite what I or anyone else wrote, they could have pulled it off. But I was there and had a notebook, and it so happened that the society writer for the New York Times, Charlotte Curtis, was there with her notebook … And she was for the cause, but she was so good a reporter that she put a lot in there that showed the essentials of the situation."
From "Radical Chic: That Party at Lenny's," June 8, 1970: "Lenny and Felicia … had no idea of the furor that was going to break the next day when Charlotte Curtis' account of the party would appear in the New York Times. The story appeared in two forms — a preliminary report rushed through for the first edition … and a much fuller one for the late city edition … Neither account was in any way critical of what had gone on. Even after reading them, Lenny and Felicia probably had little inkling of what was going to happen next."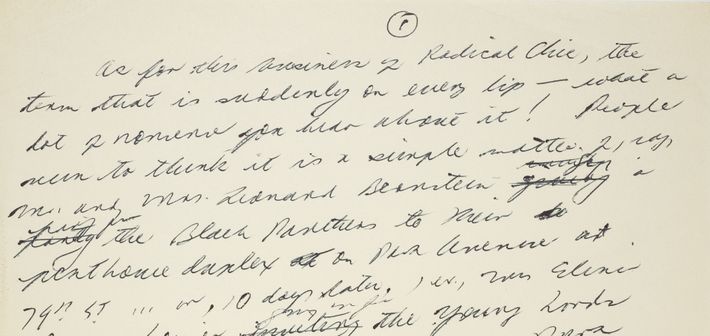 From Curtis's story in the 'Times,' January 15, 1970: "The conductor laureate of the New York Philharmonic did most of the questioning. Donald Cox, the Panther field marshal and a member of the party's central committee, did most of the answering, and there were even moments when both men were not talking at the same time.
" 'Now about your goals,' Mr. Bernstein said from the depths of an armchair. 'I'm not sure I understand how you're going to achieve them. I mean what are your tactics?'
"Mr. Cox, a tall, handsome man in a black turtleneck sweater and gray pants, nodded his head.
" 'If business won't give us full employment,' he said slowly, 'then we must take the means of production and put them in the hands of the people.'
" 'I dig absolutely,' Mr. Bernstein said."
Felicia Bernstein, in a letter to the 'Times,' January 21, 1970: "The frivolous way in which it was reported as a 'fashionable' event is unworthy of the Times, and offensive to all people who are committed to humanitarian principles of justice."
In 'Women's Wear Daily,' February 18, 1970: "Lenny is supposed to have said he invited Charlotte Curtis (of the New York Times) because he thought she was pro-Panther. Even worse, Tom Wolfe was also at the party, and his article has not yet appeared. Lenny's in a state waiting for the other shoe to drop."
Wolfe, 2008: "I kept my National Brand shorthand pad and ballpoint pen in plain view. I mention that because afterward I can't tell you how many people accused me of perfidiously turning on my hosts."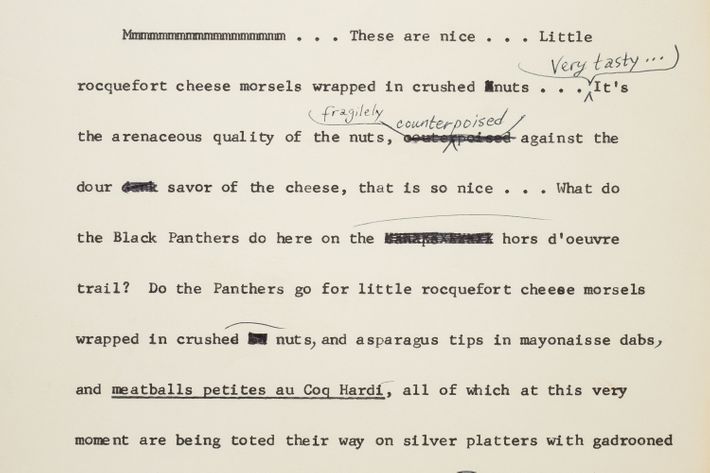 Reporting the Story
Wolfe, 2006: "I didn't know what the hors d'oeuvres were, and I called Charlotte Curtis and asked … and then I began calling up people. I began calling up Leonard Bernstein, and he was furious at Charlotte Curtis — that's all I got out of him."
In the New York 'Post,' January 23, 1970: " 'In the first place, it was not a party,' [Leonard Bernstein] said. 'We don't have parties. It was a meeting, a very serious meeting, involving civil liberties.' "
Wolfe, 2006: "And I got ahold of some of the Bernsteins' friends who told me how they loved to ignite the [candles at the] dinner, with sparkling lights and a glass-top table that mirrored the lights, and they thought they were in a universe of stars. And of course, at their dinners, it was a universe of stars, from music, movies, and comedy. So I really lingered on all of this stuff, and I think it turned out to be very important to the story."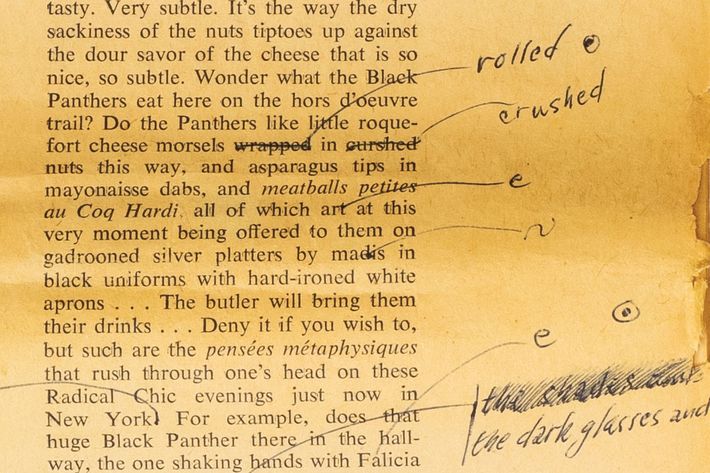 From "Radical Chic," June 8, 1970: "Lenny … looks up at Cox and says, 'When you walk into this house, into this building' — and he gestures vaguely as if to take it all in, the moldings, the sconces, the Roquefort morsels rolled in crushed nuts, the servants, the elevator attendant and the doorman downstairs in their white dickeys, the marble lobby, the brass struts on the marquee out front — 'when you walk into this house, you must feel infuriated!'
"Cox looks embarrassed. 'No, man … I manage to overcome that … That's a personal thing … I used to get very uptight about things like that, but — '
" 'Don't you get bitter? Doesn't that make you mad?'
" 'Noooo, man … That's a personal thing … see … and I don't get mad about that personally. I'm over that.'
" 'Well,' says Lenny, 'it makes me mad!'
And Cox stares at him, and the Plexiglas lowers over his eyes once more …"
Reaction
Christopher Lehmann-Haupt, in the Times, November 25, 1970: "One had certain questions—the usual Tom Wolfe questions … At exactly what points did Wolfe's imagination impinge on his inferences, and his inferences on his facts?"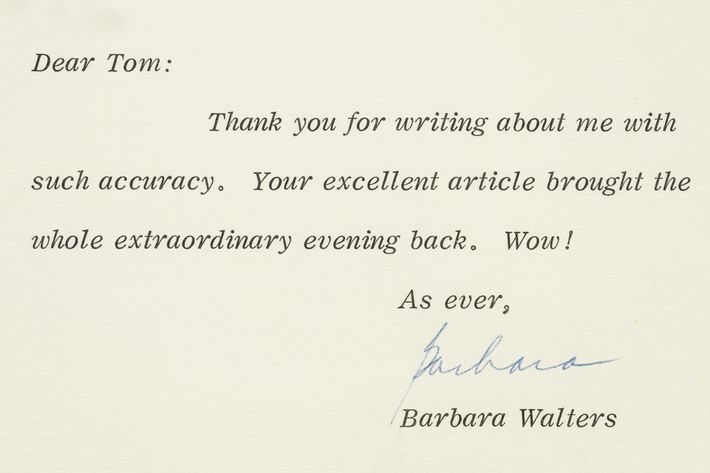 Letter from Barbara Walters, June 19, 1970: "Thank you for writing about me with such accuracy. Your excellent article brought the whole extraordinary evening back. Wow!"
Wolfe, 2008: "Bernstein's sister wrote a letter enumerating my sins."
Letter to Wolfe from Shirley Bernstein, ca. June 1970: "My revulsion at your current New York piece continues … You took two people, whom you know full well to be good people, and with your cleverest prose (and the aid of an uninvited tape-recorder) set out gleefully and maliciously to humiliate and divide them."
Wolfe, 2008: "I took that as a great compliment, since in this life one should take his satisfactions where he can. It meant that my shorthand recording of the evening's dialogue, which I did quite openly, must have struck Leonard Bernstein as a bull's-eye."

Letter on White House stationery from Raymond K. Price Jr., special assistant to President Nixon, June 11, 1970: "I've seldom enjoyed a magazine article as much. …  Truly a classic. Incidentally, since New York is pretty much the house organ of radical chic, it must have taken a certain measure of courage for Clay [Felker, New York's editor] to run it. A tip of my hat to both of you."
Letter from Norman Podhoretz, June 4, 1970: "A masterpiece.
Congratulations."
Letter from Elizabeth Thompson Ortiz, June 4, 1970: "Please cancel our subscription. We have been increasingly offended by your 'chic' handling of Puerto Ricans and Blacks, and this is the last straw."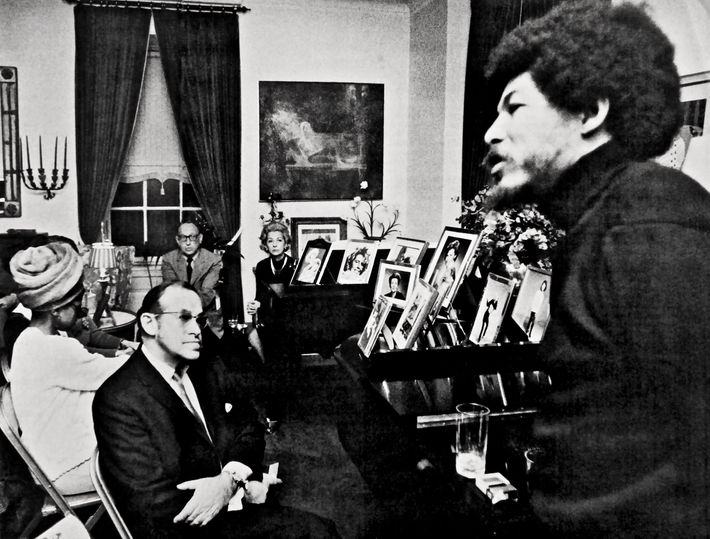 The Aftermath
Don Cox, Black Panthers field marshal, to documentarian Roz Payne: "Those media freaks and that bloodsucking Tom Wolfe … tried to ridiculize it."
Leonard Bernstein, in the Times after his FBI file was released, October 22, 1980: "I have substantial evidence now available to all that the F.B.I. conspired to foment hatred and violent dissension among blacks, among Jews and between blacks and Jews. My late wife and I were among many foils used for this purpose, in the context of a so-called 'party' for the Panthers in 1970 … [with] floods of hate letters sent to me over what are now clearly fictitious signatures, thinly-veiled threats … plus innumerable other dirty tricks."
Jamie Bernstein, interviewed by SFist, 2008: "That damn Radical Chic thing is the albatross around our family's weary neck … It was my mother's fund-raiser … crashed by (a) Charlotte Curtis, society editor of the NYT; (b) Tom Wolfe … there had specifically been no press invited to the event; and (c) my father, who burst in all cranked up from his Fidelio rehearsal at the Met, and took over the room, as was his wont … and the rest is dreck."
Jamie Bernstein, at Carnegie Hall, 2008: "Our mother never recovered from the heartbreak and shame of this incident. No one was all the way to happy again."
Letter from David Halberstam, ca. August 1970: "That is just a fine piece. Just fine. My only objection is that I wish I had written it."
*This article appears in the May 28, 2018, issue of New York Magazine. Subscribe Now!